Buffalo Bill's is the new Tex Mex restaurant & diner serving up a storm of classic American and Mexican dishes in the wilds of Sussex.
Always on the lookout for new places to eat, we had heard on the food grapevine about this new place sat on the (relatively) lonesome trail of the A22. Hugging the Halland roundabout, Buffalo Bill's is a long, low motel style eaterie. Folks say that inside they serve up orders to keep customers happy and coming back for more.
It was an easy fork off the road into a capacious parking area, then straight in past reception and into the themed bar and restaurant. While still in chilly May it was a perfect comfort to relax into the cosy Chesterfield sofas around a warm fireplace and to take in the surroundings.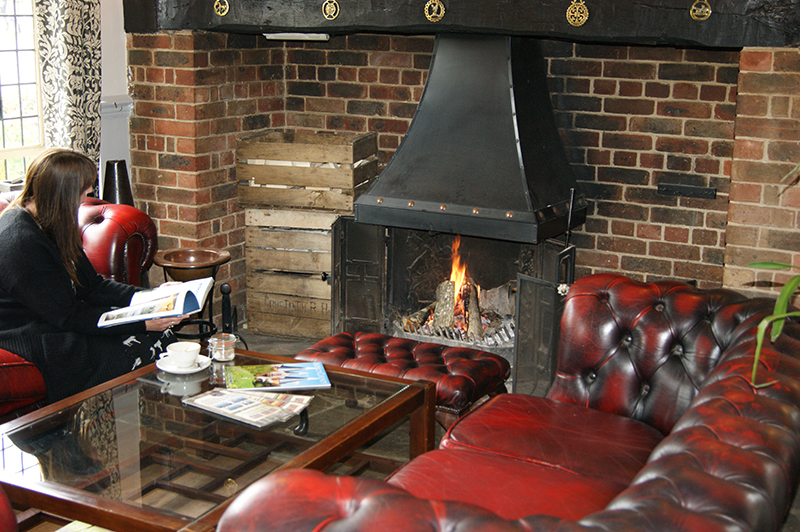 Adorned with Buffalo Bill images and western pictures, statues, posters, cowboy boots and barrels, we felt at home in the wild west that is Halland. An effusive manageress welcomed us while serving up drinks, appropriately for me with a chilled Desperados beer, full-bodied and flavoured with tequila. A new experience for me that hit the spot perfectly.
I have always been picky when it comes to background music and thought that this place could easily take a wrong turn with their choice of tunes. Not so, with authentic country music going down through the generations from Johnny Cash, then right back to smatterings of 1940's Bluegrass classics, plus a few wildcards. Buffalo Bill's had hit the right jukebox button for my taste.
Relaxing into the atmosphere we scanned the menus for the day. Well, you could park your horse just by the appetizers and stay there all afternoon. Mexican Bake, Azteca Soup, Chicken Strips and more.
For the mains, take your pick! From Mexico, we have fajitas, tacos and chilli. The US of A servings includes The Cowboy Feast 6 ounce steak, El Paso Smokehouse Strip, 10 choices of burger including the Rodeo Ranch, plus ribs and wings with a choice of sides and sauces. Not forgetting some vegetarian choices and for fish lovers, we have vegetarian chilli, Mississippi fish cakes, swordfish and salmon.
So much choice, it was time for another Desperados beer to help us make those big menu decisions.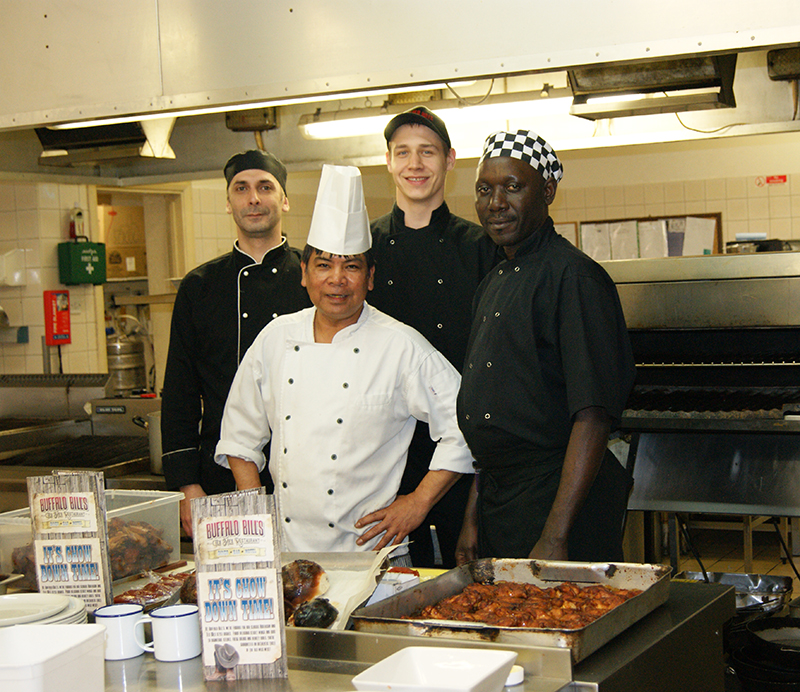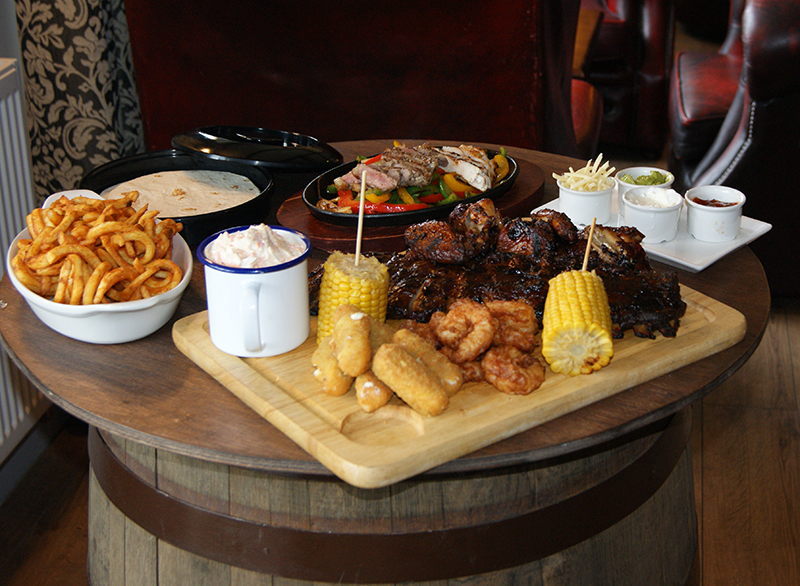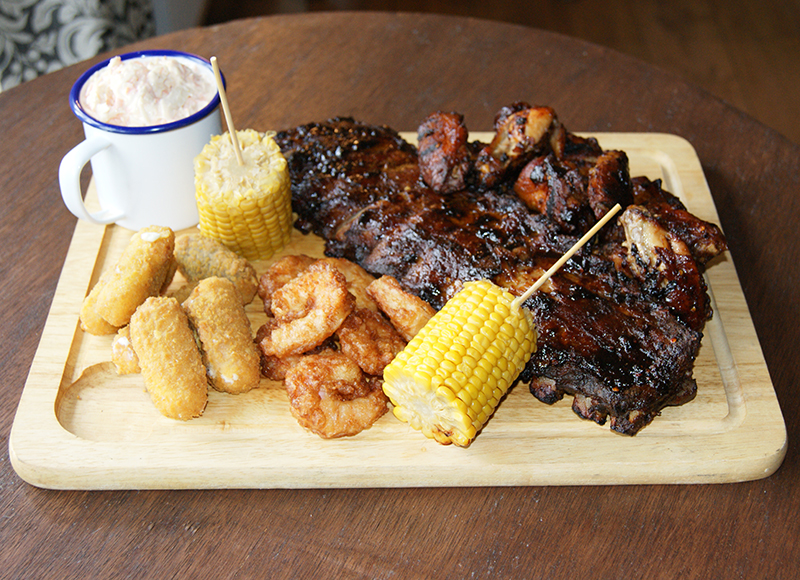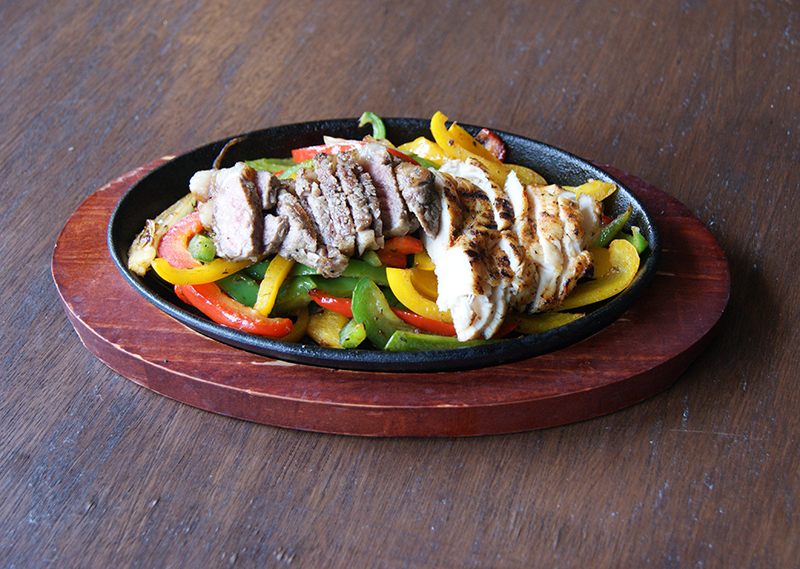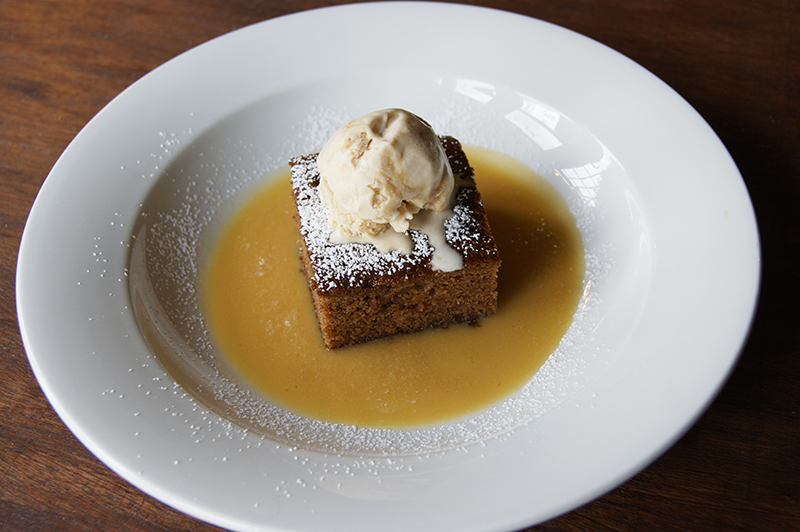 Chow down time. We were brave and ordered a combo feast! We were ready and willing to face down whatever the kitchen threw at us. Our eagerly anticipated meals were served up, ready to go in good time. No contest for me. Known in these parts as the Ranchers Feast, this beast of half rack smoked ribs came with sides of curly fries, with homemade coleslaw and dips pulling in alongside. Not only that, side saddle you have chicken wings coated in a Southern Comfort glaze, corn on the cob, jalapenos and crispy battered king prawns. The ribs fell off, slow and tasty, smoky and succulent meat that hit the taste buds full in the face. The corn on the cob was up there, just so, perfect, while the king prawns hid a subtle taste kick that hit the spot.
Ever so eager beavers we also indulged ourselves with the fajitas and burritos, which you could just sense they had been cooked up with passion from the kitchens. All fresh, bell peppers, onions, sweetcorn and barbeque salsa with fresh flour tortillas. Served up with guacamole, salsa and with a flour tortilla and of course, more succulent barbeque chicken.
We all dug in, mixing and matching, sharing over the wide range of tastes on the table. If I was looking for a dispute or a barroom brawl over any of the dishes I was to be sorely disappointed. No complaints, only praise to the team in the kitchen. Service was prompt and friendly throughout our two-hour stay, adding to the sense of enjoyment of the day.
Never to be beaten, after a polite pause to take a breath my partner and wife arrowed in on the puddings. Bill's Cheese Cake? Maybe Ma's Meringue Pie? No, Buffalo Bill's Sticky Toffee Pudding was the choice. With salted caramel ice cream and warm toffee sauce splayed around the dish, this was the perfect finale for the cowgirl with the sweet tooth.
A fitting Jamiesons whisky and lovely coffee finished the day and we hit the lonesome trail, but well fed and watered. So good was the food, like bandits that we took the remains of our feast home in swag bags and hightailed it southwards.
We will back, for sure, but with a posse of grandchildren in tow. Buffalo Bill's, you have been warned.
Buffalo Bill's. On the A22 at Halland. BN8 6PW.
Telephone 01825 840465
http://​bit​.ly/​B​u​f​f​a​l​o​B​i​l​l​s​H​a​lland