Aspect County discovers an exciting, award-winning addition to the gin family, Brighton Gin, and the Sussex team behind its creation who are taking localism and sustainability to a whole new level.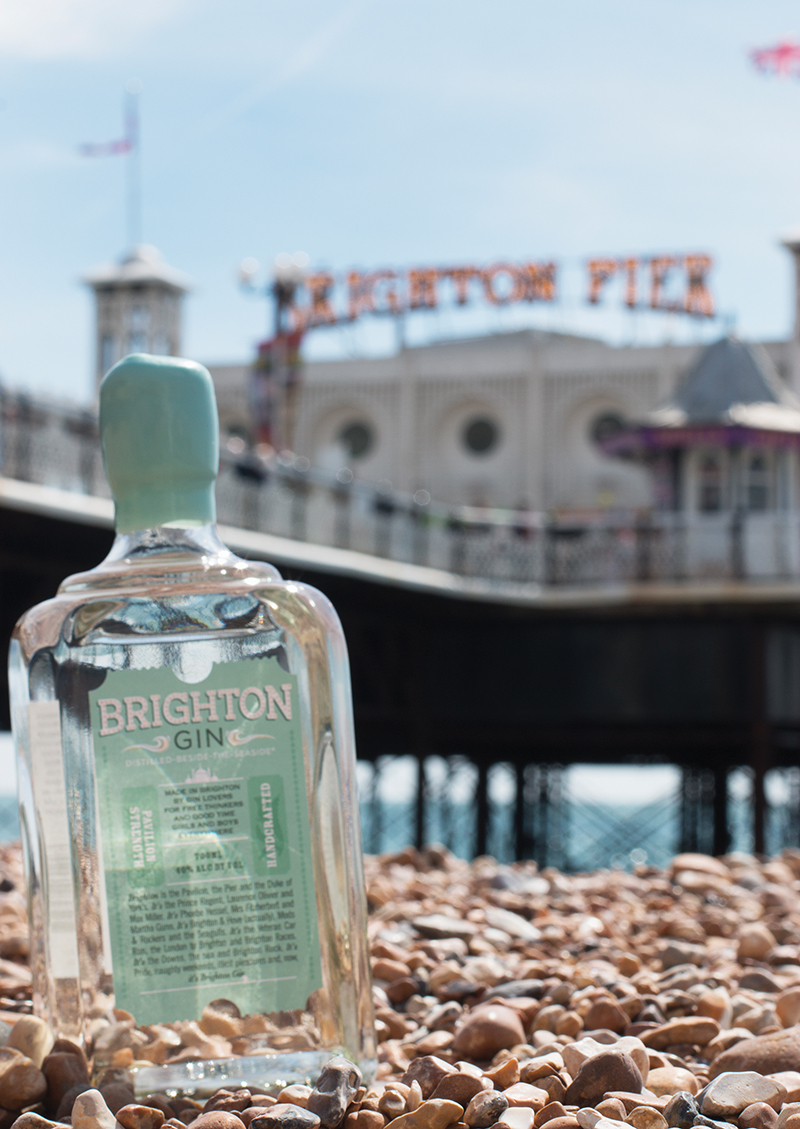 There's nothing better on a warm May day than to sit looking out over the sea and relax for a moment from the hustle and hassle of life. And what better, if you're looking out over Brighton's iconic West Pier and famous, bustling sea front, than to have at your side a glass of the city's best liquid export, Brighton Gin?
To be able to find out from the source how it all happened, from idea to the first bottle and beyond, is better still.
History and botanicals
Since the re-emergence of small-batch distilling in the UK in 2009, a number of micro-enterprise distilleries have set up and begun making excellent, award-winning beers and spirits. Brighton Gin's founder and MD, Kathy Caton, started the business in 2014, originally from her kitchen table, then to under the Urchin Pub, before the business outgrew the space and moved premises to west Brighton, but how did it all come about?
"The inspiration came during a jog along the seafront the morning after the night before," explains Caton, who although not Brighton born and bred made the city her home nearly twenty years ago. ​"I'd had a very late night, tucking in to the gins and dancing round a friend's kitchen table. The next day I twigged that if I'd been drinking anything other than gin I wouldn't have been able to get off my sofa, let alone go for a run! Gin is the one drink that lets you get away with it.* Brighton is a place that needs to get away with it on a frequent basis, and ta-da! The idea of Brighton Gin was born."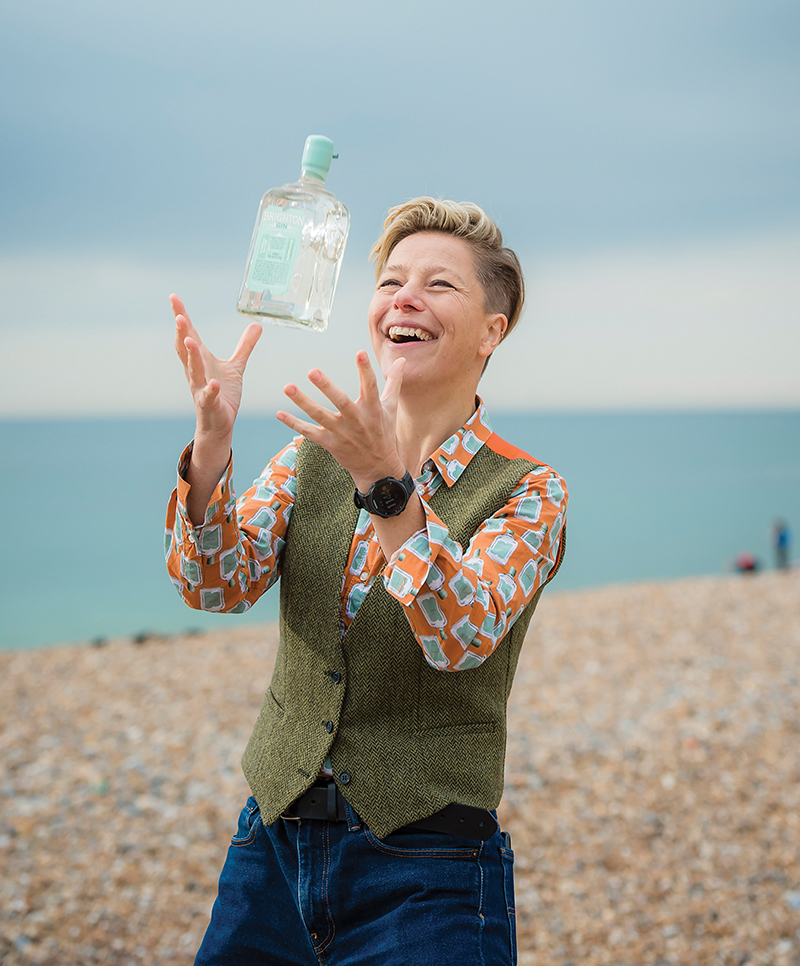 It's all very well to have the idea, but finding the best recipe takes time and a lot of experimentation. ​"It all started with trial and error (a lot of trial and error!) in my kitchen," Caton admits. ​"We spent a long time – it took two years to get right – and made a lot of ​'nearly there' gins before perfecting the process and the recipe."
Gin is a spirit that lends itself to the innovative use of botanicals – the fruits and herbs that give it its particular flavour – and the Brighton Gin team, with the ideal manifesto of doing the right thing and reducing environmental harm, decided to source as locally as they could for their award-winning blend.
"There was a vast list of botanicals I wanted to use," says Caton, ​"which has been whittled down to six, every one of which has earned its place in the bottle."
A major feature of the mix is 100% certified organic wheat neutral grain spirit, alongside imports (fresh lime and orange peel) and key ingredients such as juniper berries and angelica (which has medicinal properties). The local magic happens when coriander seeds grown north of Lewes and milk thistle from the South Downs are added.
There's a certain symmetry to the notion that milk thistle cleanses the liver; it makes drinking this smooth sip almost guilt-free. Almost… ​"We're a juniper-led gin – we love gin that tastes of gin," Caton adds, ​"but the smooth sweetness from the fresh peels and hint of lemony spice from the coriander makes it not only great to sip neat but also perfect with tonic for an award-winning sundowner too."
Sustainability and low environmental impact are also a large part of the vision, and the distillation process utilises a closed water-system that recycles the water. ​"Regular gin production uses several litres per minute of fresh water as part of the cooling process, so it was natural that we would seek out a production system which cleverly re-cools the water," explains Caton. ​"And we reuse and re-purpose packaging that we receive raw materials in, such as chopping up delivery boxes to be reused as packing material. All our waste products after distillation get mulched in to lovely rich compost."
The team, the ideals
The company's ethos also includes equality in the workplace. Its workforce, male and female, is made up of a variety of age ranges – there's a 55-year age gap between the youngest and oldest member – and Caton's mum is also on-board as chief bottle-filler, waxer and labeller. She makes a mean banana bread that doesn't last long in the Gin Cave, the distillery's bottling production area.
The bottles' wax sealants and gum on the hand-stuck labels are vegan, and small-consignment distribution to local suppliers is done by pedal power. The company joined forces with the charity Elephant Bikes, which rescues, among others, old Post Office bikes from landfill, and branded some of its recycled items in the distinctive Brighton Gin turquoise livery, a colour chosen to match the railings on Brighton's seafront esplanade. For every bike the charity sells, it sends a second bike to Malawi to help the communities there.
Increased demand for the aromatic drink has meant that some longer-distance deliveries across East and West Sussex have to be made by van now, and the company has just entered into a national distribution deal with spirits specialist Love Drinks. Stockists also include selected southern branches of Waitrose, Harvey Nichols, Majestic Wines, Fortnum & Mason and Marks & Spencer, a level of success that recognises the spirit's award-winning credentials. In 2017, it won gold, silver and bronze at the International Wine & Spirit Competition, and in 2018 accolades included gold at the International Wine & Spirits Awards for artwork and bottle design, silver at the International Wine & Spirit Competition, a 1* at the 2018 Great Taste Awards and Silver in The International Spirits Challenge.
Caton is proud to state that her baby is going out into the wider world, winning friends and gaining aficionados as far afield as Dr Fern's bar in Hong Kong and the Atlas Bar in Singapore.
However, despite Brighton Gin's success and growing international fame, its creator always remembers that a large part of her success stems from the people who supported her in the early days. ​"We appreciate how the people of Brighton and Hove have supported us as a small-scale local business, and we consistently aim to give something back to our community by supporting local charities and good causes," Caton explains.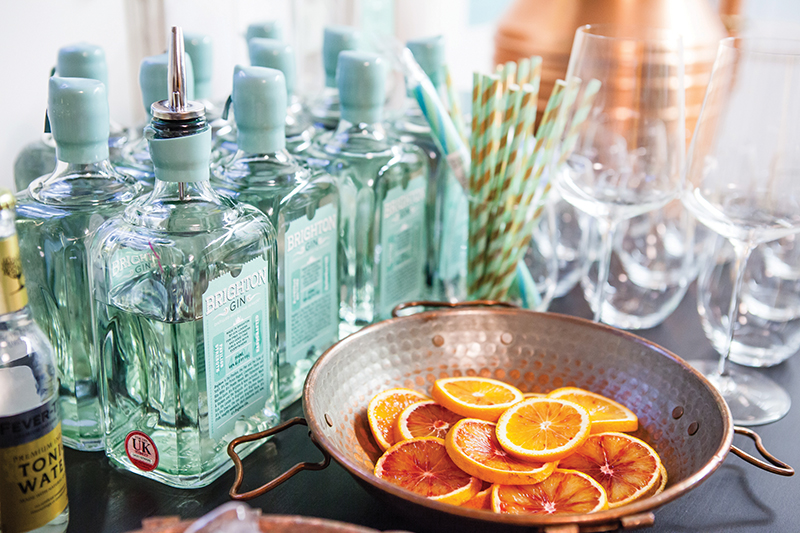 Today, Brighton, tomorrow Melbourne
So, what does the future hold for this vibrant newcomer to the drinks industry? As well as growing its UK market, Brighton Gin is currently exporting to Denmark and Germany – that's a long bike ride! – and plans are in motion to export to Australia. A team relay, perhaps, for that one? And, as Caton says in the website's first webcast, there is a Brighton Beach in Melbourne, a Brighton Beach in Brooklyn, New York, and ​"quite a few [Brightons] dotted around" the world, so the possibilities for twinning – and gin twinning… gwinning? – are exciting. Despite Brexit worries (how many sacks of juniper can you stockpile? – ​"I have a long-term goal to one day grow our own juniper on our post-distillation compost, but that's a bit of a while away!"), given its localism values, local ingredients and generation of much good will among local suppliers and tipplers, Brighton Gin's future is firmly planted in sustainable growth.
As a final question, if, I ask Caton, you had to define Brighton and Brighton Gin in three words, what would they be? The answer is immediate: ​"Exciting, independent and fun-loving." I'll drink to that.
Brighton Gin retails at £37.50 for 700ml. Visit www​.brighton​gin​.com to order online, and to check out their list of stockists, restaurant outlets, news and upcoming events. Brighton Gin is certified vegan by the Vegan Society. www​.brighton​gin​.com
*Always drink responsibly. You can only buy Brighton Gin from the website if you are 18 or over and retailers may ask for ID.
Written by Bryony Weaver.
Photos: Kathy Caton/ Brighton Beach by Vervate. Still shots/ interiors by Brighton Gin staff members