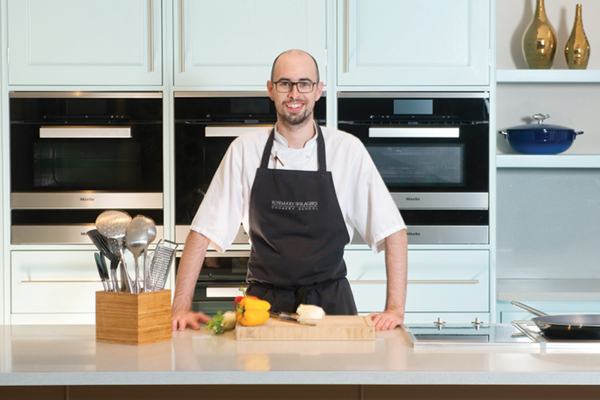 Pear and Almond Tart with John Rogers, Executive Chef at Rosemary Shrager's Cookery School
We find ourselves at the half way point of the year, hopefully we are in for a sunny period!
Summer time is a chefs delight! We have so many different ingredients to choose from, with the beautiful peas and broad beans, to the wonderful selection of berries. The colours, the smells, the flavours….. its so exciting!
Living here in beautiful Tunbridge Wells I am so lucky for all the fruit and produce that we have from the surrounding countryside, I wanted to do a recipe that is great all year round. All you need to do is change the fruit, this one is for a Pear and Almond Tart, Enjoy!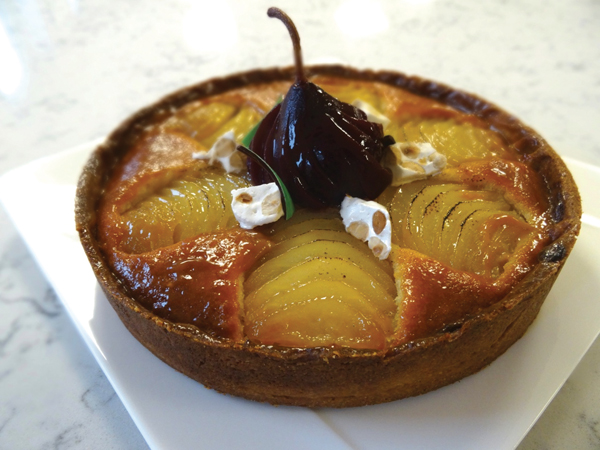 Ingredients for frangipan
125 g Butter
125g Caster Sugar
150g Ground Almonds
25g Custard Powder
15 g Flour
2 Medium Eggs
Cut up fruit, Change with the seasons
Ingredients for poached pear
4 Pears Peeled
200ml white Wine
100g Sugar
1 Star Anise
1 Cinnamon Stick
600ml water
Ingredients for sweet paste
200g sugar
200g butter
2 eggs
480g plain flour
Method for the pastry

Cream together the sugar and butter
Add eggs slowly
Add flour and gently mix
Rest then roll out

Method for the poached pear

Place the pears into a pan with all the ingredients and simmer until pears are al dente.Around

5

minutes.
Remove pan from heat and leave to cool naturally.

Method for the frangipan

Place the sugar, flour and custard powder into a bowl and whisk.
Add the butter and cream. Mix well.
Add eggs and almond bit by bit.

Now blind bake the pastry case for 10 – 15 minutes. Now place the frangipan into the case placing the poached pear nicely into the top of the tart.
Cook for 20 – 25 minutes.
John is at Rosemary Shrager's Cookery School,Tunbridge Wells. Tel: 01892 528 700
www​.rose​maryshrager​.com