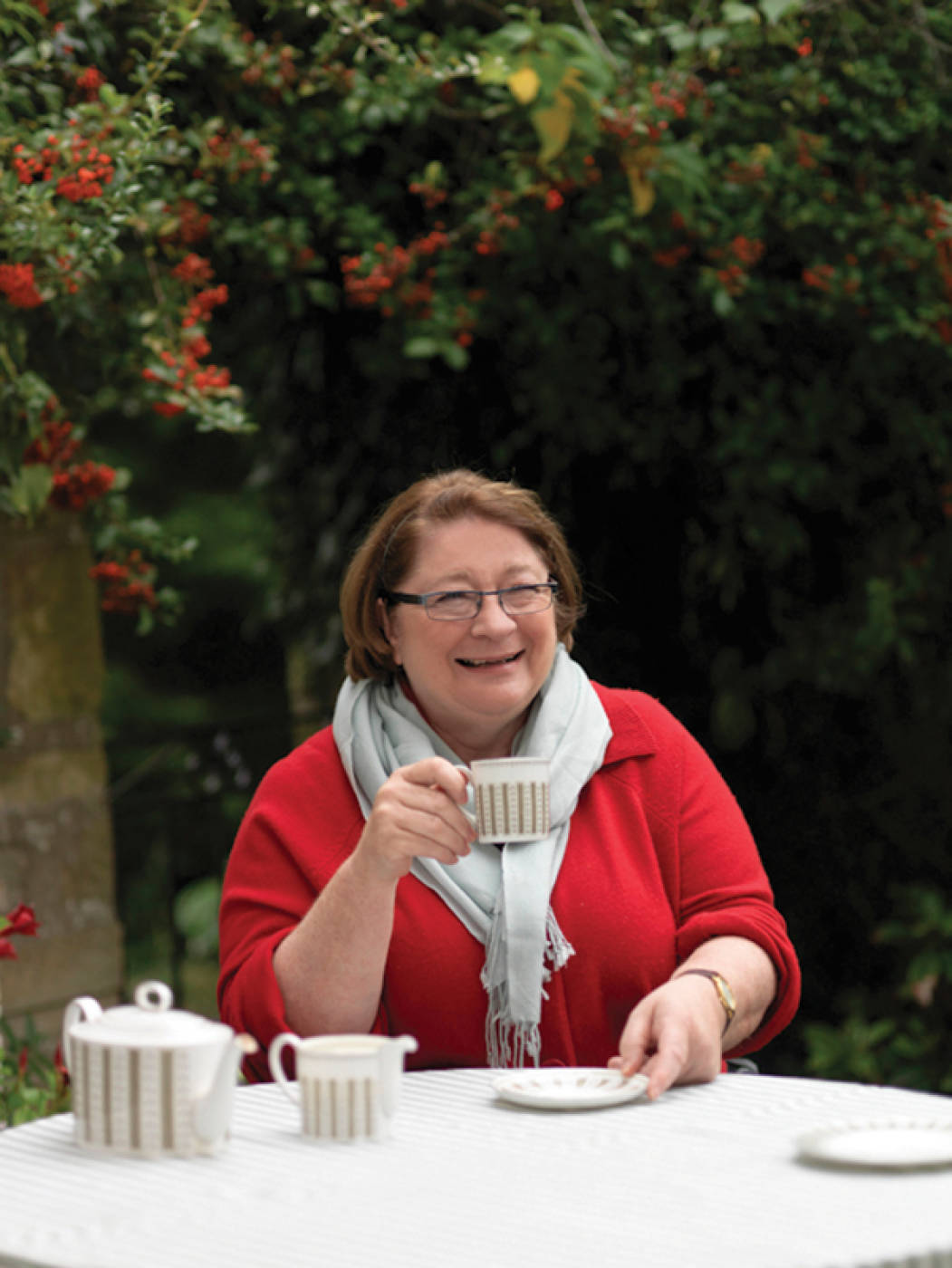 In the Kitchen with Rosemary Shrager
There's so much to do around Christmas time, and with a little pre-planning, the chaos can be a ghost of Christmas past. At the end of the day, remember, Christmas dinner is just a roast – and there's plenty of elements in a roast that can be prepared days, if not weeks, ahead. We all deserve to have some time to enjoy the festivities. There's absolutely no need to peel veg or whisk up your bread sauce on Christmas morning! I like to relax, like the rest of my family, on Christmas Day, before starting on the Christmas dinner. So for me, I will get the bulk of the Christmas cooking done and put away in the fridge, where it will be fine for a few days.
For a flavoursome gravy, put vegetables like carrots, parsnips, celery, onions and garlic underneath your joint or bird. The vegetables will caramelise and get covered in all the juices from the meat, and the caramelisation will bring an added depth of flavour to the gravy. I make my gravy a month before. I simply freeze it in a container, and defrost on the day. I then add the juices from my Christmas turkey to it before serving.
Bread sauce also freezes well, but it also keeps for a remarkably long time in the fridge – just make it a few days before, and you won't even need to defrost it. Cranberry sauce can also be made ahead. You can even freeze your stuffing in an ovenproof dish, so once it's defrosted, you can pop the dish straight into the oven.
Cold desserts can be made ahead and served straight away, my Raspberry and Rum Trifle is ideal. Making this in individual glasses means you don't have to serve it out yourself, saving you even more time! It does look quit1e spectacular made in one large bowl if you want to give it a go.
If you're planning to serve canapés my little pinwheels always go down a treat. They can be assembled in advance, then sliced and baked at the last minute and served hot from the oven. I have given two savoury fillings and a sweet one here. You can make up your own fillings, but be sure to choose fairly strong flavours so that the taste comes through.
I wish you all a very Merry Christmas and a Happy New Year!
Rosemary Shrager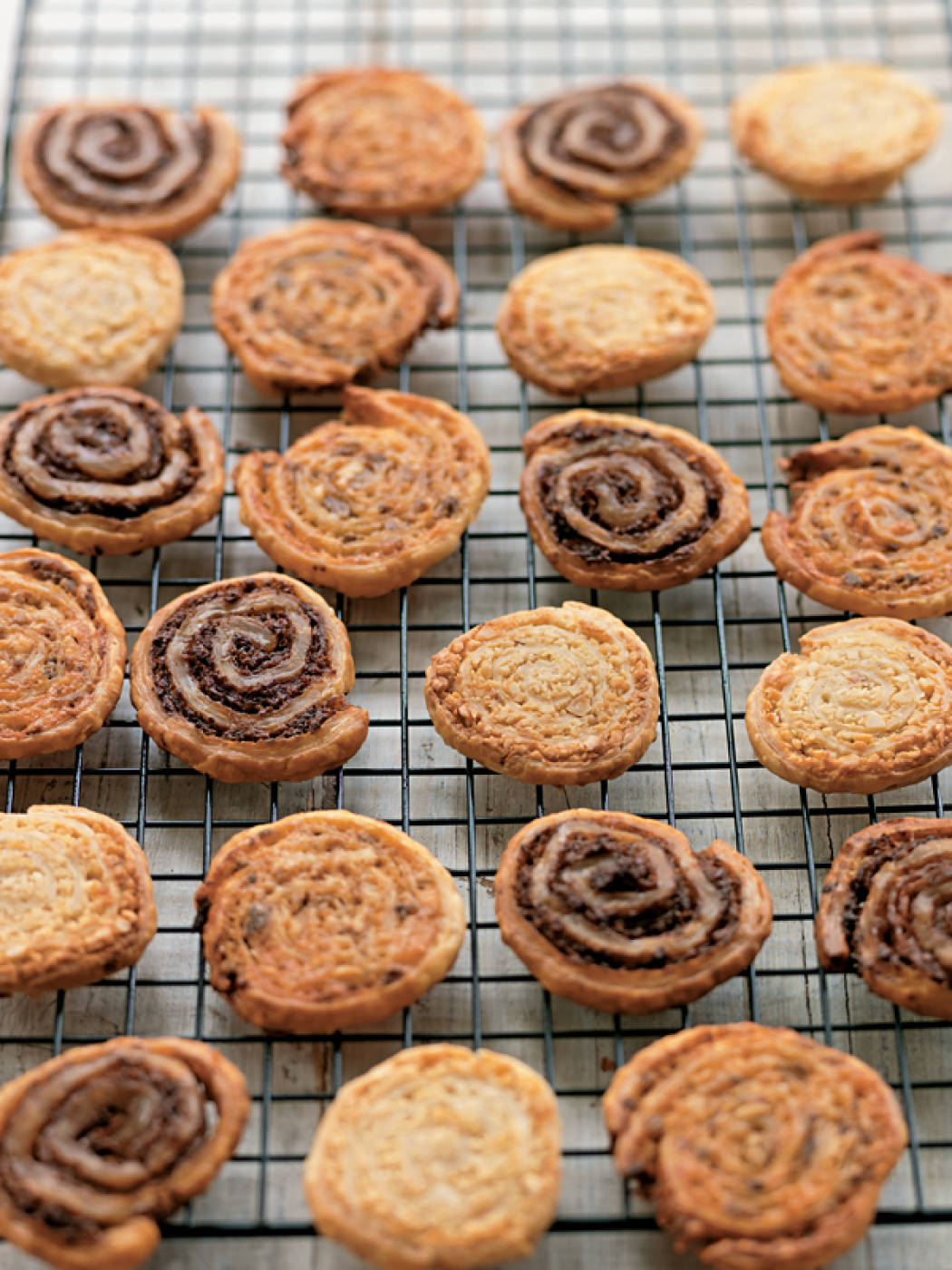 Puff Pastry Canapés
Makes 48 of each filling
Flour for dusting
750g Puff Pastry (see below)
Unsalted butter for greasing
For the tapenade filling:
100g full-fat cream cheese
4 tablespoons tapenade
4 slices of Parma ham
For the cheese and anchovy filling:
50g Cheddar cheese, grated
50g Parmesan cheese, freshly grated
½ teaspoon cayenne pepper
150g anchovy fillets in oil, drained and chopped
For the hazelnut filling:
125g hazelnuts, finely chopped
25g fresh white breadcrumbs
35g caster sugar
2 tablespoons rum
On a lightly floured work surface, roll the pastry into a large rectangle about 40 × 30cm and 2.5mm thick. Place on a floured baking sheet and chill for 30 minutes.
Meanwhile make the fillings. Put the cream cheese and tapenade into a bowl and mix well. Cover with cling film and leave in the fridge until needed. Combine the ingredients for the other 2 fillings in separate bowls, then cover and leave in the fridge until needed.
Cut the chilled pastry into 3 equal pieces, each one measuring 40 × 10cm. Spread half the cream cheese mixture on one strip of pastry, lay the Parma ham on top and cover with remaining cream cheese filling. Roll up tightly from the narrow end, wrap in cling film and place in the freezer for 30 minutes.
Spread the other fillings on the remaining strips of pastry and roll up as before. Wrap in cling film and place in the freezer for 30 minutes.
Cut the chilled pastry rolls into slices 6mm thick and place them on buttered baking sheets, spacing the canapés 1cm apart. Bake in an oven preheated to 180ºC/Gas Mark 4 for about 15 minutes, until golden.
For the puff pastry:
500g plain flour, plus extra for dusting
680g unsalted butter, cut into small pieces
250g strong white flour
225ml water
15g sea salt
First make a butterball for the pastry. Put half the plain flour into a bowl with 600g of the butter.
Mix together without beating until you can form a ball from the mixture. Cover with cling film and then chill for 2 hours.
Put the remaining plain flour and strong flour into a bowl, make a well and add the water, remaining butter and salt.
Mix well until it forms a smooth dough. It should have the same consistency as the chilled butterball, so do not put too much pressure on it.
Cover with cling film and chill for 2 hours.
When ready to use, place the dough on a floured work surface.
Press down a little with the palm of one hand, resting the other on top and push (not stretch) the dough until it forms a circle about 4cm thick.
Start rolling the dough into the shape of a four-leaf clover, leaving it slightly domed in the middle.
The leaves tend to come back on themselves, so roll again until they stay put.
Place the butterball in the middle of the dough and fold the first leaf over it without stretching, and brushing off any excess flour.
Bring the next leaf up and over, brushing off the flour again, and repeat with the other 2 leaves. Make sure the corners are well sealed.
Push down as before with the palm of your hand, again without stretching, to make a circle about 4cm thick.
Roll the pastry into a strip about 38cm long and 3mm thick. Fold it into 3, then turn the dough through 90 degrees to the open end.
Now roll again to the same size, keeping the pastry as even as possible. Fold again into 3, then turn again through 90 degrees to the open end.
Cover with cling film and chill for 25 minutes to allow the gluten to rest.
Roll out the chilled dough as before, folding it into 3 and turning it through 90 degrees to the open end.
Repeat once again, then cover and chill for another 25 minutes.
Roll and repeat the final 2 turns. This now gives it 6 turns. Cover with cling film and chill for at least 4 hours.
Trim off the sides, wrap the offcuts in cling film and freeze. These bits are handy for making Palmiers or using as pie toppings.
www​.rose​maryshrager​.com
Twitter: @RosemaryShrager
Cakes, Bakes & Puddings by Rosemary Shrager, Published by Hamlyn £18.99
www​.octo​pus​books​.co​.uk