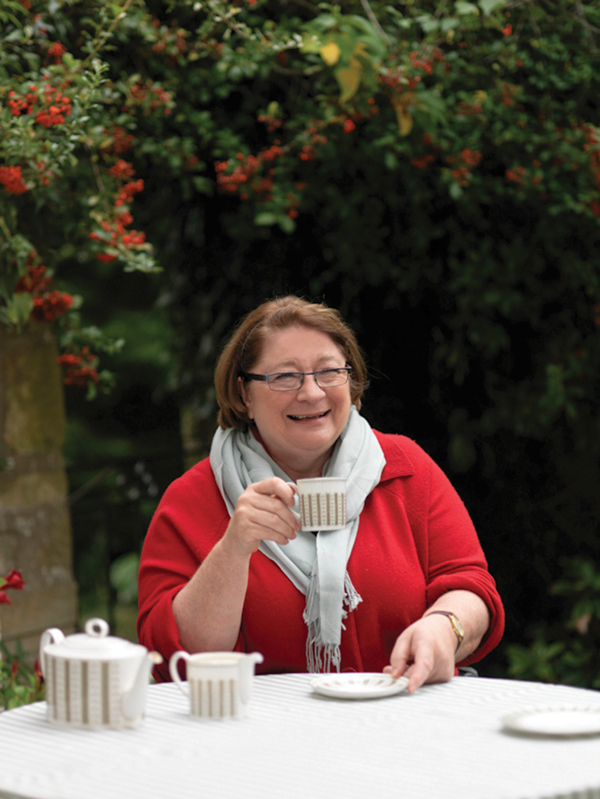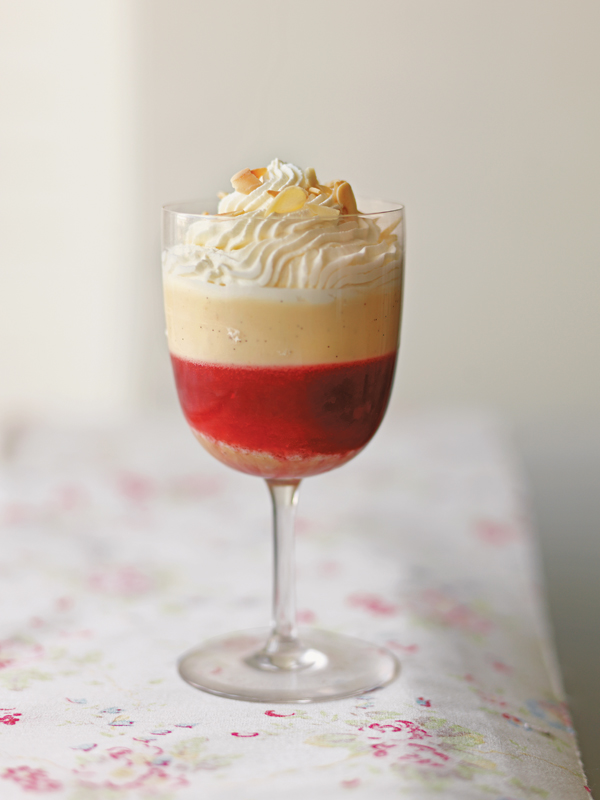 In the kitchen with Rosemary Shrager – January
2016
Raspberry and Rum Trifle
Serves 4
4 tablespoons rum
200ml double cream
Toasted flaked almonds
For the sponge base:
100g ground almonds
100g caster sugar
1 egg, plus 1 egg yolk
25g soft unsalted butter
20g plain flour
3 egg whites
For the jelly:
6g gelatine leaves
700g frozen raspberries
Icing sugar, to taste
2 tablespoons boiling water
For the custard:
500ml double cream
2 vanilla pods, split open lengthways
10 egg yolks
First make the sponge base. Put the ground almonds, caster sugar, whole egg and egg yolk, butter and flour in a large bowl and stir together. Whisk the egg whites to soft peaks. Using a metal spoon, fold 2 tablespoons of the whites into the almond mixture, then gently fold in the rest. Do not beat.
Pour the mixture on a baking sheet lined with baking parchment and bake in the centre of an oven preheated to 180°C/Gas Mark 4 for 10 minutes, until golden brown. Set aside to cool on the parchment.
Using a pastry cutter, stamp out circles of the sponge and use to line the bottom of 4 large wineglasses. Drizzle a tablespoon of rum over each one and leave to soak in.
To make the jelly, soak the gelatine in cold water for 15 minutes, then squeeze dry. Meanwhile, set aside a dozen of the best-looking raspberries. Rub the remainder through a sieve to make a thick juice. Sift in enough icing sugar to sweeten. Put the squeezed gelatine in a bowl with the boiling water. Stir to dissolve, then add to the raspberry juice. Mix well and pour evenly over each glass of sponge. Place in the fridge to set.
To make the custard, put the cream and the seeds scraped from the vanilla pods in a saucepan and bring to a simmer. Put the egg yolks and sugar in a bowl and whisk until the sugar has dissolved. Whisk in the hot cream, then return the mixture to the saucepan, bring to the boil and stir until it thickens. Cover with cling film, placing it directly on top of the custard to prevent a skin forming, and set aside to cool.
Pour a thick layer of the custard into each trifle glass. Whip the 200ml cream until stiff, then pipe or spoon some into each glass. Decorate with the reserved raspberries and the flaked almonds.
www​.rose​maryshrager​.com
Twitter: @RosemaryShrager
Cakes, Bakes & Puddings by Rosemary Shrager,
Published by Hamlyn £18.99
(www​.octo​pus​books​.co​.uk)
80g caster sugar