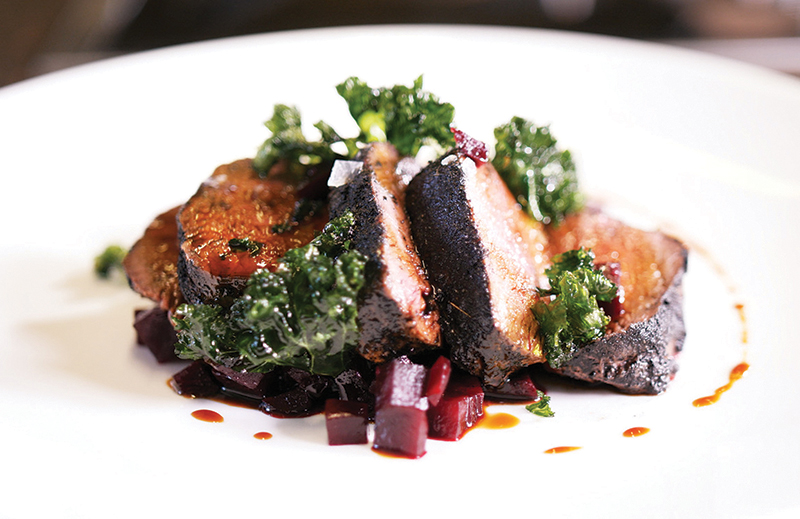 The HAYSMOKED VENISON METHOD from Kent Cookery School
Trim the venison loin of any sinew. Place 2 handfuls of dried hay in a deep tray and light with a match (we suggest you do this outside, or the smoke alarm will be cheering you on!). Once burnt out, place the loin on top, cover with cling film and leave in the fridge for minimum of 2 hours.
Preheat the water bath to 57°C
Remove the deer from the fridge and roll the loin in the burnt hay powder. Roll tightly in cling film and cook in the water bath for 20 minutes. Once cooked, remove from the water bath and remove the cling film.
If you do not have a water bath, tap the venison loin until it is dry, season with salt and pepper. Then using a skillet, heat to a high heat once the pan is almost smoking add a good dash of rapeseed oil. Carefully place the lion into the pan with the oil.
Sear all around using tongs to turn the meat until you have a nice crust around the loin. Add a few sprigs of thyme, a smashed clove of garlic with the skin still on and then place in a preheated oven 180 degrees for 10 minutes. Once out of the oven add a knob of butter and baste the loin for a few minutes then remove from the pan and leave to rest for a further 10 minutes.
Beetroot chutney
Ingredients
300g raw beetroot 250ml water
250ml cider vinegar 40g caster sugar
Method
Peel and grate half the beetroot. Put it in a small saucepan with the water, vinegar & sugar. Bring to the boil then lower the heat to a simmer for about ten minutes or until tender, push the beetroot through a fine sieve into another saucepan, reduce the beetroot syrup.
Meanwhile, cook the remaining unpeeled beetroot in boiling salted water until tender. peel while warm and dice into 1.2 cm.
Add to the syrup and set to one side
Serving Suggestions:
Serve with fondant potatoes, heritage carrots and a glossy Jus and garnish with some crispy kale.
To book a course or buy a gift voucher for a present,
call 01233 501771 or head to www​.kent​cook​eryschool​.co​.uk