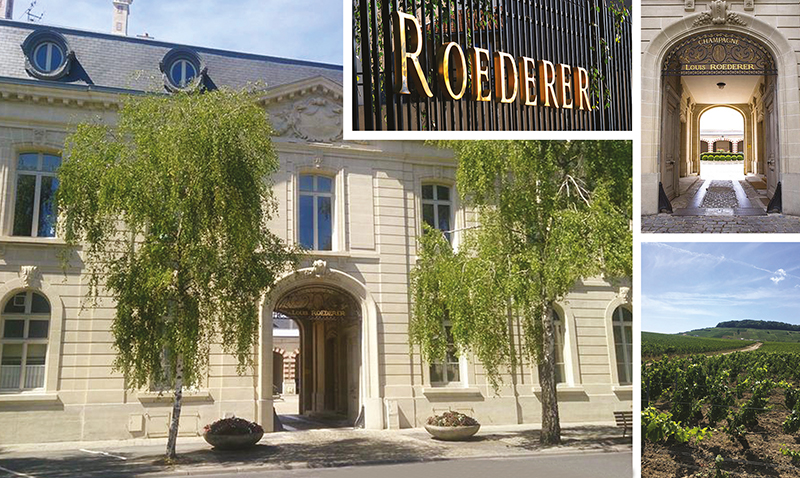 I was lucky enough to be invited to the amazing Louis Roederer Estate of France in May 2018. This Producer has been on my radar for a while now and finally I am on-board the early Eurostar hurtling towards Reims. So I begin to wonder, despite the hour, if a glass of Champagne which I am offered is in fact appropriate. I refrain this time – its still a little early. Even for the Grape Wizard!
Louis Roederer is now managed by the seventh generation, led by Frédéric Rouzaud and is one of very few independent, family-run Houses remaining today, producing over 3.5 million bottles and shipping to over 100 countries.
Starting out as Dubois Père & Fils in 1776, Louis Roederer inherited and renamed his Uncle's House in 1833. In contrast to the practices of his time, Louis decided to invest in his own vines with the idea to master the end-to-end process of creating vintage wines. Owning his own vines gave him control of quality and led to particularly distinctive characteristics, establishing L R's reputation as one of Champagnes best producers.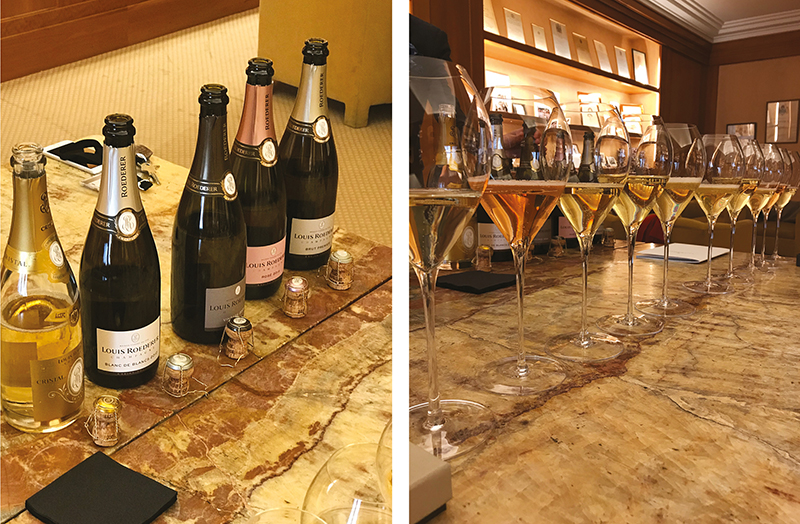 By 1876 the House was exporting to Russia. Viewed by many as the world's first prestige cuvées, Cristal was created at the request of Tsar Alexander II, for exclusive consumption of the Royal Household. It remained exclusive until 1945 when Cristal was first launched commercially for the rest of the world to enjoy!
At this time the political situation worsened and the Tsar feared assassination. He requested that his Champagne was bottled in clear glass so that he could see the bubbles and prevent anyone hiding a bomb in the punt (GW note: a punt is a Champagne bottle's characteristic bottom recess or hollow). Louis Roederer commissioned a Flemish bottle maker to create a clear lead glass Champagne bottle with a flat bottom and this is why today the bottle is still wrapped individually in its distinctive yellow cellophane to protect the wine from UV light.
The Grape Wizard's top
4

wines of Louis Roederer
1

. Brut Premier

The freshness, finesse, and brightness of Brut Premier makes it the perfect wine for festive occasions. It is structured, rich and has good length.
Brut Premier £
42

Berry Bros

A blend of around 40% Pinot noir, 40% Chardonnay, and 20% Pinot Meunier.
2

. Louis Roederer Vintage
Flagship Champagne which represents the

LR

terroir and the finesse, purity and precision of their vineyards.
Vintage
2009

Waitrose Cellar £

61

.

99

LR uses the structure and power of the Pinot noir grapes from the Montagne de Reims to create its Cuvée Vintage. NE exposure matures the grapes slower on the vine, intensifying the wine and ultimately making them more refined.
Composed of around 70% Pinot noir and 30% Chardonnay 30%, the Vintage cuvée is matured on lees for four years and left for a minimum of six months after dégorgement (disgorging) to attain perfect maturity.
The wine has a rich and winey sweetness. Characteristics include candied fruits, almond paste, toast, white chocolate, and caramel.
3

. Blanc de Blanc Vintage
This Champagne is pure and bright. Characterised by notes of fresh hazelnuts, almonds, and white flowers with accents of acacia, broom, and honeysuckle.
Blanc de Blanc £
76

.

99

Amazon

100% Chardonnay, the Blanc de Blancs Vintage cuvée is generally matured on lees for five years and left for a minimum of 6 months after dégorgement. In the mouth it is smooth and delicate, and noticeably sweet. Floral notes, white fruit and dried fruit are evident with the delicate chalky minerality of the Côte des Blancs. The texture has notes of sugared almonds, followed by elegance, and freshness highlighted by hints of mint and basil.
4

.

CRISTAL

Cristal is both powerful and delicate, combining subtlety and precision.
Cristal
2009

£

154

.

98

Amazon

LR's most famous wine was created in 1876 to satisfy the demanding tastes of Tsar Alexander II. The emperor asked Louis Roederer to reserve the House's best cuvée for him every year. It was produced in a flat-bottomed, transparent lead-crystal bottle and named the new brand was named after the precious material of the time.

Produced uniquely during the best years, when the Chardonnay (around 40%) and Pinot Noir (around 60%) grapes have attained perfect maturity. Cristal is aged for 6 years in LR's cellars and left for a further 8 months after dégorgement.
Cristal has a silky texture and fruity aromas, complemented by a powerful mineral quality with white fruit and citrus notes. Can be cellared for 20 years or more.

If you would like to know more please go to my website www​.the​grapewiz​ard​.com and ask me any questions.

Email – thegrapewizard@​gmail.​com
Instagram and twitter @thegrapewizard
& #thegrapewizard