Luxury London
Up on the roof is the place to be this summertime and London now boasts an impressive array of options. From City to West End; Shoreditch to riverside here is just a small taste of what London has to offer. And the best part… you don't need to be a member of the exclusive billionaires club to enjoy some of the finest views over London's skyline, although undoubtedly it helps!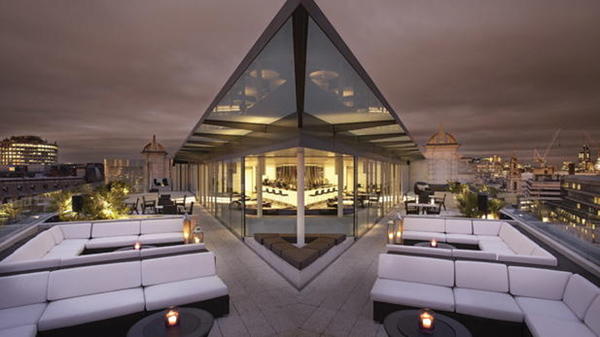 Radio rooftop bar ME London
Located on the 10th floor of ME London, accessible via a dedicated express lift, Radio is the only rooftop bar, lounge & terrace in the Strand & Aldwych area to be open throughout the day till 2AM (Thursday – Saturday).
Book ahead to avoid the queues for this hotel bar, which can sometimes match altitude with attitude. Make it up to the 10th floor though and 360-degree views are the pay off, stretching from the Shard and St Paul's downstream to the London Eye and Big Ben up west.
Daytimes – weekend brunches and Champagne afternoon teas – are less hectic. ME London, 336 – 337 Strand, London, WC2R 1HA; www​.radiorooftop​.com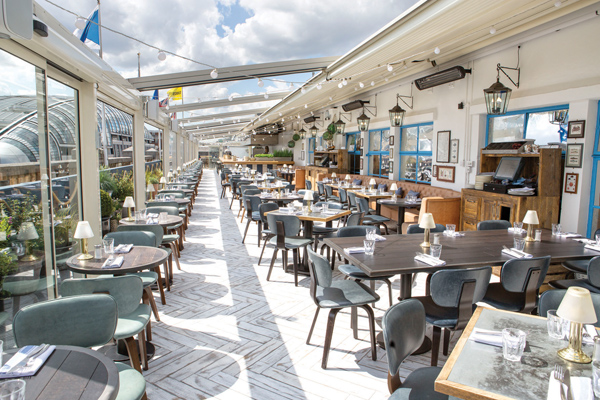 Selfridges Q on the Roof
Voted the best department store in the world, Selfridges not only has all the latest designer collections, must-have toys & gifts, it also boasts an impressive pop-up roof top bar and restaurant.
Entry is via an Express Lift located in Fragrance on the Ground Floor. Booking is advised – online or by telephone: 020 7318 3287
www​.sel​f​ridges​.com/​G​B​/​e​n​/​c​o​n​t​e​n​t​/​f​o​r​e​s​t​-​r​e​s​t​a​urant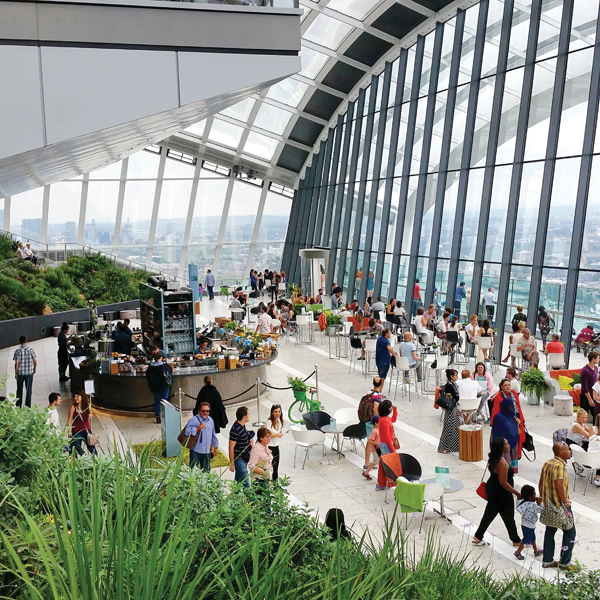 Sky Garden, 20 Fenchurch Street (The Walkie-Talkie!)
Rafael Viñoly, the world-renowned Uruguayan architect based in New York City, designed 20 Fenchurch Street in 2004. Without increasing the building's footprint, Viñoly turned the idea that buildings having to be smaller at the top on its head. The Sky Garden at 20 Fenchurch Street is a unique public space that spans three storeys and offers 360 degree uninterrupted views across the City of London. Visitors can wander around the exquisitely landscaped gardens, observation decks and an open-air terrace of what is London's highest public garden.
Entry to the Sky Garden is free, but please note space is strictly limited and visits must be booked online in advance.
www.skygarden.london/booking
The City Garden Bar is a drinking and dining space, situated amongst the impressive Sky Garden. For access to City Garden, guests need to pre book a public visitors ticket. restaurants@skygarden.london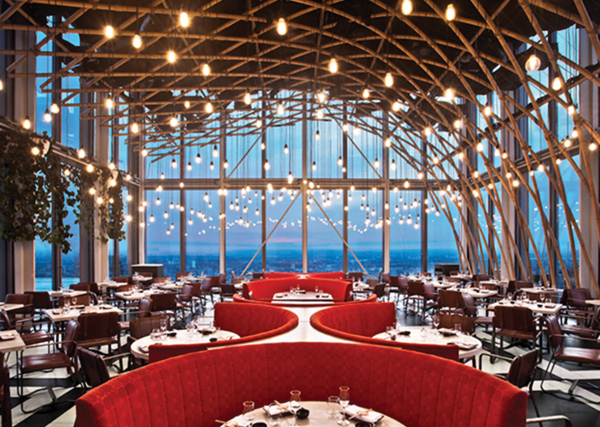 Sushisamba
Located on the 38th and 39th floors at 110 Bishopsgate, SUSHISAMBA delivers a unique blend of Japanese, Brazilian and Peruvian cuisine, culture, music and striking design to the City of London. The location features the highest outdoor dining terraces in Europe, offering unparalleled, 360 degree views of the City.
110 Bishopsgate, London, EC2N 4AY; www​.sushisam​ba​.com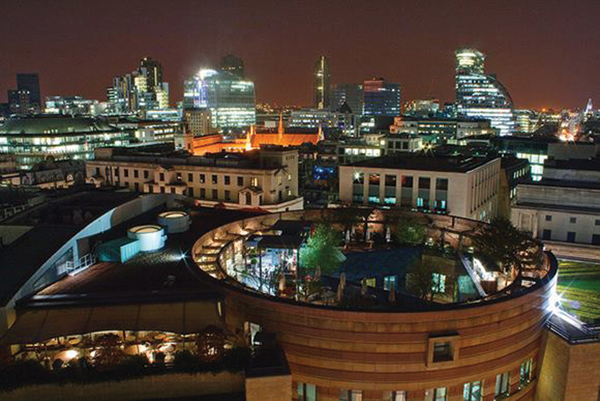 Coq d'Argent
Classic French Cuisine in a spectacular rooftop setting, located in the heart of the city. Extremely popular with city boys and girls – best avoided on Thursday and Friday nights if you are not a fan of queuing!
No.1 Poultry, London, EC2R 8EJ; www​.coq​dar​gent​.co​.uk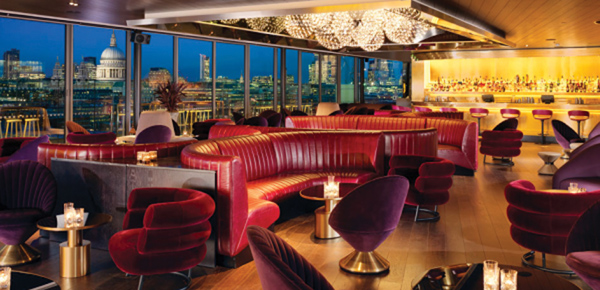 Rumpus Room at the Mondrian London at Sea Containers
Rumpus Room is the rooftop bar and lounge at Mondrian London, inspired by a moment in time, the Bright Young Things. One of the most extraordinary cults of youth and frivolity in history, the Bright Young Things were a voracious pleasure-seeking band of bohemian party-givers and blue-blooded socialites who romped through the newspaper columns in 1920's London.
Rumpus Room brings back this era, a time when a party was more than a party, it was a lifestyle, an experience, a flash in time, that was gone before you knew it happened.
With dramatic views of London, Rumpus Room comes alive as the sun goes down; a magical glittering glass box perched atop Mondrian, specialising in bubbly, serving an extensive list of the world's best champagne offerings, by the glass, bottle, or in specialty cocktails.
For reservations please call +44 (0)20 3747 1063
www​.mor​gan​shotel​group​.com/​m​o​n​d​r​i​a​n​/​m​o​n​d​r​i​a​n​-​l​o​n​d​o​n​/​e​a​t​-​d​r​i​n​k​/​r​u​m​p​u​s​-room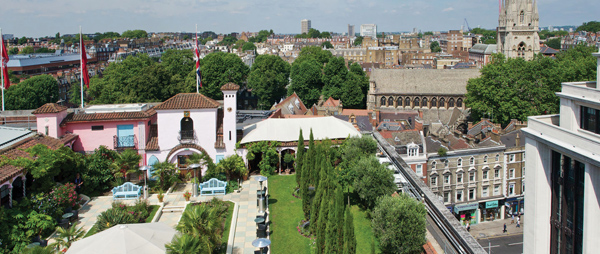 The Roof Gardens, Kensington
The Roof Gardens were the dream of Trevor Bowen, the vice president of John Barker & Co. In 1936 he employed landscape architect Ralph Hancock to realise his vision. The gardens took two years to build at a cost of £25,000 and opened to the public in May 1938.
The gardens at The Roof Gardens are spectacular and best of all, they're open to the public to visit free of charge. The gardens are often hired for private events so we strongly recommend you phone ahead (0207 937 7994) to make sure they're open on your preferred day.
When visiting the gardens you will be asked to add your name to the visitor log and photo ID will be required.
If the gardens are in use you can always book a table in the Babylon Restaurant for a bird's eye view of the English Woodland Garden, or pop in for a cocktail on the terrace.
www​.vir​gin​lim​it​ededi​tion​.com/​e​n​/​t​h​e​-​r​o​o​f​-​g​a​r​d​e​n​s​/​t​h​e​-​g​a​rdens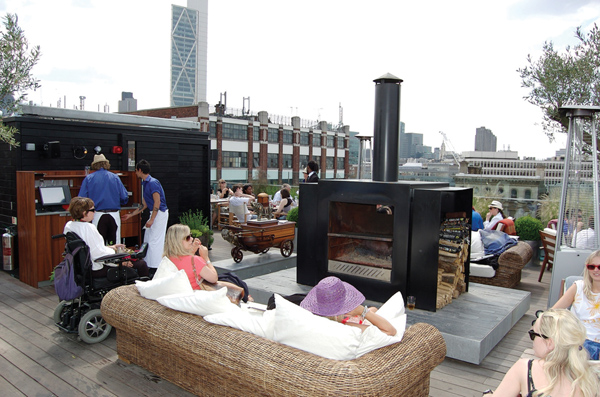 Boundary Rooftop
Boundary's architecture is a tribute to Shoreditch and the confluence of old and new. The dilapidated Victorian warehouse was restored and a striking copper, steel and glass extension added. Over fifty artists and designers contributed bespoke commissions for the interior, with everything overseen by Sir Terence Conran.
Boundary rooftop offers a distinct panorama of East London. The heated orangery is filled with a variety of Citrus trees including Lemon, Clementine, and Calamondin, as well as Mimosa trees. When the weather is good, the space is doubled and provides an unrivalled location. www.boundary.london/rooftop