Luxury London
Following on from our feature on roof top bars, for this edition we are coming back down to earth with a selection of the hottest on trend luxury eateries north south east and west of the city! However, just to be contrary our first offering is 40 floors up!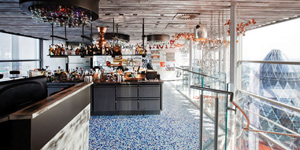 Duck & Waffle
24⁄7 ​"all day" dining
Duck & Waffle is located on the 40th floor of 110 Bishopsgate; otherwise known as the Heron Tower. Completed in March 2011 and stretching 230m into the skyline, 110 Bishopsgate is one of London's tallest buildings.
Duck & Waffle offers a playful take on traditional British cuisine with broad European influences emphasizing local, rustic, seasonal and sustainable ingredients. Dishes are designed for sampling and sharing and are complemented by an iconoclastic cocktail experience served in a vibrant atmosphere that welcomes guests 24⁄7.
Breakfast, brunch, late night, desserts: ​"all day" dining is redefined at Duck & Waffle. Serving from sunrise to sunset to sunrise again — and every hour in between.
Heron Tower,
110 Bishopsgate,
London EC2N 4AY
T: +44 203 640 7310
www​.duckand​waf​fle​.com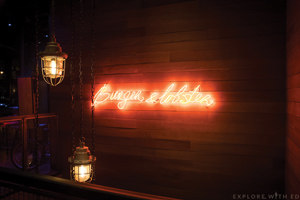 Burger & Lobster
Fishing for the Truth
Burger & Lobster was founded in 2011 with the idea of going back to basics of a restaurant culture where craftsman offered only a few items that they were known for. The Burger & Lobster craftsmanship is exactly that. The Burger is made with highest quality natural beef and the Lobster is sustainable live lobster. Each dish is one price surrounded with good people and good energy.
Serving Burger and Lobster – plain and simple! No vegetarian option.
Located throughout London. See website for full details
Bond Street Restaurant: 26 Binney Street, London W1K 5BN
Reservations for 6 people or more only. Telephone: 020 3637 5972
Email: bond.​street@​burgerandlobster.​com. www​.burgerand​lob​ster​.com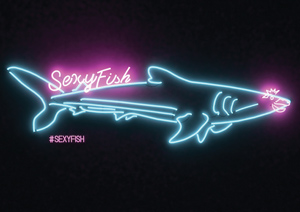 Sexy Fish
Asian Fish and Seafood
Sexy Fish is an Asian fish and seafood restaurant located on the South East corner of Berkeley Square, Mayfair. Designed by Martin Brudnizki Design Studio and decorated with artwork from Damien Hirst, Frank Gehry and Michael Roberts, the look and feel is mid-century glamour.
The restaurant is open until 2am, with a resident DJ all week long. A private dining space, The Coral Reef Room is located on the lower ground floor and houses two of the largest live coral reef tanks in the world.
The bar holds one of the world's biggest Japanese whisky collections, as well as offering a drinks menu featuring both classic and inventive cocktails.
Berkeley Square House, Berkeley Square, London W1J 6BR
T: 0203 764 2000
www​.sexy​fish​.com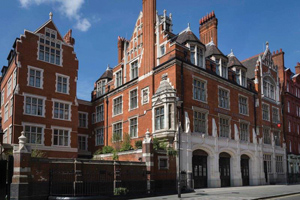 Chiltern Firehouse
As featured in Absolutely Fabulous: the movie!
Chiltern Firehouse celebrates contemporary, ingredient-focused cooking, with an underlying American accent. Michelin-starred chef Nuno Mendes draws on a career split between the United States and Europe to create a changing menu of reimagined classics and bold new flavours, with an emphasis on seasonality and healthy eating.
1 Chiltern Street, Marylebone, London W1U 7PA UK.
E: restaurant@​chilternfirehouse.​com. T: 020 7073 7676. www​.chiltern​fire​house​.com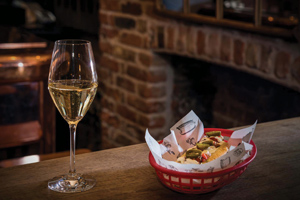 Bubbledogs & Kitchen Table
Champagne & Hot Dogs at Bubbledogs
Bubbledogs was born in 2012 and is the brainchild from Sandia Chang and her husband James Knappett. These days Sandia is the personality and creative behind Bubbledogs, whilst James is busy at the helm of his Michelin star restaurant Kitchen Table at the back of Bubbledogs.
Sandia personally selects the grower Champagnes on the menu and is often in the kitchen, testing out and creating new hot dog recipes to introduce to the menu.
70 Charlotte Street, W1T 4QG. T: 0207 637 7770. E: info@​bubbledogs.​co.​uk
www​.bub​ble​dogs​.co​.uk
Kitchen Table at Bubbledogs…
Tucked away at the back of Bubbledogs through a discrete entrance, is the 19 seat Kitchen Table. Awarded a Michelin star in 2014, Kitchen Table is a dining experience, encouraging full interaction with the chefs and showcasing previously unseen kitchen theatre.
Here Head Chef James Knappett prepares, cooks and serves a daily changing menu of meticulously sourced and foraged British ingredients.
For reservations and all other enquiries, E: kitchentable@​bubbledogs.​co.​uk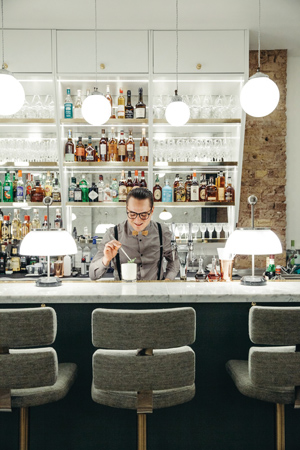 Frenchie
Covent Garden
Frenchie Covent Garden by Gregory Marchand is the newest outpost of the hugely popular Frenchie, Frenchie Wine Bar, Frenchie To Go and Frenchie Wine Shop hailing from the Rue du Nil in Paris' 2nd arrondissement.
Having spent several long periods in the English capital cooking notably at the Savoy, Mandarin Oriental and Fifteen for Jamie Oliver, where the kitchen nickname ​'Frenchie' originated, a return to London seemed inevitable.
The menu at Frenchie Covent Garden echo's its Parisian counterpart with simple yet generous sharing dishes heavily influenced by Greg's travels from London to New York through to Spain and Hong Kong. A 5‑course Carte Blanche menu is also available on request and, subject to availability, downstairs overlooking the action from the kitchen.
16 Henrietta St, Covent Garden WC2E 8QH.
T 0207 836 4422
E: reservations(at)frenchiecoventgarden.com
www​.frenchiecovent​gar​den​.com