Nico's Kitchen
This is a complete vegan experience – especially for the uninitiated – without being preachy or overbearing. It's all about serving nutritious food in what could be grandma's front room.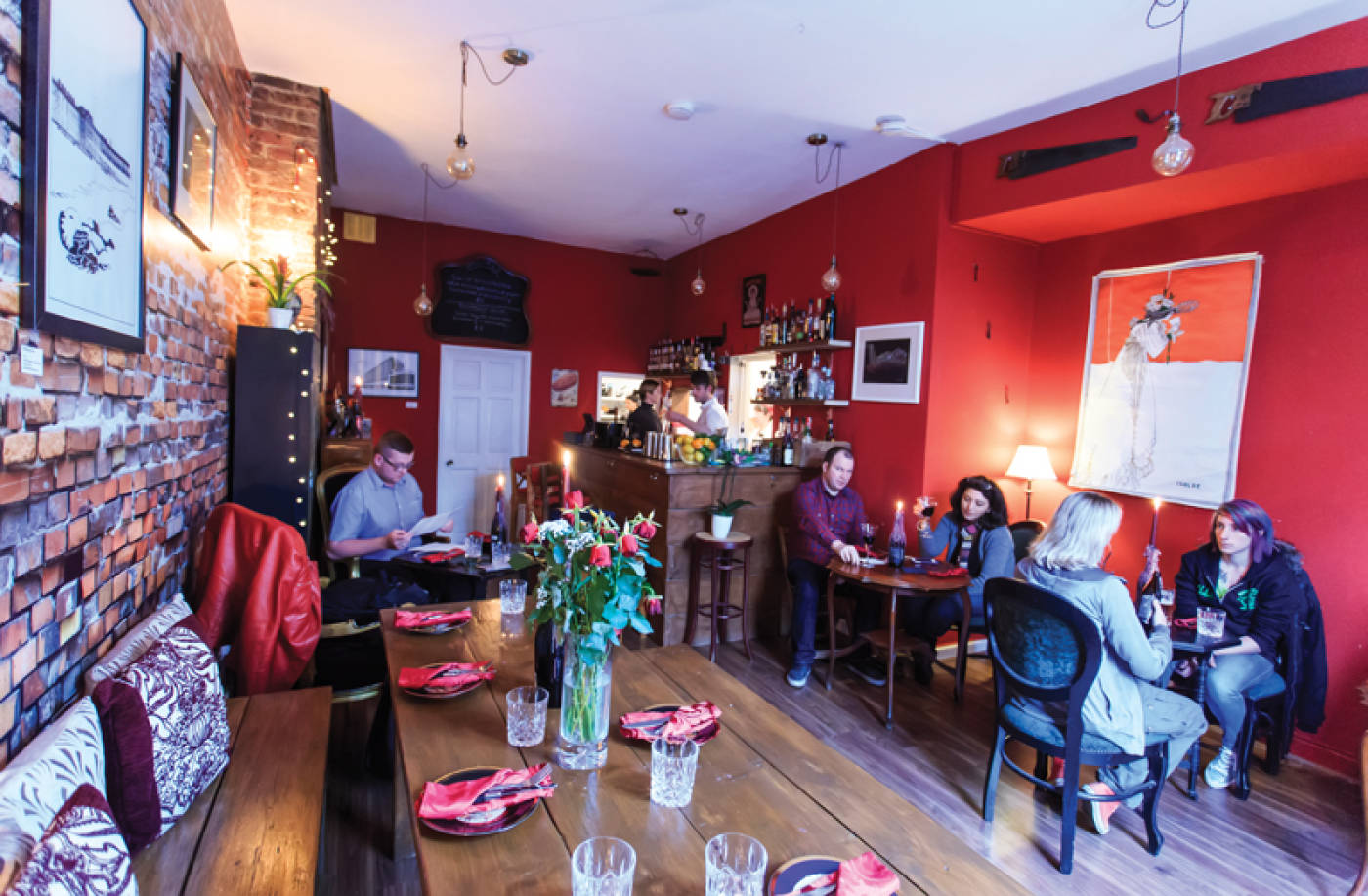 If the word ​'vegetarian' strikes fear into your carnivore-to-the-core heart, surely the only concept more terrifying is ​'vegan'. If so, you need to reserve a table at Nico's Kitchen, a retro speakeasy style bar and bistro in St Leonards – you may well find yourself converted.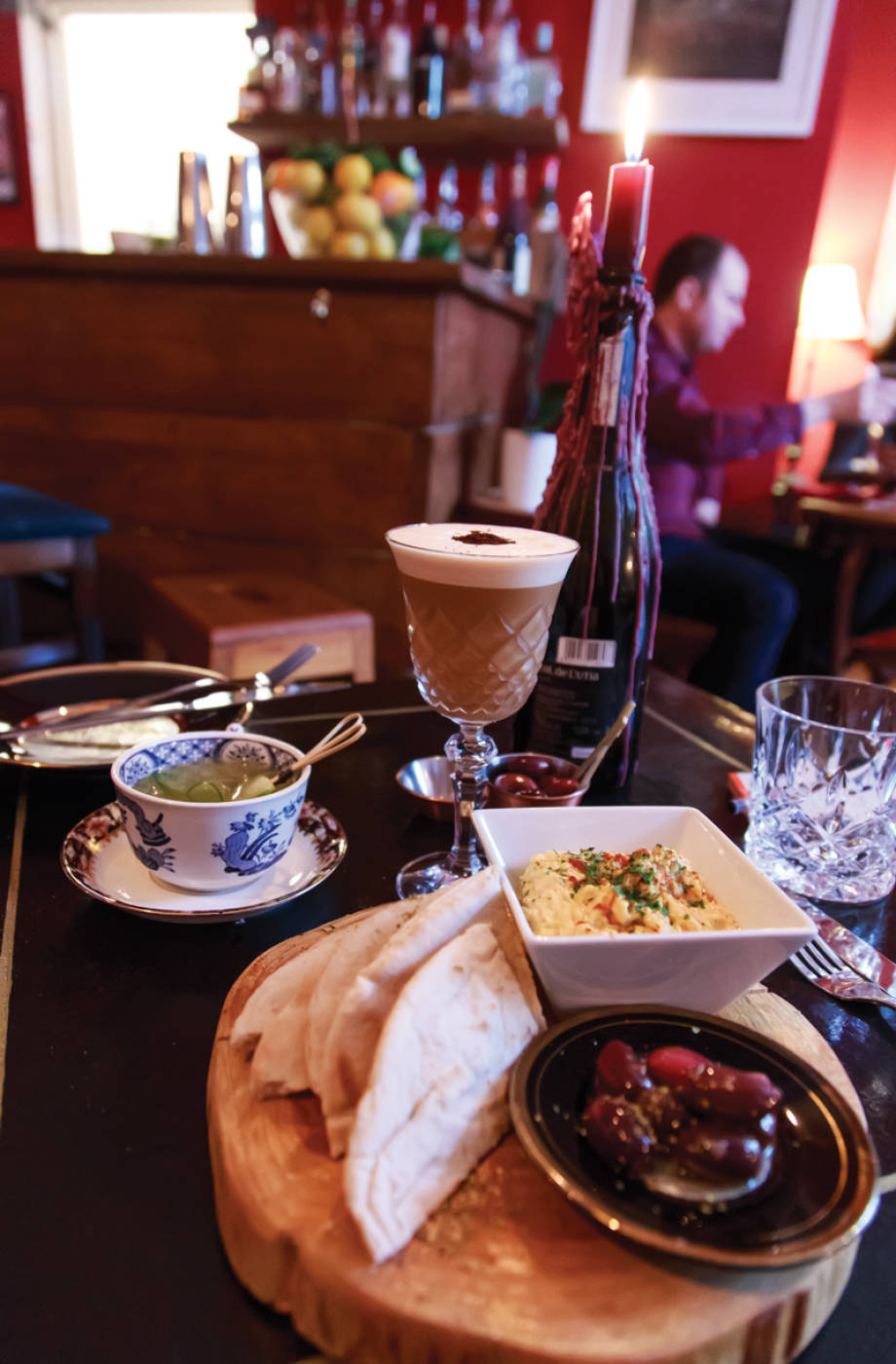 In the kitchen
The creative and super delicious tapas-style food you can expect from Italian Head Chef Nico Di Russo, an acclaimed international vegan chef, and Brazilian Sous Chef, Ludmila Girardi, will keep you wanting to come back for more. It's unlike anything you've tasted before – in a good way. Abstract creations like ​'smoked salmon bagel' which is a plant-based mock-salmon made of thinly sliced and slow-baked carrots marinated in seaweed and olive oil (a 4‑day process), cream cashew cheese, a twist of lemon, chives, rocket, black pepper, served on a toasted bagel. Then there's their delicately spiced creamy risotto balls, rolled in polenta and baked till crisp and a rich pomade sauce; and a good vegan cheese board (yes – vegan cheese is now a good thing!) that comes with warm sour-dough, olive oil, balsamic vinegar and spicy Greek olives.
Take a seat
There is an elegant buzz about the mismatched five-tabled eatery. The atmosphere is relaxed, the lighting low, the velvet curtains thick and sumptuous, Nina Simone croons softly in the background and the décor, which is 1920s inspired, is cleverly placed alongside trendy red and bare-brick walls that boast Aubrey Beardsley prints and antique wood-saws. The whole dining room experience has been carefully thought out by co-owner, Georgie Drake. At the end of the evening, Nico comes out of the kitchen to chat with his guests, which is a delight and appreciated by the patrons who are a good mix of regulars and out-of-towners, vegans and non-vegans – who all love the lack of pretentiousness and Nico's commitment to making healthy, inspiring food.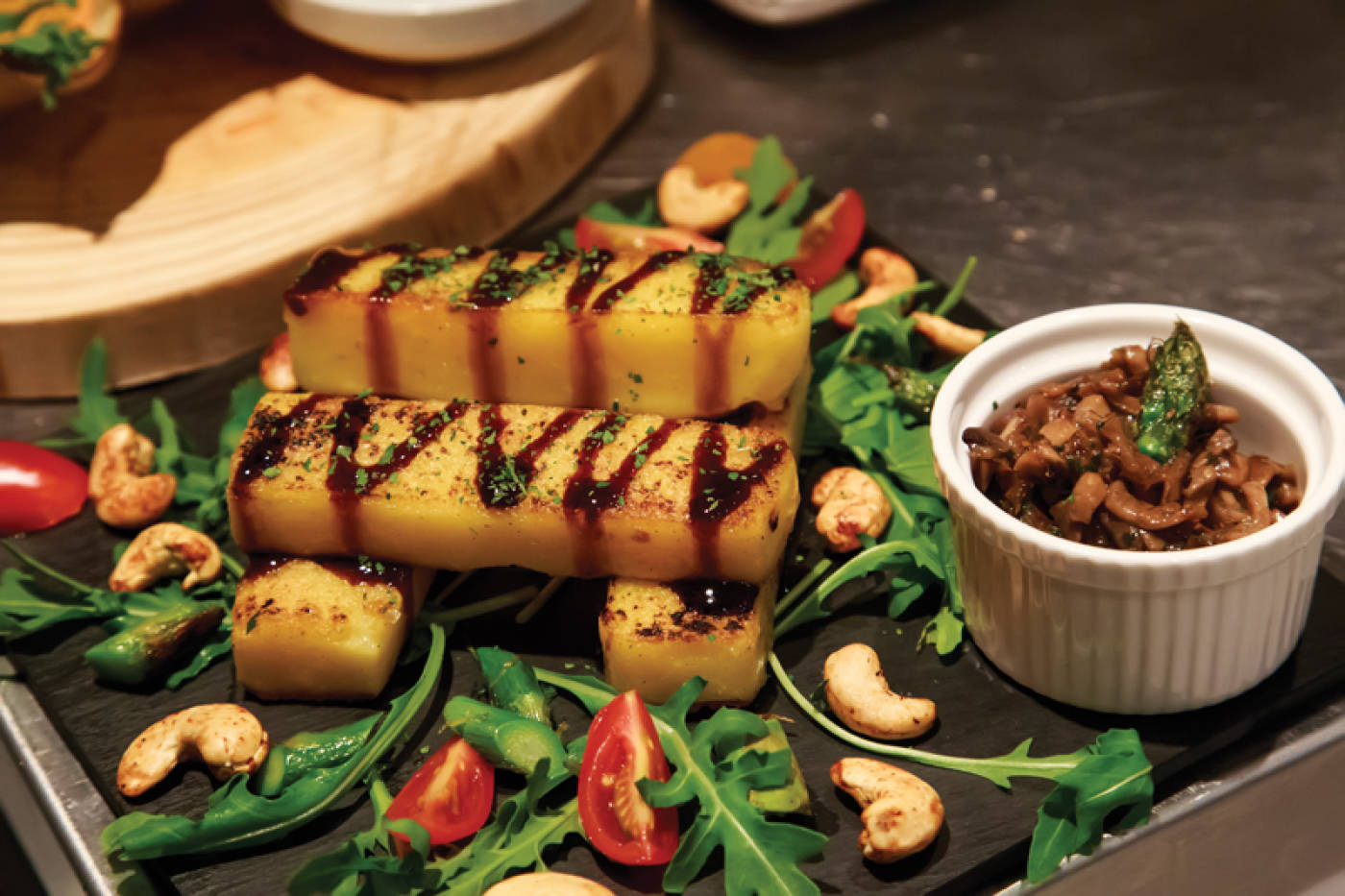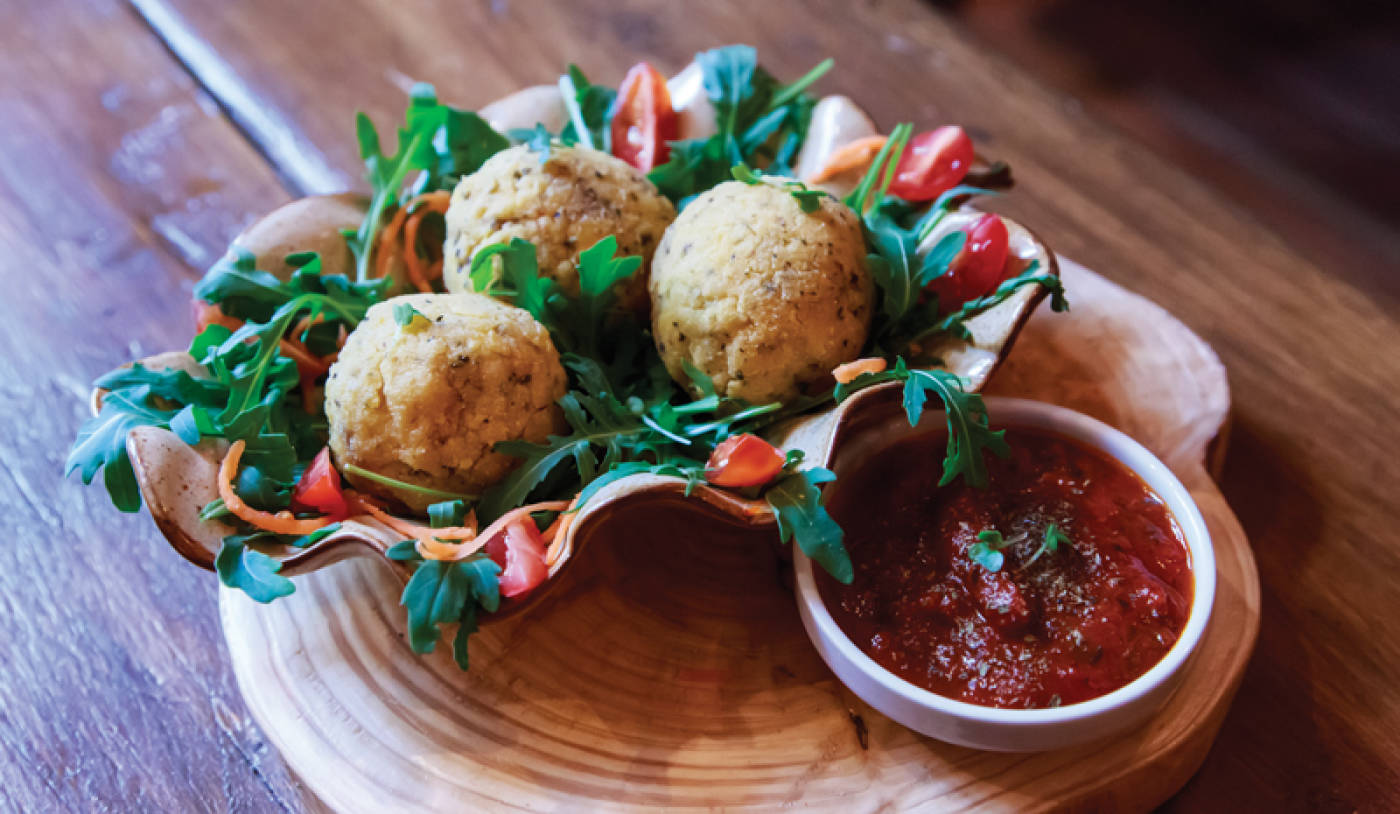 On the menu
As a vegetarian of 15+ years it's a rare treat to find a wholly vegan restaurant offering a wide variety of exciting and tempting dishes. Understandably it is difficult to pick what to try from the menu (most of which is available in gluten-free versions), so I decided on starter portion sizes of just about everything. My dining companion, a confirmed carnivore, was highly sceptical and feared the food would be tasteless and not filling, and had visions of stopping off at the kebab shop on the way home, but none of this happened. The food was elegant, artistically presented, genuinely tasty and very reasonably priced.
This is a culinary experience in taste, colour and texture which will blow your mind. Here plant-based food is king – as attested to by Nico's Goi Cuon filled with slow smoked tofu and spicy orange and olive tapenade, served with a sweet chilli and hot chilli dipping sauce; and the Middle-Eastern inspired satay kebab with skewered grilled tempeh, artichoke and cherry tomatoes, served in a rich satay sauce on a bed of rocket. It's all about same-day freshness and organic produce, created with a passion for quality. Who knew vegan was this good?
Nico's international travels inspire his menu: the tang of North African spices, the crunch of Vietnamese rice paper rolls, the bite of Japanese sushi, and for the soul there's Italian Polenta – every dish tells a story, especially the delicious homemade tiramisu, which is on another level.
As for the rock-star service – they're informed and impassioned about their 100 percent plant-based menu; they know what they're talking about and like to answer foody questions.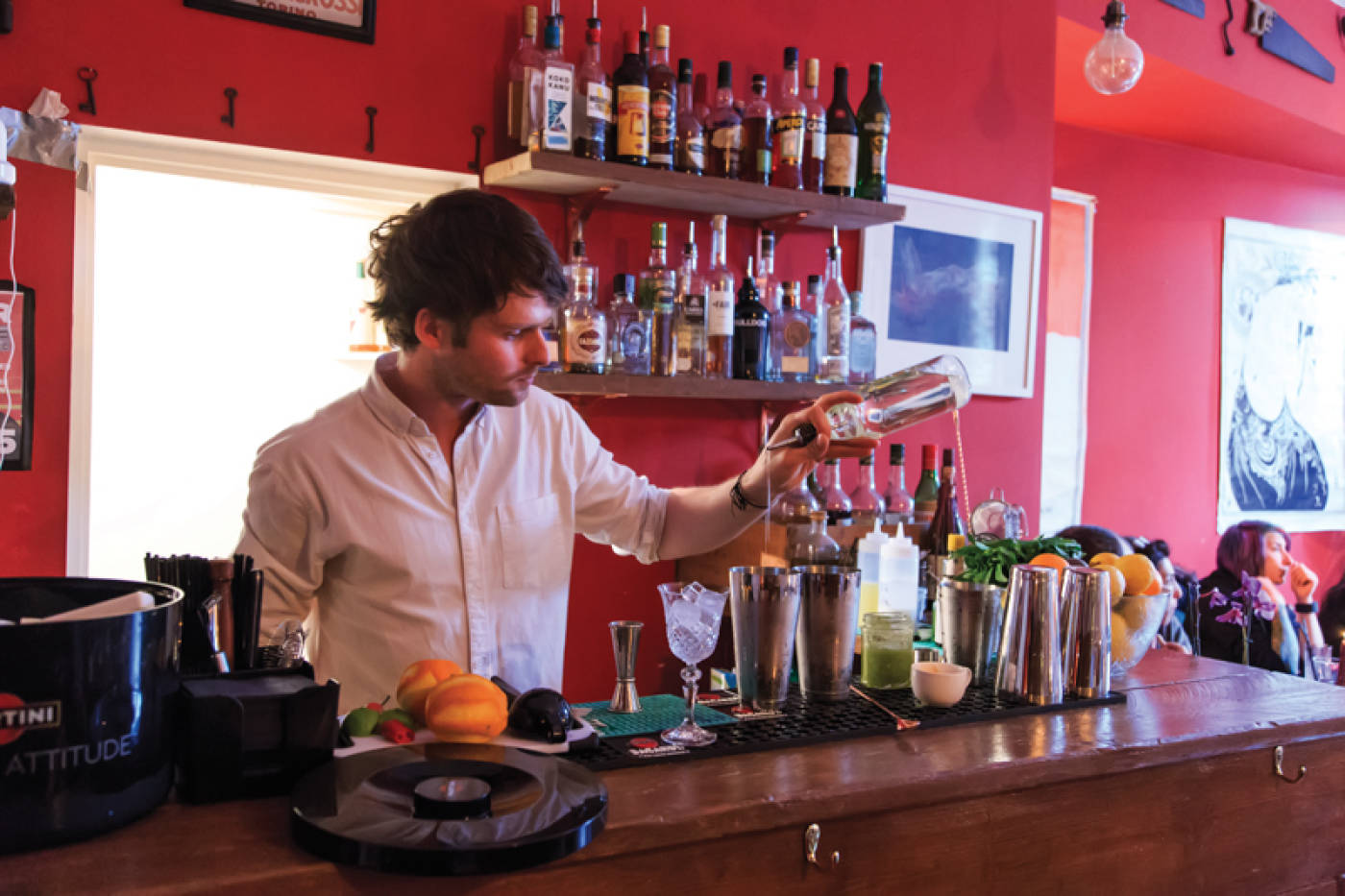 Cheers!
The in-house mixologist explains that all their ethical wines are created in small batches from family-run vineyards. Whilst listening to him speak of craft beers and describing the playful wine menu, I watch as he expertly creates cocktails to order – an Espresso Martini, a Lychee Cooler, a Pink Grapefruit Margarita, a Brazilian Lady. My companion got on famously with the Old Fashioned – a sweetened whiskey based drink created in the early 1900s by bored housewives who drunk their husbands' stash on the sly. Then finally, my cocktail arrives – a Japanese Tea Party of cucumber purée, gin and green tea syrup. Just lift the tea cup to your lips, inhale deeply, take a sip of the intensely satisfying liquor, and suddenly all is right with the world. Which I'm certain is why patrons have such difficulty in leaving. What a find!
Nico's Kitchen, 35 Kings Road, St Leonards On Sea, East SussexTN37 6DX
Tel: 07982675094.
nicoskitchenand​lounge​.com