Online Corporate Wine Tastings for Lockdown Team Building
Entrepreneur Penny Streeter OBE has introduced group wine tastings online to help meet the social needs of organisations whose staff are working in isolation at home under the COVID-19 lockdown and missing opportunities for interaction with colleagues.
Hosting the weekly webinars is Johann Fourie, cellarmaster at her Benguela Cove Lagoon wine estate, South Africa. He offers tips and advice on wine appreciation with wines from the estate, which viewers can order from Mannings Heath Golf and Wine Club in West Sussex, also owned by Penny Streeter.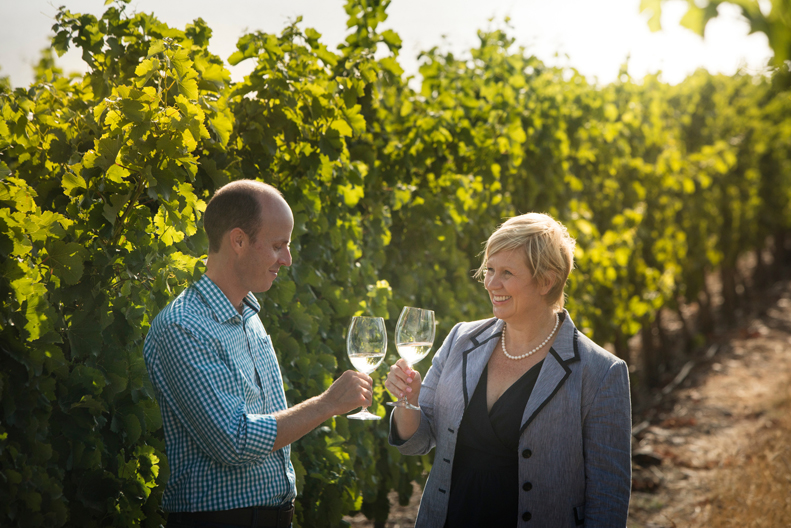 Each online tasting includes a food pairing with a ​'wine of the week'; a demonstration of South African braai BBQs and other cooking styles and dishes that are easy to prepare at home, by the vineyard estate's chef Annie Badenhorst.
Further details and recordings of earlier broadcasts are at www​.man​ning​sheath​.com
Penny Streeter says:-
​"I know from my own medical staffing business, with 350 employees, that many people are suffering from effects of isolation – working hard all day, alone, with none of the normal contact they would have with colleagues. Many told me that they miss the opportunity to bond after a long working week over a shared, enjoyable experience, such as a glass of wine.
"So I had the idea of online group tastings – bringing something of the experience of a vineyard tour and wine tasting that corporate and private parties enjoyed at Mannings Heath up until lockdown.
"We launched our first wine tasting on April 26th, which anyone can join for free. Following its success, we're extending this to private groups. Guests can talk to each other and interact with the winemaker, so it becomes a very sociable event. We encourage everyone to drink responsibly."
Penny Streeter bought Mannings Heath golf club in 2017. One of the two 18-hole golf courses was converted into a 9‑hole, and the space used to plant a 15 hectare (37 acres) vineyard. The first harvest will be in the autumn of 2020, to produce some 75,000 bottles of sparkling wine annually, with the first release ready to drink in 2023.
Wines for the online tastings are from Penny Streeter's South African vineyard at Benguela Cove, acquired in 2013 and situated at the start of the Hermanus Wine Route in the Walker Bay region, by a lagoon at the edge of the Atlantic ocean.
For information about wine tastings and deliveries, visit www​.man​ning​sheath​.com