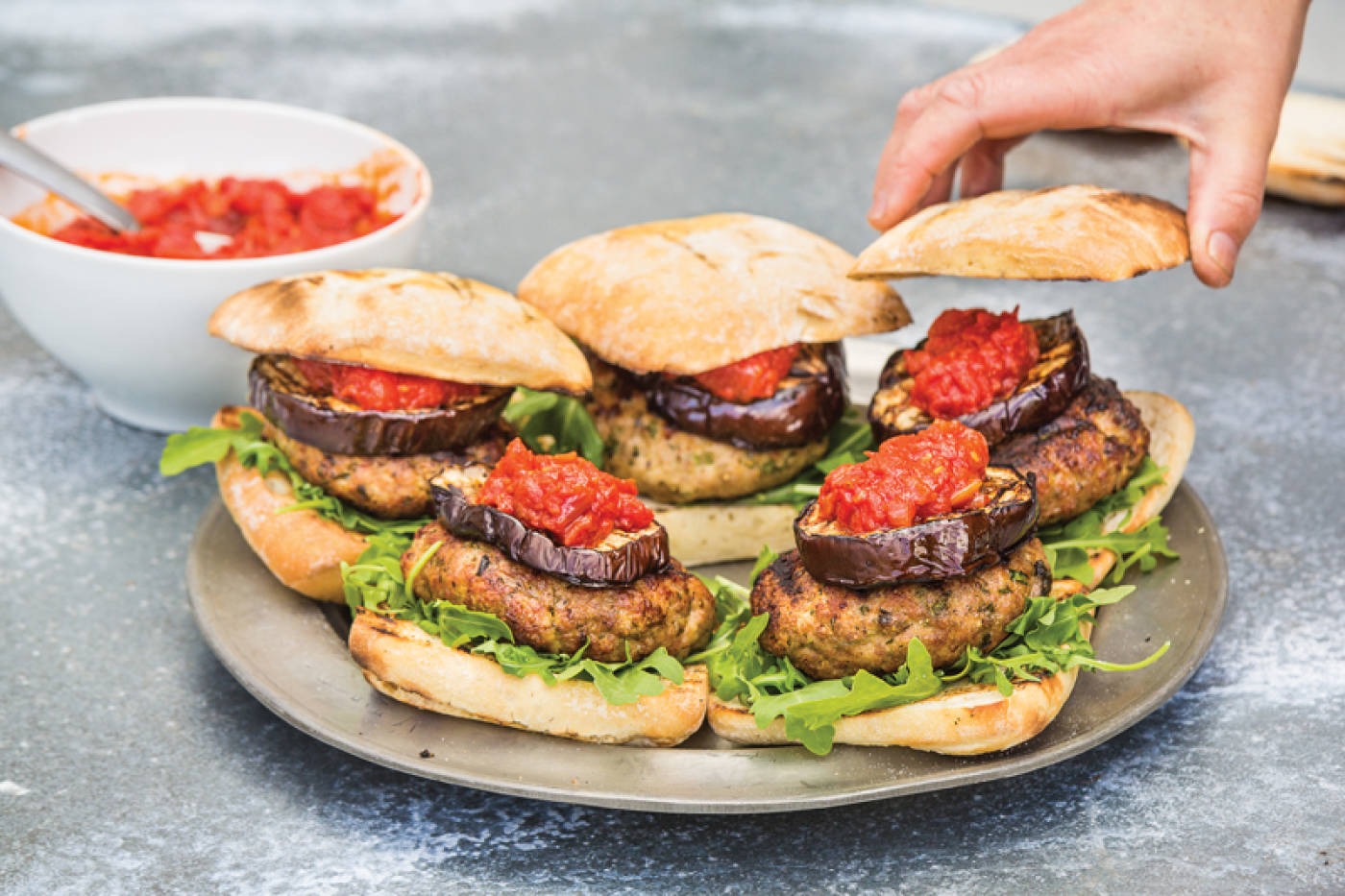 Pork, fennel

&

lemon burger with tomato relish and grilled aubergine
What you need – serves 4 – 6
for the burgers:
125g fresh breadcrumbs
75ml milk
750g pork mince
75g freshly grated parmesan
2 eggs
Finely grated zest of 1 lemon
1 clove garlic, crushed
2 tsp fennel seeds, ground
A small bunch of flat leaf parsley, chopped
Salt and freshly ground black pepper
for the tomato relish:
1 large red onion, finely chopped
2 tbsp olive oil
3 cloves garlic
1÷2−1 tsp dried chilli flakes
2 tins (approximately 800g total) chopped plum tomatoes
2 tsp red wine vinegar
2 tsp granulated sugar, to taste
Salt and freshly ground black pepper
1 large aubergine, cut into 1.5cm thick discs, allowing for 1 slice each
2 tbsp olive oil
6 ciabatta rolls, sliced open
A generous handful of rocket leaves
What to do: in the kitchen
1. Add the breadcrumbs to a mixing bowl and pour over the milk. Leave to soak for 10 minutes until the milk has absorbed.
2. Add the pork mince, parmesan, eggs, lemon zest, garlic, ground fennel seeds, parsley and a generous seasoning of salt and pepper. Mix thoroughly with your hands until evenly combined and shape into 6 evenly sized burgers. Chill in the fridge for an hour to firm up, or leave for up to 24 hours if you like.
3. To make the relish, add the onion and olive oil to a small saucepan and set over a low heat. Fry the onion for 15 – 20 min, stirring occasionally, until soft and then stir through the garlic and chilli flakes and fry for a further minute. Pour in the tomatoes, vinegar and sugar and season well with salt and pepper. Simmer steadily for about 30 mins stirring from time to time, until the relish is rich, thick and spoonable. Set aside to cool.
What to do: at the barbecue
1. When you are ready to cook, fire up the barbecue to hot.
2. Take the burgers from the fridge and brush on both sides with a little olive oil, before cooking
the burgers for about 8 minutes on each side. Pork mince can be a little prone to sticking, so don't try to turn them too early. Test by sliding a fish slice under a corner of one burger – if it comes away easily from the grate and has a deep caramelised crust it's ready to turn. If it's a little stuck try leaving it for a further minute or two before turning.
3. Once the burgers are cooking, brush the aubergine slices with a little more oil, then lay them alongside the burgers, turning them over a few times until they are lightly charred and tender all the way through. Rest the aubergine slices and the burgers on the warming rack.
4. Toast the rolls, cut sides down for a minute or two.
5. To serve, add a little rocket to the base of the roll and top with a burger. Add a slice of aubergine, and top with a dollop of relish before adding the lid.
Photography: Eat Pictures
Recipe by Genevieve Taylor
www​.napoleon​grills​.co​.uk