Pressed Mallard

&

Pheasant Terrine
Serves 10
• 1 tbsp olive oil
• 4 mallard breasts
• 8 pigeon breasts
• 4 pheasant breasts
• 3 bay leaves
• Pancetta, lardo or streaky bacon, thin sliced
• 6 juniper berries, crushed
• 3 garlic cloves, crushed
• 450g force meat (meat trimmings & liver blended to a smooth paste)
• 250g duck or chicken livers
• Seasoning, thyme and bay leaf
• 20g pistachios
• 2 tbsps Port and Cognac
Heat the oil in a frying pan and seal poultry breasts. Season well and allow to cool. Wrap in pancetta, lardo or bacon.
Preheat the oven to 170°C. Line a 1.8 litre terrine or 900g loaf tin with cling film. Stretch the bacon rashers with the back of a knife; line the tin with them, leaving a little overhang. Reserve 3 – 4 rashers to place on top.
Warm the alcohol, herbs and juniper berries to infuse.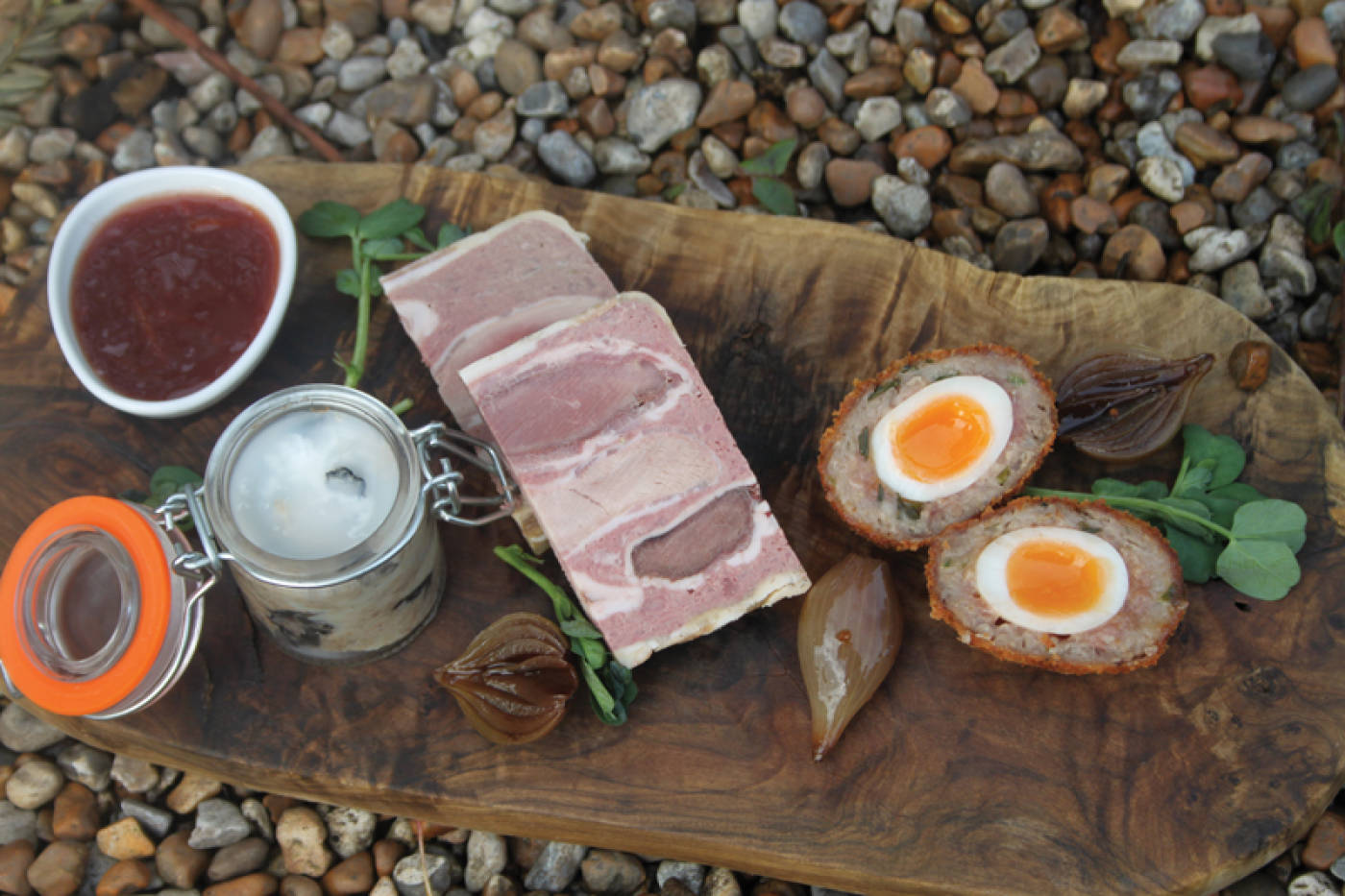 Season forcemeat well and pulse briefly in a food processor. Add alcohol infusion. Spread some of this in the terrine and press in a few breasts of game. Cover with more forcemeat and continue to layer, finishing with forcemeat. Fold over the overhanging strips of bacon; patch with pieces of reserved rashers. Cover with foil. Place in a roasting tin and half fill with boiling water. Cook for about 1 hour. Probe the core temperature to 60C. Remove from the oven and press with heavy weight. Put in the fridge, still with the weights on, for 2 hours.
Potted Pheasant
• 1 Pheasant
• 150g duck or goose fat
• Rock salt and freshly ground black pepper
• 2 bay leaves
• 1 Finely chopped onion
• 200ml water
Thyme Sprigs
Trim all bones and skin from meat, dice into rough pieces. Place into a thick bottom pan slow cook all ingredients, saving half of the fat. Cook until meat breaks down and water has evaporated. This will take 3 hours. Remove herbs and season.
For texture add wild mushrooms in the last stages of cooking. If not available add soaked chopped Chinese Black Fungus. When cooked fork meat to a soft texture, place in a terrine or glass dish. Press flat and seal with remaining duck fat. It may look as though there is a lot of fat this preserves the meat.
Tangy Cumberland Sauce
• 5 tbsps redcurrant jelly
• 1 small glass Ruby Port
• 3 tsps ginger, finely diced
• 2 shallots, finely chopped
• 1 tsp English mustard
• 2 oranges, juice and peeled zest
Cut orange into fine strips, place in a thick bottomed pan with shallots, Port and orange juice. Boil and then reduce by half.
Add redcurrant jelly, mustard and ginger. Cook a little more until jelly has melted then remove from heat and allow to set.
Wild Boar Scotch Egg
Makes 10
• 10 Quails Eggs
• 250g Finely minced wild boar meat
• 1 tsp Chopped thyme leaves
• Pinch Cayenne pepper
• 1 tbsp Chopped chives
• Salt and black pepper
• Plain flour
• 50g Whole milk
• 125g coarse breadcrumbs, blitzed to a powder or Panko Bread Crumbs
• Vegetable oil, for deep-frying
Boil Quails eggs for 2minutes and thirty seconds in boiling water. Once cooked plunge into cold water and peel. Meanwhile, place the meat in a food processor Blend until the meat is finely ground. Turn into a bowl. Add the thyme, mustard, cayenne pepper, chopped chives and season with a little salt and freshly ground pepper. Mix the spices into the meat and then divide into eight balls, approximately 20g per portion. Flatten each portion of sausage meat between two sheets of cling film into a circle, then remove the cling film. Place an egg in the centre of each sausage-meat circle. Wrap the sausage meat around the egg, pressing the edges in order to seal it but being careful not to press too hard. Place in the fridge for 20 minutes. Put enough flour to coat the eggs into a bowl and season with salt and freshly ground pepper. Beat the remaining eggs in a second bowl and stir in the milk. Put the bread crumbs into a third bowl. Roll each egg in the flour, gently tapping off any excess, then dip it in the beaten egg. Finally, roll it in the breadcrumbs, making sure that all sides are coated. Heat a deep fat fryer to 190ºC or place a deep saucepan no more than half filled with oil over a medium-high heat until it reaches this temperature. Fry the Scotch eggs for 1 minute until golden brown. Remove from the oil with a slotted spoon and place on a drying rack over a baking tray.
Upcoming events
Festive Cooking 5th December 2017 • Catch of the Day 23rd January 2018
Scallop School 26th February 2018 • Scallop School 27th February 2018
Pre Christmas Menu's now available at all venues. Please check website for further details
17 Tower St, Rye, East Sussex TN31 7AT
Book today phone 01797 222226 or 01797 222210
www​.webbesrestau​rants​.co​.uk