Recipe from Webbes Restaurants – Butternut Squash Bavarois
Butternut Squash Bavarois
• 400g of butternut squash
• 185ml of double cream
• 185ml of milk
• 3 egg yolks
• 35g of caster sugar
• 3 gelatine leaves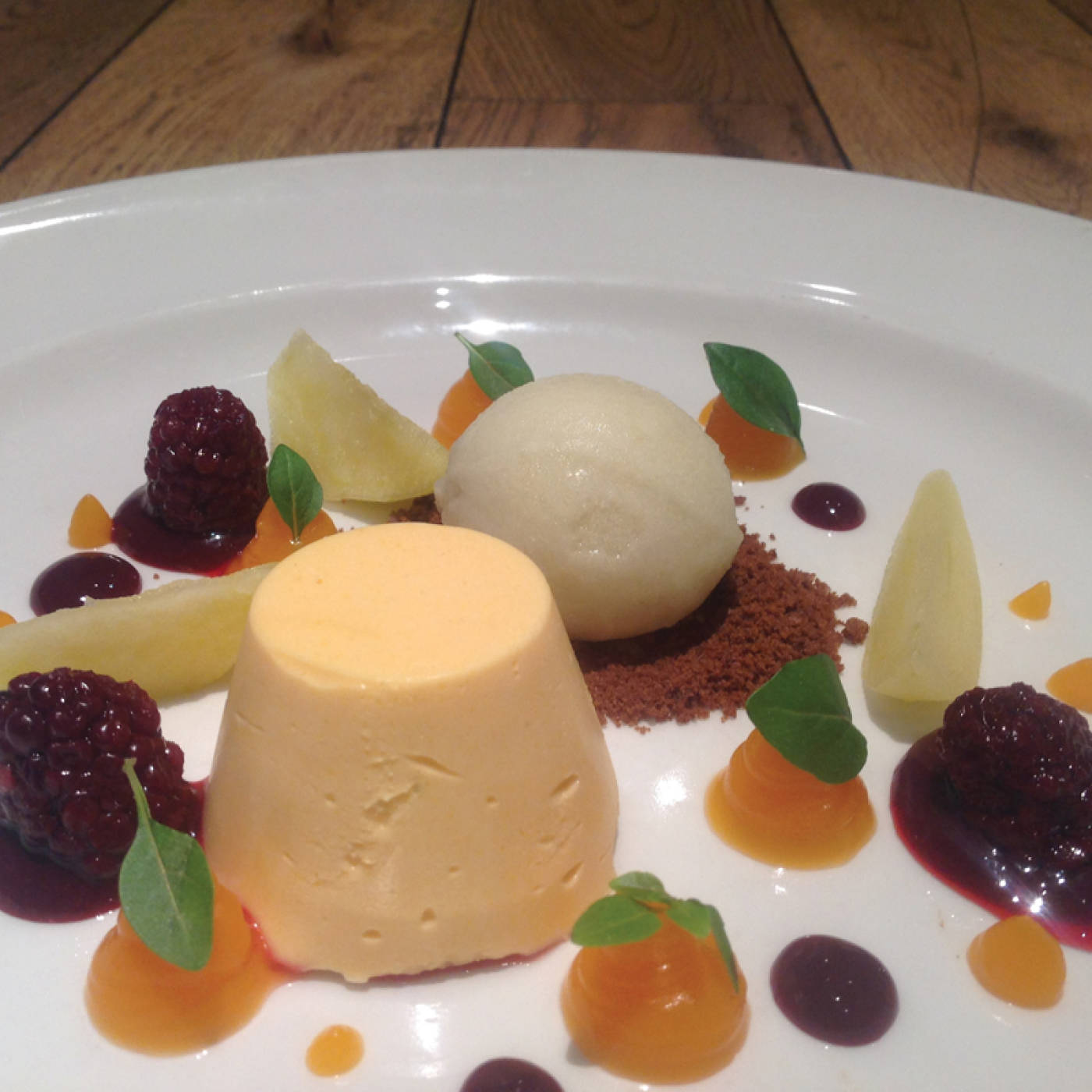 To make the Bavarois, preheat the oven to 170°C/Gas mark 4. Put the squash into a roasting tin, cover with foil and bake until soft.
Once Cooked boil the double cream and milk, add the roasted squash and blend until smooth. Pour the mix onto the eggs and sugar and return to the pan. Heat slowly until the temperature reaches 82˚C
Soak the gelatine in cold water till soft, then drain it and add to the Butternut mix in the pan. Stir well and pass through a fine seive, then pour into moulds and set in the fridge
Poached blackberries
To make the poached blackberries, bring 185ml of water and 75g of caster sugar to the boil, add the berries. Remove from the heat, cover with cling film and leave to go cold.
• 150g of fresh blackberries
• 185ml of water
• 75g of caster sugar
Apple Purée
• 2 Bramley apples
• 30 g Caster Sugar
Peel and cut Bramleys, add sugar and cook until soft keep stirring and slightly caramelise, purée and pass through a fine sieve
Spiced Apple
To make the spiced Apple. Peel and cut apples into wedges, bring 185ml of water and 75g of caster sugar to the boil with the spice, add the apples and make sure they are immersed in the liquid. Poach until cooked.
• 3 Cox Apples
• Star anise
• ¼ cinnamon stick
• Cardamom.
• 3 Peppercorn
• 1 bay leaf
• 185ml water
• 75g caster sugar
Apple Sorbet
• 750 ml fresh juiced Granny Smith Apples
• 325g Caster Sugar
• 5g vitamin c powder
Warm one third of the apple juice, add the sugar, heat until the sugar has dissolved, add vitamin c powder and churn in an ice cream maker.
To serve the dish, spoon a little apple purée across each plate, de-mould the Bavarois placing carefully in the centre, finish with the poached blackberries and Apples.
Upcoming events
Game Cooking 6th November 2017
Canapes & Tasters 13th November 2017
Chanterelle Forage 26th November 2017
Festive Cooking 5th December 2017
17 Tower St, Rye, East Sussex TN31 7AT
Book today phone 01797 222226 or 01797 222210
www​.webbesrestau​rants​.co​.uk