Recipe from Webbes Restaurants – January

2018
Beetroot Cured Salmon with Beetroot Textures and Horseradish Cream
Beetroot Cured Salmon
• 80g table salt
• 80g caster sugar
• 2 tablespoons chopped fresh dill
• 700g piece wild or organic salmon fillet, skinned and pinboned
• 200g (prepared weight) raw beetroot, peeled and coarsely grated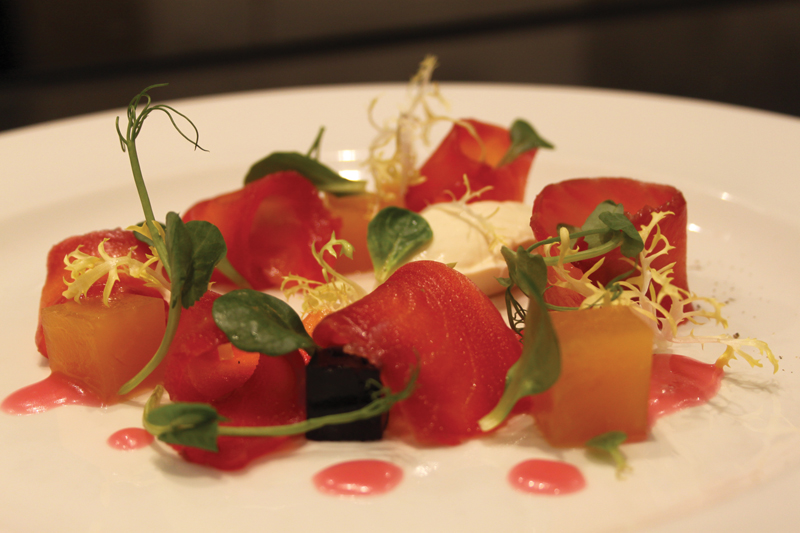 Place a length of cling film on a tray, this needs to be long enough to wrap over the top of the salmon. To prepare the beetroot cured salmon, mix together the salt, sugar and dill, then spread half of this mixture in the bottom of the lined tray. Now place half of the grated beetroot on top. Place the salmon on top of this, then spread the rest of the salt/sugar mixture over the salmon. Spoon the grated beetroot on top of the salmon.
Cover the salmon directly and tightly with cling film (within the deep tray), place a shallow tray or baking dish on top, or something heavy. Put in the fridge and leave it to cure for 2 days, turning it over twice during this time, to ensure an even cure and colour all the way through.
Once the salmon is cured, remove it from the container, brush off the curing ingredients, Scrape with a knife to remove excess salt and sugar.
To serve slice across the width of the fish about 2mm depth.
Beetroot Textures
Cook red beetroot and golden beetroot separately, remember not to peel as the colour will bleed. Once cooked peel and cut into wedges or cubes, the trimmings maybe pureed and passed through a fine sieve.
Beetroot Jelly
• Raw Beetroot
• Gelatine Leaves
Peel and Juice beetroot in a juicer. One leaf of gelatine is needed for every 55mls of liquid. Warm the beetroot juice, soak the gelatine in cold water, once soft and pliable add to the
beetroot, stir then pass through a fine sieve. Line a terrine or small baking tray with cling film then pour in the beetroot jelly. This needs to be 1cm in depth. Place in the fridge to set. Dice into cubes once firm.
Horseradish cream
• 100ml crème fraiche,
• 1 table spoon horseradish,
Mix together and pass through a fine sieve.
Serve, garnish with small leaves of Rocket
Recipes Supplied courtesy of Paul Webbe, Webbes Cookery School
Upcoming events
Catch of the Day 23rd January 2018
Scallop School 26th February 2018
Scallop School 27th February 2018
17 Tower St, Rye, East Sussex TN31 7AT
Book today phone 01797 222226 or 01797 222210
www​.webbesrestau​rants​.co​.uk