Ingredients tend to end up in recipes for different reasons. Sometimes it's because they come from the same part of the world and grow in the same soil; at times it's to do with the creative hands that introduce them to one another.
The 240-acre West Sussex estate of Leonardslee, near Horsham, reopens its gates to visitors in April 2019. Following its acquisition in 2017 by hospitality entrepreneur, Penny Streeter OBE, the estate has undergone massive restoration and improvement to both its gardens, lakes and buildings.
The garden restoration project has been a mammoth undertaking. No maintenance work had been carried out for more than eight years and needed a team of 20 gardeners, to perform horticultural miracles. Now that Penny and her team have concluded the restoration and improvements to the estate, the public can once again experience the outstanding Grade I listed gardens, including near six miles of pathways – along the way showcasing rhododendrons, azaleas, camellias, magnolias and bluebells.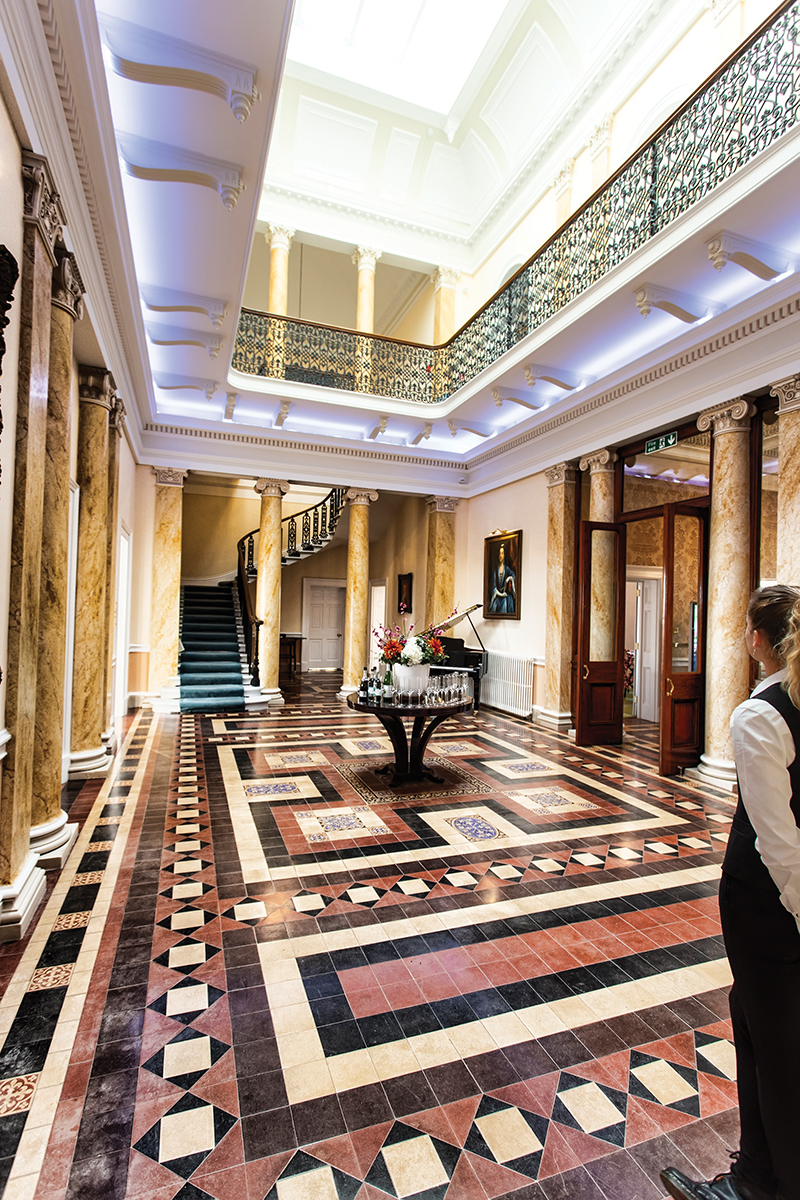 EXCEPTIONAL HISTORY
It all started when Charles II granted the land of St Leonards Forest to his physician, Sir Edward Greaves. Ownership passed from Greaves to the Aldridge family who, in 1801 sold it to Charles George Beauclerk. He built a house called St Leonards Lodge on the site and began laying out the gardens and park in 1803.
In 1852 William Egerton Hubbard bought the estate and took down Leonards Lodge, replacing it with the present Grade II listed two-storey Italiante-style mansion. He continued to develop the gardens and sold the estate in 1889 to his future son-in law, Sir Edmund Loder. Until his death in 1920, Sir Edmund further expanded the gardens and created a large collection of rare wild animals.
His son, Robin Loder, took over the management of the estate, then put it on the market in 2010 which, in 2017, was purchase by Penny Streeter.

First planted in 1803 the unique gardens which, over the past 200 years have been nurtured by dedicated gardeners and horticultural specialists, is home to a host of flora and fauna – a rare colony of wallabies, wildfowl, huge carp in the ponds and free roaming deer.
Throughout the historic woodland gardens are forageable foodstuffs you'll find on the menu of Restaurant Interlude – the contemporary fine dining restaurant housed in the estate's Grade II listed mansion house. From lavender, to honey, an assortment of berries, to nuts, herbs, seeds and syrup; estate pheasant, venison, rabbit, wild mushrooms and pasture reared chicken eggs.
Executive chef Jean Delport and Head Chef Ruan Pretorius, both imported from Penny Streeter's native South Africa, strive to stock Interlude's pantry with foodstuffs foraged from the gardens, showcasing traditional produce. Their distinctive cuisine is created using both old and new practices. They strive to respect nature and seasonality – bringing the gardens into the restaurant. If they're unable to source the produce from the estate, they use local farmers who all share the same organic ​'eat from the land' principles.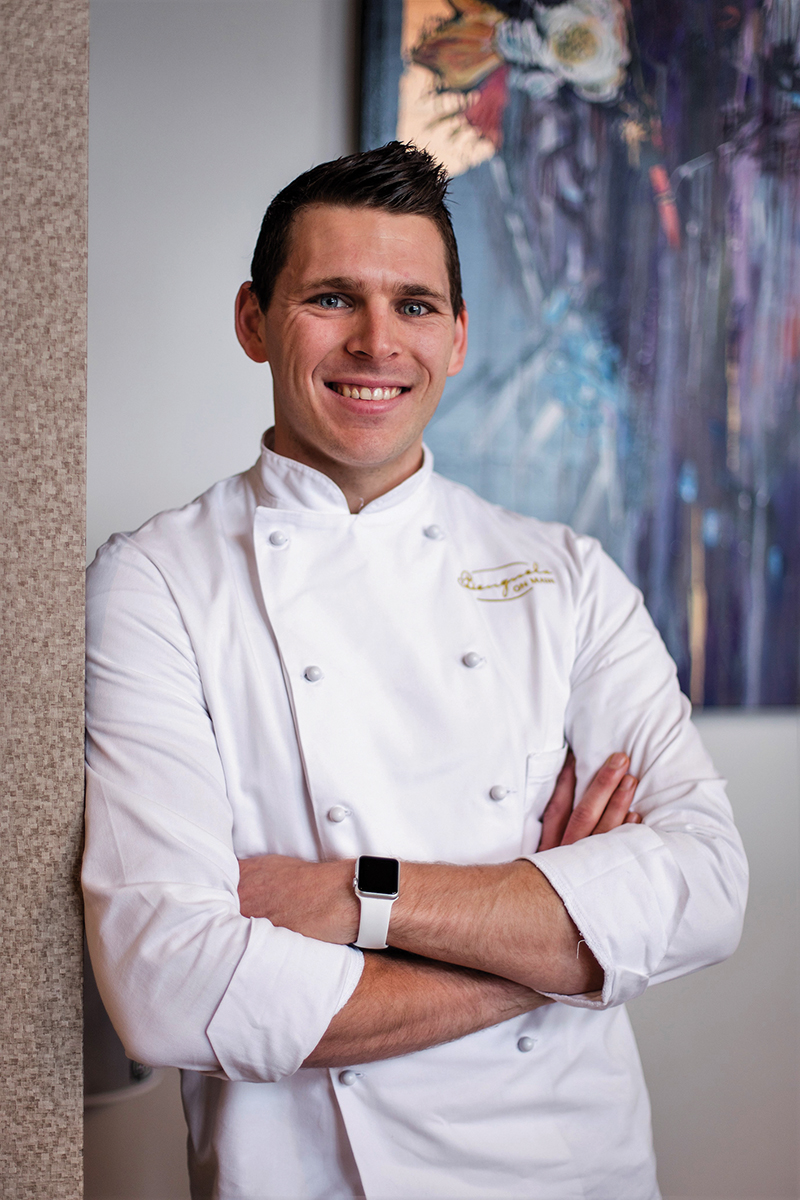 Award winning executive chef Jean Delport has specific experience in French and English cooking and is especially smart when it comes to wine pairing, being quick to spot quirky pairing trends. Here chef Jean compliments his extraordinary tasting menus with fine wines from Benguela Cove in Hermanus, and his wealth of culinary experience gained whilst at the prestigious Zevenwacht restaurant in Somerset West. He brought with him head chef Juan Pretorius, ex Restaurant Terroir, one of the most decorated restaurants in South Africa's winelands.

Arriving at the mansion house, guests are greeted in the grand hallway with music from a self-playing piano, then shown to the bar for pre-dinner drinks. At around 7pm they're seated at one of the restaurant's ten tables, which all have magnificent views across the steep wooded valley.
Dinner at Interlude is best described as an unexpected food journey, one that connects lovers of fine food with a menu that draws inspiration from the surrounding land. Every dish in the multi-course tasting menu is seasonal.
It starts with crackers crafted from oats and linseed, chicken skin and squid rice; pastry cones filled with chestnut cream, sherry caviar and puffed wild rice. Then its confit rabbit doughnut, rolled in carrot dust and served with a carrot dipping sauce; pine emulsion, pine oil and pine dust served with goat's curd, pickled pumpkin and pumpkin seeds. The wild seed bread is served with aged butter rolled in charred onion dust and shrivel butter with a chicken liver parfait filling; followed by marinated scallop, nettle oil, pickled green almonds, green apple and daikon – and that's just some of what you'll experience in their 14-course tasting menu.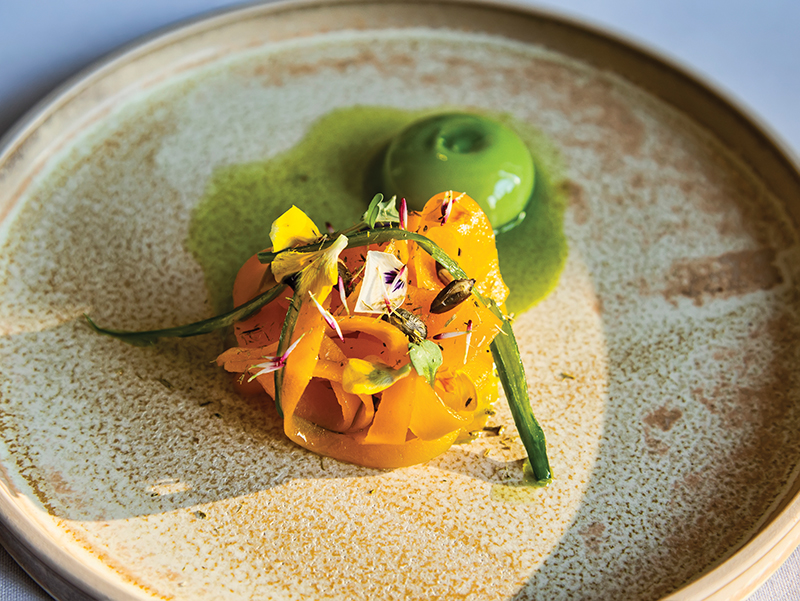 Chef Jean Delport brings something else to the plate besides food – his own formula is about the produce of the soil, the landscape, the ingredients, the exquisite flavours, the aromas hovering over the plate, hovering over the table. It's the whole concept behind the food that makes it far more interesting – he takes traditional ingredients and uses them in a different way; he uses memories of African food, French food, and interprets them in a modern way.
He goes against the grain, he swims upstream, he's a non-conformist – provocative even. You're served a seduction of courses, brimming with colour, emotions, images, history, which all translates into a story that animates food, and plays tricks on the palate. He's the voice of ethical chefs everywhere.
His menu's role is to put the pieces back together through what the land provides. That's the gift of nature – treat it well and it gives you the gift of great food. After a sumptuous meal, people will leave thinking they've connected with nature.
That's the power of a good chef, which I'm certain won't take long for Michelin to discover.
Restaurant Interlude, Leonardslee Lakes & Gardens
Brighton Road, Lower Beeding, Horsham, RH13 6PP
www​.restau​rant​-inter​lude​.co​.uk