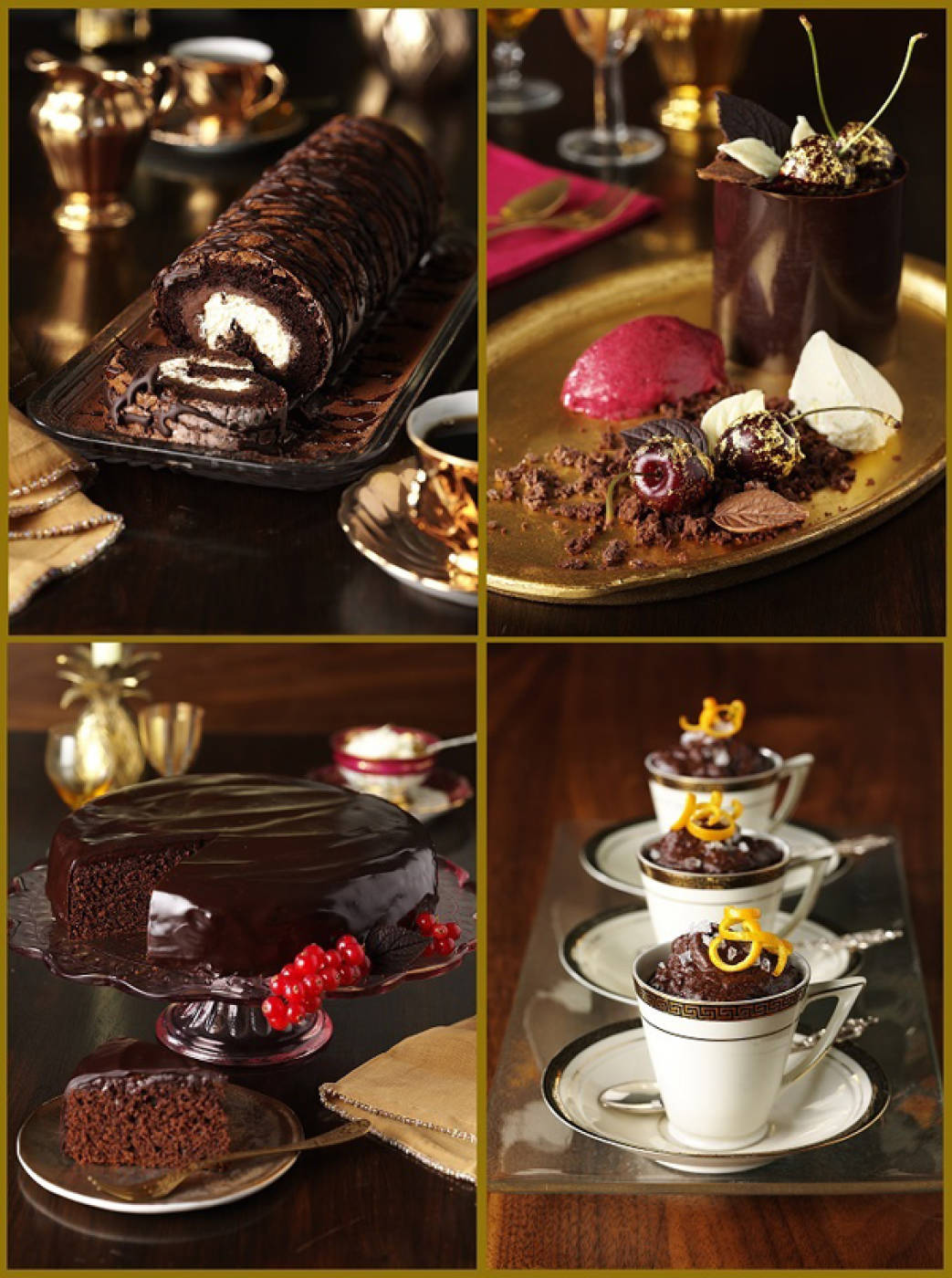 Divine Chocolate, the farmer-owned chocolate company, has taken four classic dessert recipes and given them a glamorous makeover for this year's Chocolate Week (12th-18th October) celebrations. Partnering up with four celebrity chefs, this year's collection of recipes includes Sachertorte, Black Forest pudding, Chocolate Mousse and a classic Chocolate Roulade.
Patron of the Fairtrade Foundation and founder of the UK's first healthy fast food restaurant Leon, Allegra McEvedy's Unashamedly 70's Chocolate Roulade has a soft flourless sponge and wrapped around a delicious brandy cream filling.
Tony Rodd, a finalist in this years' MasterChef, forged a name for himself with his desserts and chocolate work. Dubbed ​"the master chocolatier" by Gregg Wallace he has revamped the classic Black Forest Gâteau to create this modern dessert. A chocolate cup filled with layers of chocolate sponge, cherry mousse and compote served with chocolate soil and a sweet and sharp cherry sorbet.
Chef, author and Divine Chocolate fan Sam Stern has glammed up his Chocolate Mousse with a twist of orange and a sprinkle of sea salt making these little pots mouthfuls of chocolatey heaven.
Queen of chocolate and Divine cookbook author Linda Collister has shared her recipe for Sachertorte, the classic Viennese cake created in the 1800's. This dense chocolate sponge is topped with a layer of apricot jam, then covered in a shiny and rich dark chocolate icing.
As a supporter of Chocolate Week since it was created 12 years ago, Divine is planning a host of chocolate experiences and events, taking place in shops, tearooms, cafes, restaurants and hotels across the country as well as exhibiting at this year's Chocolate Show in London.
Keep up to date with all Divine's Chocolate Week activities visit www​.divine​choco​late​.com/​u​k​/​g​o​o​d​-​stuff for regular updates