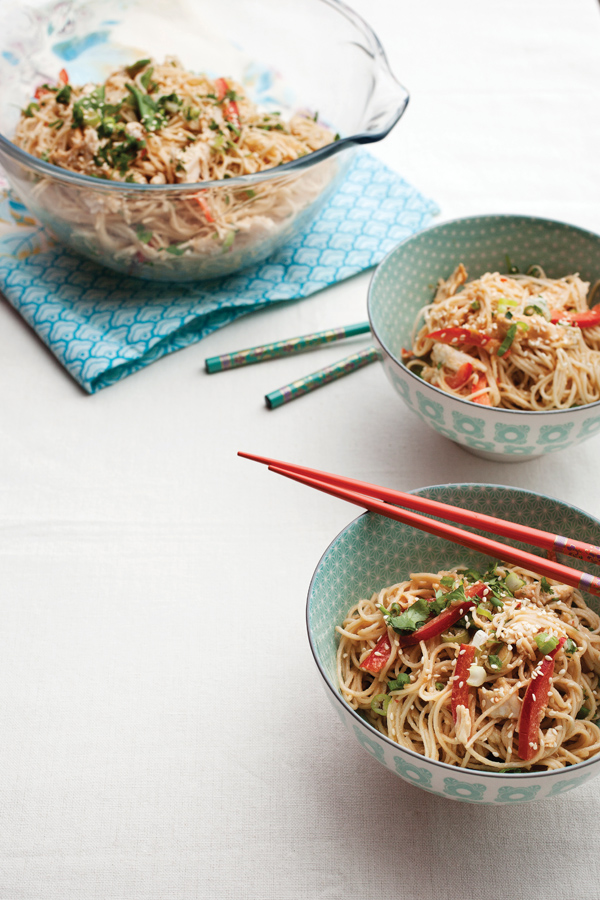 Sesame chicken satay noodles
If you're avoiding takeaways at all cost but still find you're getting the Friday evening cravings, these fake-away recipes from Pyrex are a must try! From Asian style noodles, to fiery curries and tasty sides, here are some homemade alternatives to keep your health kick on track.
If you're planning the ultimate chilled night in why not prepare the recipe in advance and store it in a Pyrex Cook & Go, ready to reheat and enjoy at your leisure.
Product: Pyrex Vintage Bowl
Serves: 4
Cooking time: 10 – 15 mins
Ingredients
• 1 × 300g pack of egg noodles
• 120g mangetout
• 1 red pepper, thinly sliced
• 2 spring onions, thinly sliced
• 150g leftover roast chicken, torn
• 2 tbsp sesame seeds
• A handful of fresh coriander, chopped
For the dressing:
• 1 tbsp sesame oil
• 3 tbsp olive oil
• 1 tbsp soy sauce
• 2 tbsp sweet chilli sauce
• 100g smooth peanut butter
• 2 tbsp lime juice
Method
1. Whisk together all the ingredients for the dressing in a small bowl.
2. Bring a saucepan of water to the boil and cook the egg noodles according to the package instructions. Drain and rinse under cool running water.
3. Place the noodles in a Pyrex Vintage Bowl with the mangetout, pepper, spring onions and chicken. Pour over the dressing and toss to combine everything together.
4. Sprinkle over the sesame seeds and coriander and serve at room temperature.