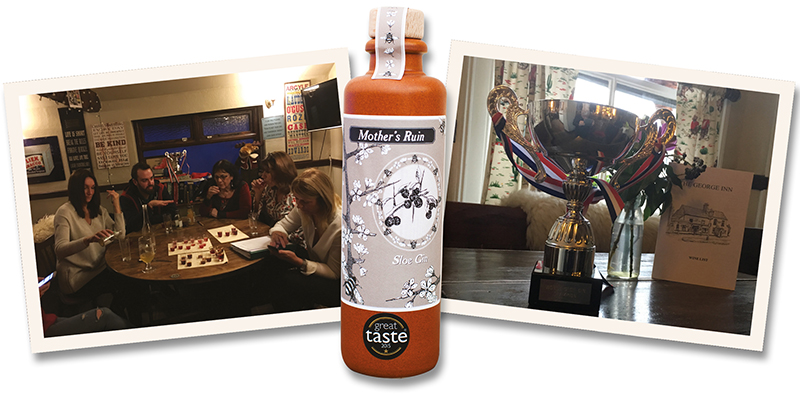 Mother's Ruin scoops commercial title for second year while artisan baker regains amateur crown
This year's ​'Sloe Gin World Championships', held at the George Inn village pub in Frant on the Kent/Sussex border, on Sunday 16th December, saw two previous winners awarded the top prizes.
The commercial title was retained by London-based Mother's Ruin, who also won in 2017.
The homemade category was won by professional baker Danielle Ellis, who owns the Severn Bites artisan baking school near Dursley in Gloucester. Daniele, is also won the title in 2016.
Lisa de Garston from Frant came second and t hird prize went to locals Mike and Jill Westwood. The highest placed international entry this year was from Clause Hahn and Stephan Groos in Germany.
Of the winning Mother's Ruin, the judges described it as, ​"intensely flavoured with delicious rich notes of plum and almond, balanced perfectly with the gin botanicals."
Mother's Ruin gin is made using a recipe handed down from the owner Becky Griffith's mother. She employs an old school approach of cold infusion over a very long period of time, which is hand-made, hand filtered and hand bottled.
"We cut no corners, our sloe gin takes at least a year to become ready for sipping," said Becky, adding, ​"We forage our sloes from all over Essex and the eastern fringes of the City, with the Essex sloes being particularly fine and full of flavour."
The event attracted entries from more than 30 amateur and commercial sloe gin makers from across globe.
Lead judge, the professional sommelier and member of the Association of Wine Educators, Lindsay Oram from Donegal in Ireland, known to connoisseurs through her appearances on Channel 4 TV's ​'Wine Hunt and BBC Radio 4' ​'Food Programme', said, ""It is wonderful to see such enthusiasm for keeping alive a very traditional product. There was great range of individual styles from the entrants.
"The worthy winners captured perfectly a balance between sweetness, depth and complexity of flavours with a silky texture that lingered beautifully in the mouth."
Christmas marked the 10th year of the now annual event that began when pub locals began arguing over the perfect sloe gin recipe. Dating back to around 1750, The George Inn, a traditional country pub with cosy log fires, is said to make an ideal setting to judge the most traditional of Christmas liqueurs.
Proceeds from the event this year were donated to the Hospice in the Weald. Samples of the entries can still be sampled at the pub, in exchange for a donation to the charity.
The George Inn, 36 High Street, Frant, Tunbridge Wells TN3 9DU
Telephone: 01892 730350.
www​.the​ge​orgein​n​frant​.co​.uk