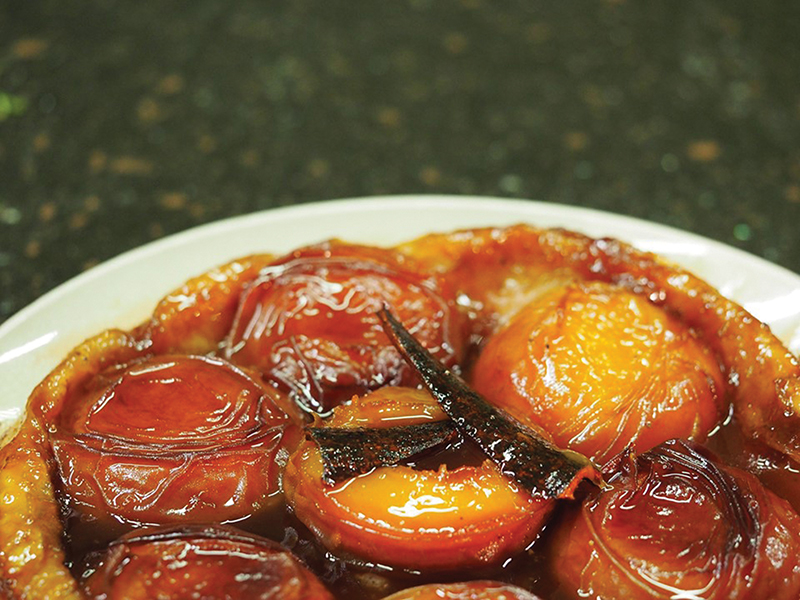 A real Crowd Pleaser, great For sharing and absolutely delicious! Sticky Caramel and Soft Spiced Peaches. A fantastic festive dessert for all to enjoy. Served up to you by Kent Cookery School.
Ingredients
• 375g packet puff pastry thawed, cut into a 26cm circle
• 6 peaches, quartered
• 50g butter, softened
• 1 egg yolk
• Thickened cream, to serve
• Eight-Spice
• 1 tsp juniper berries
• 2 star anise
• 1⁄2 tsp white peppercorns
• 1 cinnamon quill
• 4 whole cloves
• 1 pinch saffron threads
• 4 cardamom pods
• 1 tbs salt flakes
Method
For the eight-spice, place all ingredients except salt in a large pan over medium heat. Toast, tossing, for 3 minutes or until fragrant. Cool, then add salt flakes.
Transfer to a spice grinder and grind to a powder. Store in an airtight container at room temperature for up to 2 months.
Preheat oven to 220°C. Place pastry in the freezer until ready to use.
Place sugar in a shallow saucepan or frying pan over medium-high heat. Cook, swirling frequently, for 10 – 12 minutes until golden.
Do not stir the caramel! The sugar will crystallise around the spoon and you will have to start over.
Remove from heat and carefully arrange peaches over caramel. The caramel will very extremely hot.
Dot butter around peaches and sprinkle with 1 tsp eight-spice.
Remove from heat and cover with pastry, tucking in edges with a spoon. Whisk yolk with 1 tsp water and brush over pastry, then make a few incisions to allow steam to escape.
Bake for 10 minutes, then reduce heat to 180°C and bake for a further 25 minutes or until pastry is golden and cooked through.
Carefully turn out tarte Tatin onto a chopping board, then transfer to a plate. Serve with clotted cream.
To book a course or buy a gift voucher for a present,
call 01233 501771 or head to www​.kent​cook​eryschool​.co​.uk