The old fashioned charm of Tenterden just oozes character; it's friendly and welcoming and everything seems to be of good quality – The Secret Pantry is no exception.
From the sidewalk this family run business looks like a wine bar you'd like to get to know with black awnings and black outdoor furniture, yet the newly refurbished interiors (complete with oak floor) is fresh and airy in shades of white and cream.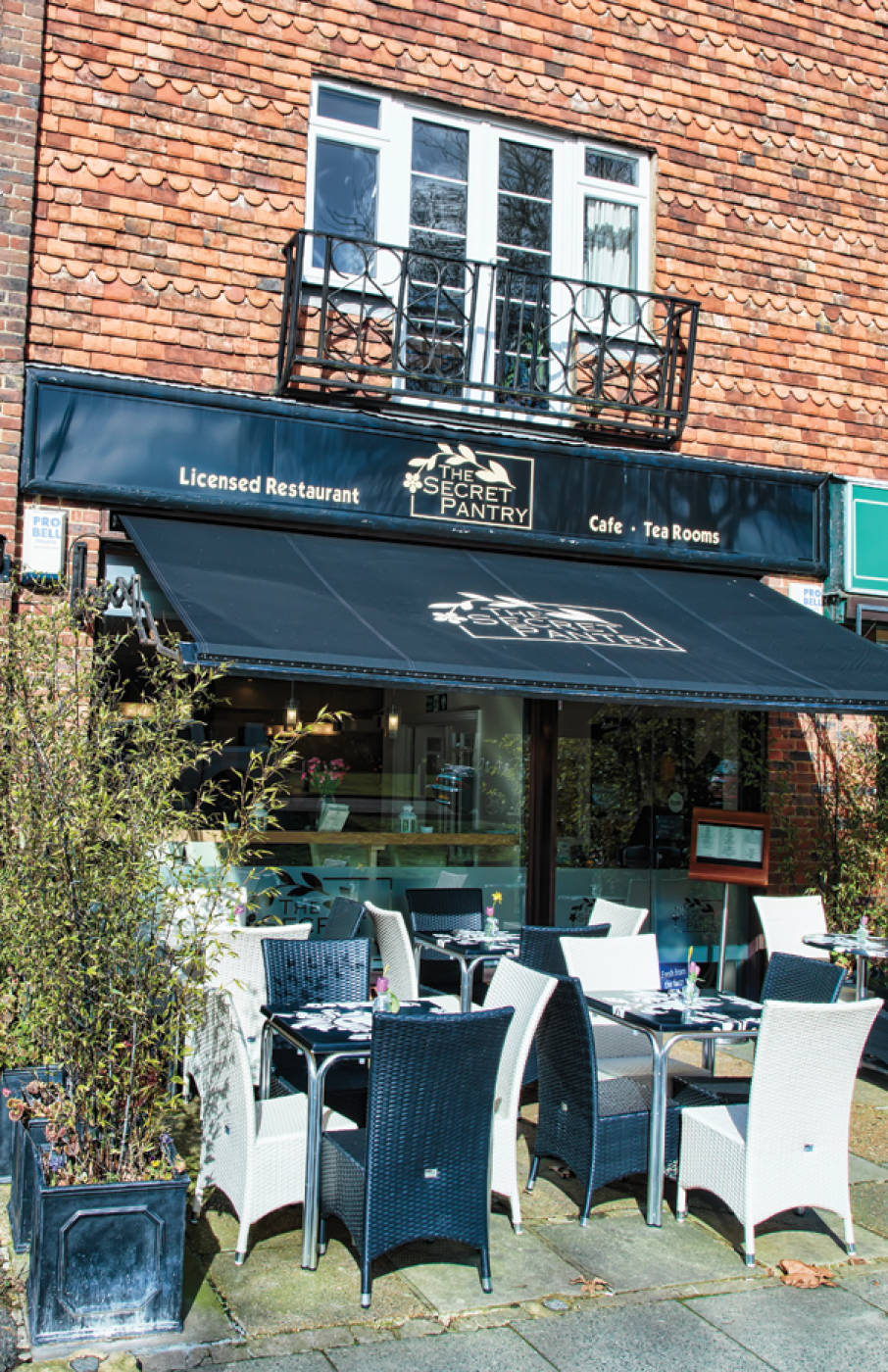 One of the blackboards mounted on the wall announces the provenance of the food being served – Marchants of Bethersden for meat, David Catt & Sons for fruit and veg, AB Holland in Battle for eggs, smoked salmon and black pudding from the Isle of Lewis in Scotland, Rye Bakery for bread – and that all cakes are made on the premises.
After living in France's Mayenne region for 14 years, owner Margaret Fowler returned to the England and opened The Secret Panty in December 2013. ​"Our food is synonymous with freshness and quality," says, Margaret, who has worked in the industry most of her life. ​"Where possible, we try to locally source our produce. In the world of food and drink, provenance is everything."
Another blackboard displays the cake menu for the day which starts with chocolate cake and works through a mouth-watering selection including sublime cream-filled meringues (two walked past on a plate heading to a neighbouring table), coffee and walnut cake, carrot cake, lemon drizzle, millionaires' shortbread, concluding with scones and crumpets.
The printed menu's found on the wooden tables speak of a breakfast menu which includes Eggs Benedict, Bacon Floddies (rosti with bacon bits, onion, egg served with bacon strips) and a delicious omelette containing smoked haddock, parmesan cheese, parsley and a white cream sauce.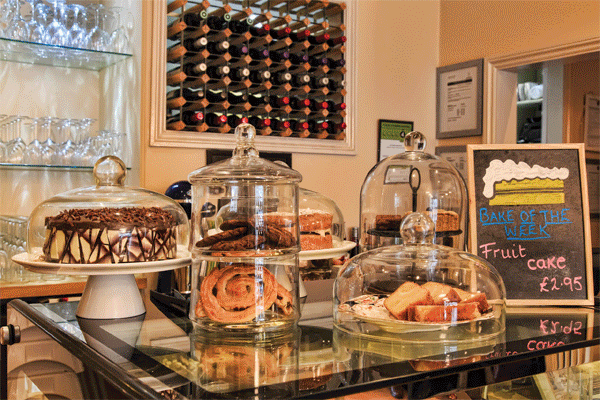 The lunch menu is one of those where you fancy everything with some terrific sharing platters – from Ploughman's to Fisherman's to Huntsman's which looked particularly interesting with homemade chicken liver pâté alongside delicious cooked ham, ham terrine and chutney. A wonderful looking warm goats cheese salad, served on toasted brioche; and a salad of avocado with local pancetta and pine nut served on bed of baby spinach leaves with balsamic dressing. There's also a cheese platter and antipasti of grilled peppers, sun dried tomatoes, olives and cured meats. The kitchen takes pride in the presentation of their food; every passing plate bore witness to this.
Readying myself for a unique tea experience I carefully study the menu. It starts off slowly with a entry level cream tea consisting of two homemade scones served with butter, cream and strawberry preserve. Then the menu works its way up to include finger sandwiches and cakes; then champagne is added in and finally culminates with a High Tea (for serious cake addicts only) – finger sandwiches, light freshly baked scones with strawberry preserve and lashings of clotted cream, several generous wedges of homemade cakes, tarts, shortbread, smoked salmon and scrambled eggs with Melba toast and warm crumpets with butter and apricot preserve. It's all served with a selection of superb loose-leaf teas like wild orange Oolong tea, pomegranate dragon white tea, jasmine flowering tea and presented in the finest china. For a real treat ask after their ​'pink tea'.
The Secret Pantry is a fantastic little eatery with great ambience and well worth the walk down to the quiet end of Tenterden's High Street. The interiors are neat and clean and to help laze away the time there's a good selection of newspapers too. The outside seating area is a suntrap with citronella candles to keep the bugs away. Bear in mind it's necessary to check out the specials board inside.
• The Secret Pantry holds a liquor licence and carries some great French, Chilean and Australian champagnes and wines as well as an assortment of spirits, a variety of guest beers and local cider.
• Kids are catered for too – Chicken Goujons, pasta with bolognaise or tomato sauce, mini pizzas, small jacket potatoes, sausages and chips, ice cream and milk shakes.
The Secret Pantry, 4 Manor Row, High Street,Tenterden, TN30 6HP
www​.theten​ter​dense​cret​pantry​.co​.uk
Tel 01580 766 696