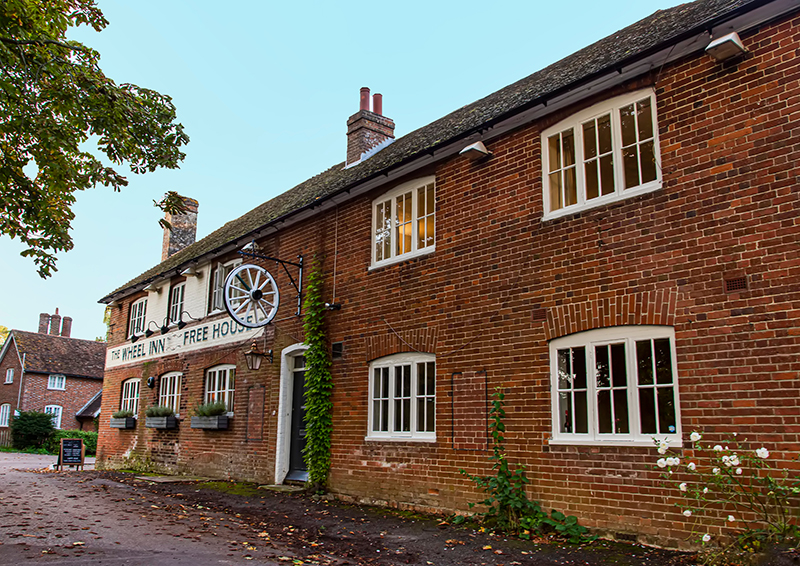 There's no repurposed furniture in sight, no pretence of being something it isn't. It's been tastefully restored, but not sufficiently to be considered hip. It's the food that brings it all together.
The affluent village of Westwell is at the foot of the Westwell Downs, an area of Outstanding National Beauty. Its highest point, the Beacon, was where, back in the day, signals were sent to raise the alarm of the approaching Spanish Armada. It dates back to the Saxon era and is close to the historic Pilgrims' Way which leads to the shrine of Thomas Becket in Canterbury.
The centre of the leafy village is a conservation area with many listed buildings, including a 13th Century church, a house with a working water wheel, another with a dungeon where rebel leader Jack Cade was held captive, and a Tudor residence where Elizabeth 1st is believed to have spent a night.
Just four miles north of Ashford, the village is surrounded by woods and farmland. Because of its rural location it draws ramblers and dog walkers, and in the wintery months it's a hotspot for lovers of real ale and fine food – which is where the 250-year old Wheel Inn makes its presence known.
Few things are as beloved in rural England as the traditional country pub. The elements must come together for the experience to be authentic and traditional. The face-bricked Wheel Inn (so named after the wheel on which St Catherine was martyred in the third century) just oozes history.
As the stars begin to gather and the light starts to fade, the pub glows from within. It frames an idyllic lifestyle encased in the grandness and piety of old red bricks, complete with cosy crevices and moss-softened corners.
You know you're in for a memorable pub experience when, stepping in from the bitter cold, an unhurried atmosphere leads you to a roaring log fire where Beatrice, the ​'in residence' German Shepherd, sleeps. Beyond which is a bar propped up by welcoming local patrons sipping their Musket Brewery and Kentish Ales, cracking weather jokes.
The Wheel Inn's gregarious owner, James Kelland, has gently nudged the pub into a smartened-up version of its old self.
There's a certain ambiance to the place, one that'll elicit deep nostalgia as you step across the threshold, entering an ancient building with beamed ceilings, crackling wood burners, dark stained pine floors and a mahogany bar countertop. But what truly sets the mood is the deep blue hue of Farrow & Ball throughout, an immense gilded mirror, benches with tartan covers, and just a few leather bar stools.
It's been revamped just enough to be considered classy, but not enough to be a trendy wine-bar, as it still holds onto its traditional pub roots.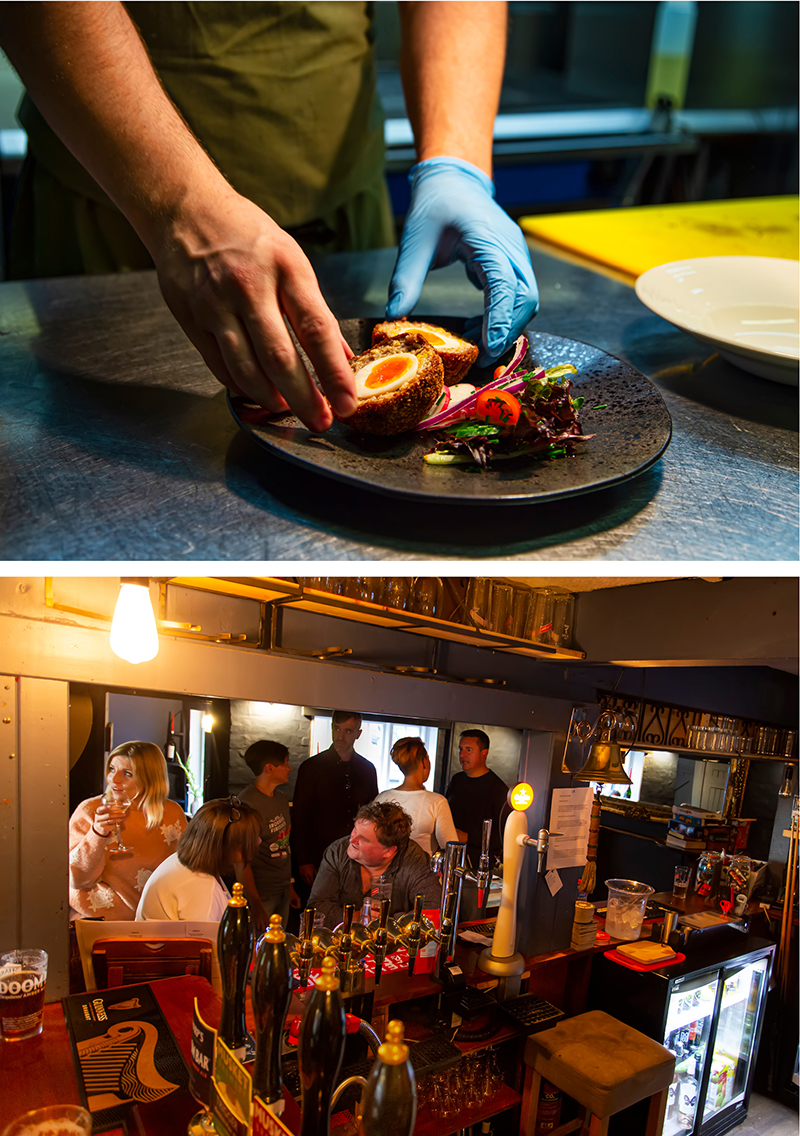 The delicious aroma of soul food will lead you by the nose to the dining area. Head chef, Dave Gupwell, adds unexpected twists to traditional British classics: Juicy Paprika-Laced Burgers, Wild Boar Sausages with Creamy Mash and Gravy, voluptuous Steak and Stilton or Chicken and Leek Suet Crust Pies, created in the modern stainless-steel kitchen.
Chef explained his menu: ​"One of our signature dishes is our Homemade Scotch Egg. It's a proven favourite and I frequently experiment with the flavours to keep this dish fresh and exciting. We also have several British classics on the menu – our most popular being Fish and Chips. We try not to mess with the great British traditions too much, so we simply use fresh Thick-Cut Cod Loin and pair it with a Chunky Homemade Tartare Sauce and Twice Fried Chips. But of course, the piece de la resistance is our Classic Sunday Roast. There's so much room to play with there."
There's also a selection of gluten-free and vegan dishes to tempt the taste buds. To finish, treat your sweet-tooth to an Apple and Raspberry Crumble or a Hot Chocolate Fudge Brownie – my personal favourite, Chocolate and Amaretto Roulade, with Chantilly Cream.
Chef Dave continues: ​"Our fresh produce is sourced locally, our free-range eggs come from the village, and fresh veg from David Catt & Sons. Meat comes from Block and Cleaver, and fish from Boathouse Fisheries. This is traceable, quality produce from knowledgeable suppliers."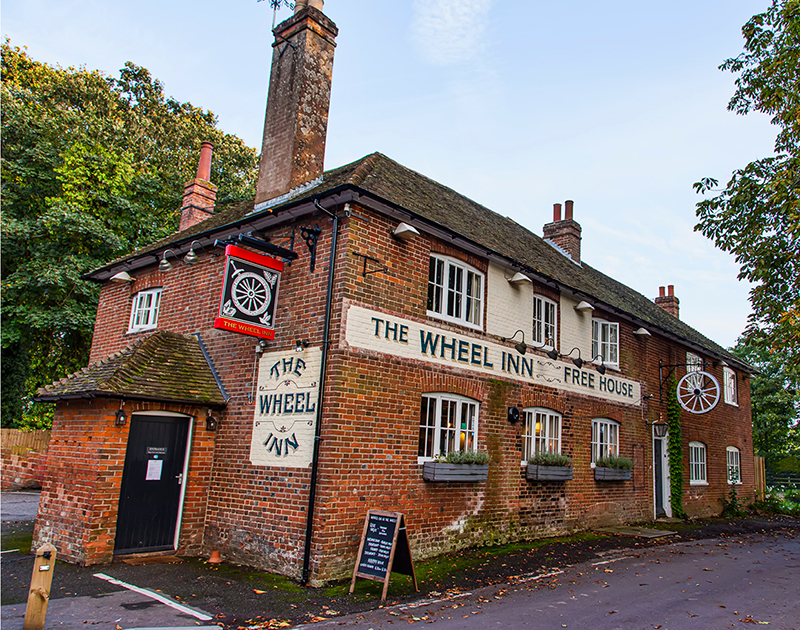 On arrival you may notice that just one of the spokes of a large wagon wheel, hanging from a steel frame affixed to the street-facing wall, has been painted green. The story goes that several WW2 New Zealand servicemen who were billeted nearby and regular patrons of the Inn, held the belief that they officially owned the pub and wanted to paint it green. The landlord allowed them to paint just one spoke of the wagon wheel. As tradition demands this spoke will, without question, remain green.
James has been running The Wheel Inn since October 2017. It's still owned by Shepherd & Neame but is now free of tie and serves a good selection of properly kept local real ales.
Even though it's been tastefully modernised, The Wheel Inn retains its cosy charm. With his fresh approach James has struck a winning formula here and will without doubt turn The Wheel into a destination pub.
The Wheel Inn. Westwell. Telephone 01233 712223, www​.the​wheel​in​nwest​well​.co​.uk
Written and photographed by Cindy-Lou Dale