Venison chili is the sort of dish that has a punch of flavour in every bite. An alternative to the traditional beef chili, a gorgeous meat like venison sets this chili recipe apart.
Expect umami and subtle flavours of game throughout this vibrant dish. Beautifully complemented by sweet flavours of the tomatoes, smoked paprika, beans and peppers. Ultimately, these ingredients make this an award-winning venison chili recipe if you happen to enter a chili cook-off! Best served in a deep bowl (so you can fit more in), make this venison chili recipe your own by adding your favourite spices. Feel free to batch cook with this venison chili recipe as it stores and freezes. Hence, you can easily enjoy this excellent chili recipe on a busy night.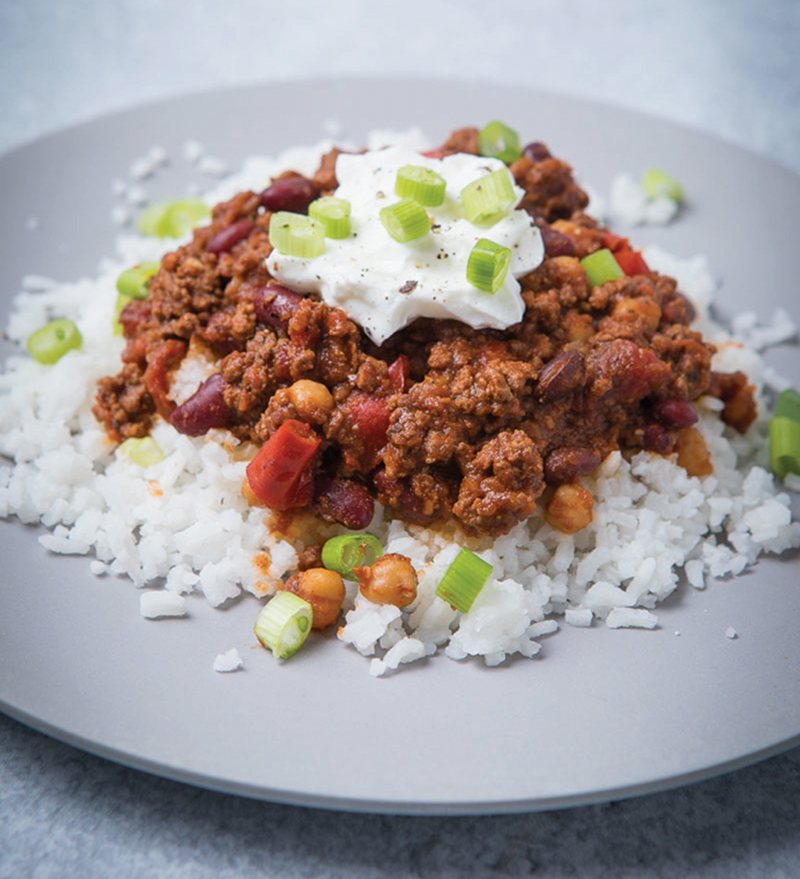 So what is Texas venison chili?
First and foremost, venison chili is a form of thick meat stew using venison mince. Traditionally, you stew the meat as long as possible with vegetables such as tomatoes, peppers, onions, beans, corn and herbs. The most common type of meat used for chili is beef. However, legend says that the first meat ever used in a chili recipe was venison.
Easy venison chili slow cooker recipe
Some say that every meal made with a slow cooker tastes better. Arguably, this is because it is said that slow cookers slowly incorporate juices from the ingredients into the overall dish. Also, it makes meat and hard vegetables very tender. There is no reason for you not to use a home cooker for the venison chili recipe, especially if you've got one at home.
Spicy venison chili
By the way, just because the name venison chili suggests the level of heat of this meat stew is high, that doesn't necessarily have to be true. Although, being South African – I love cooking with fresh or powdered chili for that extra kick. However, that doesn't mean that you have to! You can easily vary this venison chili recipe and make it completely mild. Besides, there is plenty of flavour one can enjoy with this hearty stew.
Serving
Again, the best way to serve this venison chili is in a deep bowl with a side of rice. However, you can also enjoy a chili with roasted potatoes or just eat the chili alone as it is. Garnish with fresh parsley or coriander. I also like to drizzle with corn for extra sweetness as well as include fresh red chili peppers.
Venison Chili
• prep 15 mins
• cook 2 hours
• total 2 hours, 15 mins
• author michelle minnaar
• yield 8
• Make this venison chili and you'll replace it as your favourite in comparison to the traditional beef chili recipe. A tasty & spicy venison chili recipe.
Ingredients
• 15ml (1 tbsp) vegetable oil
• 1kg (2lbs) venison mince
• 2 large onions, peeled and finely chopped
• 3 garlic cloves, peeled and crushed
• 2 green peppers, washed and chopped
• 30ml (2 tbsp) ground cumin
• 5ml (1 tsp) dried oregano
• 30ml (2 tbsp) smoked paprika
• 30ml (2 tbsp) paprika
• 45ml (3 tbsp) chili powder
• 500ml (2 cups) vegetable stock
• 800g (2 cans) chopped tomatoes
• 30ml (2 tbsp) tomato purée
• 5ml (1 tsp) brown sugar
• 450g (1lb) Birds Eye Mexican Bean Mix (red kidney beans, black beans & chickpeas)
Instructions
• Brown the mince on a high heat in the oil, then remove from the pot and set aside.
• In the same dish, gently fry the onions and garlic for 5 minutes or until softened.
• Add the peppers and fry for another 5 minutes.
• Place the browned meat back in the pan with the vegetables.
• Add the remaining ingredients in the pot and stir well.
• Let the mince mixture reach a slow simmering point and let it bubble away with its lid on for about 90 minutes. Do check for water levels every now and then to ensure the stew doesn't dry up and burn.
Serve in a bowl with rice and enjoy.
Recipe composed by Michelle Minnaar
www​.greedy​gourmet​.com/​r​e​c​i​p​e​s​-​f​o​r​-​d​i​e​t​s​/​o​m​n​i​v​o​r​e​/​v​e​n​i​s​o​n​-​chili