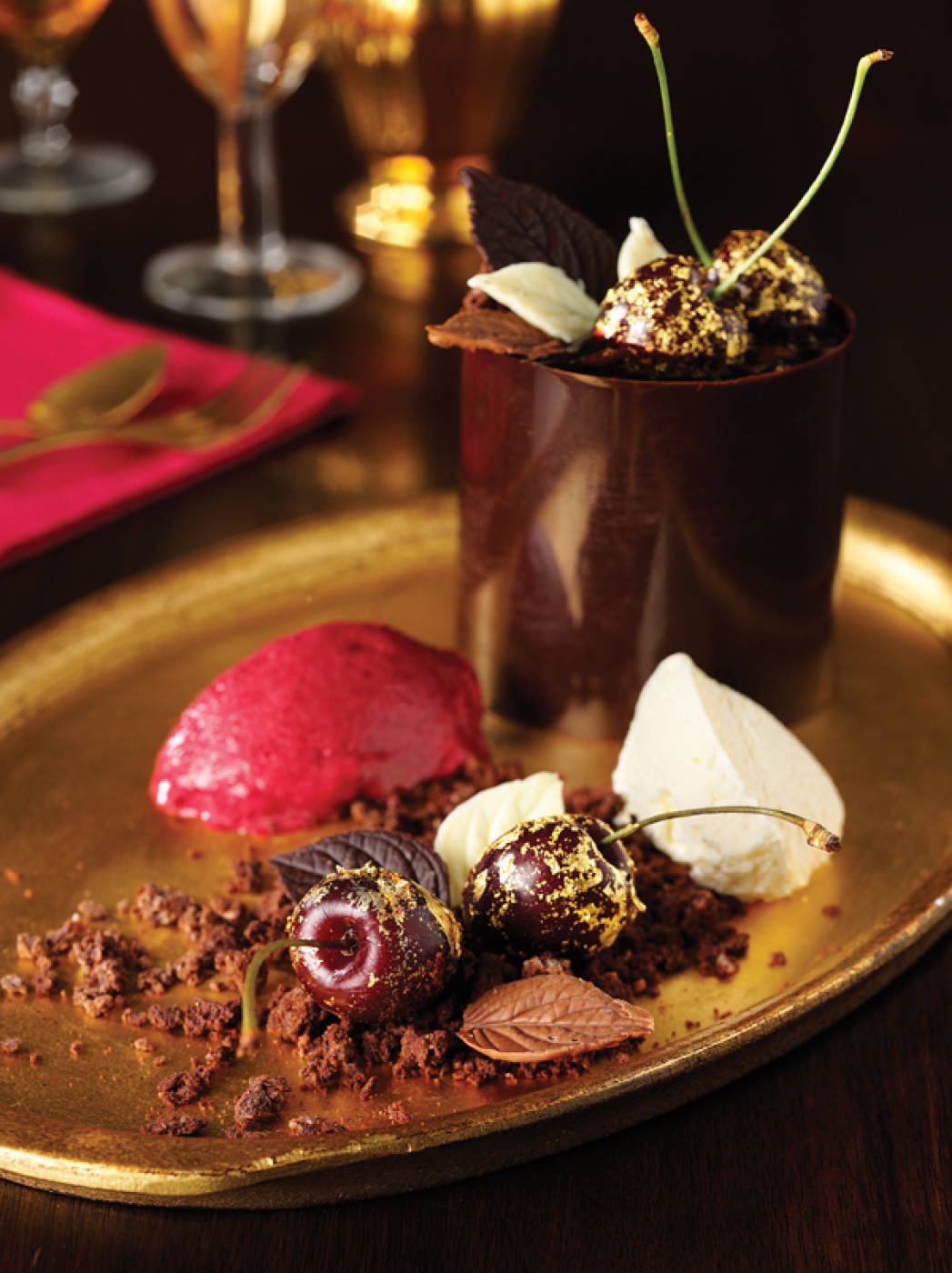 Tony Rodd's Black Forest Dessert
Made by MasterChef finalist Tony Rodd on the show!
Ingredients
Cherry sorbet
400g Morello Cherry Compote
100g Caster Sugar
Chocolate cases
200 g Divine Dark Chocolate
4 Strips of Acetate
Chocolate sponge
60g Unsalted Butter
60g Caster Sugar
40g Self Raising Flour
20g Divine Cocoa Powder
1 Large Egg
1 Tbsp. Hot Water
Cherry mousse
250g cherries (pitted)
2 Tbsp. Kirsch
1 Tbsp. Caster Sugar
3 Leaves Gelatine, soaked
150 ml Double Cream
Cherry sauce
150 g Cherries (pitted and chopped)
2 Tbsp. Redcurrant Jelly
1Tblsp cornflour
1Tblsp Water
Chocolate soil
75g Divine Dark Chocolate (melted)
3Tblsp Water
100g Caster Sugar
Decoration
25g Divine Milk Chocolate (melted)
25g White Chocolate (melted)
Fresh Rose Leaves
Fresh Cherries
Liquid Glucose
Gold Leaf
125ml Double Cream (whipped)
Makes 4
Method
Cherry sorbet
Place the cherry compote and sugar in a blender, blend until smooth. Place in an ice cream maker until thickened. Alternatively place in a plastic container and freeze until firm place in a blender and blend, replace in container and freeze. Repeat to freeze and blend again Freeze until required.
Chocolate cases
Place the chocolate in a bowl over a pan of hot until melted stir gently.
Cut 4 strips of acetate measuring 6cm wide x 25cm long. Wrap each into a tube measuring 7cm across and secure each with sticky tape.
Place the acetate tubes on a baking sheet covered with non-stick paper.
Spoon some chocolate into one tube turn to coat evenly, Place on the baking sheet repeat to make another 3 chocolate tubes. Chill.
When set spread a second layer of chocolate over each tube, chill to set.
Chocolte sponge
Set the oven to 170C /325F/Gas 3 and place the shelf in the centre.
Grease and base line a 17.5 cm round sponge tin with greaseproof paper.
Place all the sponge ingredients in a food processor and blend for 1 to 2 minutes until smooth and glossy
Place the mixture in the tin spread evenly and bake in the oven for 20 minutes until springy to touch. Cool in the tin.
Turn out of tin remove paper and place on a board using a 6 cm plain cutter cut out 4 circles of sponge.
Cherry mousse
Place the cherries kirsch and sugar in a pan heat gently until tender.
Remove from the heat Stir in the soaked gelatine. Place in a blender and blend until smooth. Pour in to a bowl and leave until almost set
Whisk the cream until softly peaks and fold into the cherry mixture until evenly blended.
Cherry sauce
Place the cherries and redcurrant jelly in a saucepan heat gently until the juice runs.
Blend the cornflour and water together add to the pan and stir until mixture thickens.
Cool
Chocolate soil
Place the sugar and water in a pan heat gently until sugar has dissolved. Boil rapidly until the syrup turns a pale brown .Remove from the heat.
Stir in 3⁄4 of the melted chocolate to form a crumb mixture, place on a baking sheet and cool.
Decoration
Using fresh dry leaves paint the underside of each leaf with 2 layers melted chocolate chilling in-between the layers and using dark, milk and white chocolate. Chill and when set peel the fresh leaves away from the chocolate leaves.
Brush the cherries lightly with liquid glucose and cover evenly with flakes of gold leaf.
Whip the cream until thick.
To assemble one dessert
Using a scalpel slit the tape and carefully remove the acetate from the chocolate cases. Place at one end of each serving plate.
Place a chocolate sponge round carefully in the chocolate cases Pipe or spoon the cherry mousse on top of each sponge to within 1 cm from the top.
Spoon the cherry sauce on top of each, sprinkle the chocolate soil around the chocolate cases.
Decorate with mixed chocolate leaves, gold cherries on the desserts and on the plates.
Just before serving place a quenelle shaped spoonful of cream and sorbet on each plate.
Credit: Divine Chocolate