What are your

10

best wines?
Wine expert Ken Maitland offers some choice selections for your table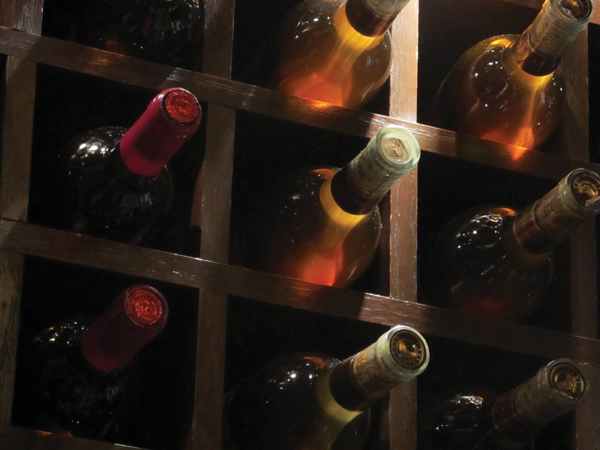 Most wine lovers have their own particular favourites, many chosen because of an association with a particular time, place or person. I could easily choose my top 10 on that basis which would be very personal – and sometimes quite quirky.
Spanish Rosé
When the London Wine Fair was held in what is now the Roof Gardens seven storeys above Kensington High Street I recall sitting in the sun enjoying the spectacular gardens with a glass of Spanish rosé in one hand, a plate of pink prawns in the other and two pink flamingos strolling by. That rosé is in MY top 10 just for that memory of a high point in my wine trade career.
Chilled Chardonnay
I have a soft spot for several wines because of my association with the area during my career: crisp minerally Chardonnay from Mâcon in Burgundy, rich luscious dessert wine from Burgenland in Austria, complex nutty Amontillado or lively salty Manzanilla from Sherry. But if we look at what the world at large considers the top 10, we must I suppose be guided by what people will pay for wines they will drink, rather than as collectors' items.
Conti Grand Cru
Looking at average prices paid for wine over recent years the top by quite a margin is Burgundy's Domaine de la Romanée-Conti Grand Cru at just over £9,000 a bottle with the most expensive vintage just under £50,000. In fact Burgundy dominates any list in which there are only two clarets in the top 50 – Petrus and Le Pin from Pomerol – a Napa Valley Cabernet Sauvignon and the rest are German Rieslings. That might seem surprising to many people who associate Germany with cheap Liebfraumilch and the like but their best wines have always been highly valued.
With price alone as our benchmark we would have a limited selection which would reduce our choice when it came to fine dining; and getting that near perfect pairing of wine and food is what enjoying wine is all about.
Best of Burgundy
Thinking of styles for every occasion, for a dry white wine it has to be Burgundy in my opinion. Corton-Charlemagne, Meursault, Montrachet if you like that buttery elegance given by oak ageing or a Chablis Grand Cru if you like the purity of Chardonnay at its best. Any selection of red wine would have to visit Burgundy again, paying attention to the producer's pedigree as much as geography. Red Bordeaux, known in English for centuries as claret, offers many great choices.
Heavier body wines
If the occasion calls for something with a heavier body then we might start looking at the Northern Rhône valley – Hermitage was always considered one of the top wines in the world. A classic from the Southern hemisphere also made from the Syrah or Shiraz grape is Penfold's Grange – Australia's most iconic and expensive bottle. Napa Valley in California can produce wines with real depth and intensity as can Italy; think Barolo and the ​"super Tuscans".
Sweet wines
For sweet wine we must consider Sauternes – the luscious honeyed richness of a wine like Château d'Yquem with its careful balance of acidity a perfect example. Most of the expensive German wines mentioned are sweet, made from grapes shrivelled on the vine to concentrate sugar and flavour in the same way as Sauternes – or from grapes frozen solid to enable removal of water as ice to leave that great intensity of taste.
Sparkling winners
Last, and by no means least, there are sparkling wines. For the best they must be made by the traditional method of a second fermentation in bottle, which is how Champagne must be made. Most Champagne is a blend: of grapes, areas and harvests but in the best years a single vintage can be made which will be carefully selected to age well and be truly superb. English sparkling wine is made in the same way, is mostly vintage and in international competitions the best have consistently held its own against Champagne. So we can enjoy one of the best wines in the world whilst buying local!
Ken Maitland Dip WSET is a certified educator for and former registrar of the Wine and Spirit Education Trust who now runs the Essential Wine School which provides tastings, tuition and vocational qualifications in wine across Sussex and Kent.
www​.essen​tial​wineschool​.com