Winemaker Collection
Balfour Winery launches 2022 Winemaker Collection In collaboration with British Artist Henry Hudson
As one of England's most respected and renowned wineries, Balfour Winery is a pioneer for both English traditional method sparkling wine, and a new wave of English still wines. The eagerly awaited 2022 Winemaker Collection will launch on 23 April 2022. As with previous collections, the wines are the epitome of father and son Owen and Fergus Elias' small batch winemaking philosophy; identifying small parcels to create unique wines with distinct personalities.
The 2022 collection consists of a trio of still wines – a red, white and rosé – and explores how the skilful use of oak can create English still wines with texture, weight and finesse.
Fergus Elias commented, ​'The Winemaker Collection gives us a chance to experiment with different wine-making techniques. As English winemakers, it allows us to go off-piste and try something totally new. We are endlessly fascinated by the potential of small batches of premium fruit and how blending these small parcels can create a wine that is totally unique. Each year we set ourselves a new challenge to see where it takes us; as winemakers, it definitely keeps us innovating and that is what Balfour is all about.'
Cinque Ports 2019 (rrp £40)
A blend of the five white varieties of Champagne; Chardonnay, Pinot Blanc, Pinot Gris, Arbanne and Petite Meslier. Elegant and refined, each of the five varieties were chosen for their subtlety rather than their power.
After blending, the wine was aged for nine months in French Fontainebleau barrels with prolonged lees ageing in tank and barrel to add texture and subtlety. A wine of elegance and harmony.
Mary Rose 2020 (Rrp £40)
Fergus and Owen Elias have long wanted to explore the potential for English still rosés, when the wine is given time to develop. The result is Mary Rose, a wine influenced by different techniques from around the world. English Pinot Noir is fermented with a yeast from Rioja and then aged in barriques from France and America.
The wine is a pure intense rose gold, with a palate of concentrated velvet Mulberry and raspberry with balsamic hints. An incredible layered and textured rosé.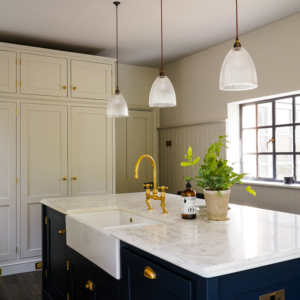 Gatehouse 2020 (Rrp £60)
This is Balfour's most concentrated and powerful Pinot Noir yet and comes from a single parcel within a single vineyard from selected Dijon clones. The wine is beautifully structured, aged in new oak and is un-fined and un-filtered. The result is an extraordinary Pinot Noir that will surprise many.
The labels for the 2022 Winemakers' Collection show the Hush Heath Manor gate house and are designed by British artist Henry Hudson whose works spans painting, sculpture, ceramics, installation and print-making. His practice is expressed through the exploration of various techniques and materials, including plasticine, scagliola, oil painting, 3D printing, wax, sand and textiles. Hudson's works extend into the digital realm using the iPad, which was used to design these imaginative labels.
The stylish contemporary winery and tasting room, The View, opened in 2018 and offers spectacular facilities with beautiful sweeping views across Nannette's Vineyard on Hush Heath Estate. Balfour Winery is celebrating its 20th anniversary this year, which is a real cause for celebration and a great time to launch their new Winemakers' Collection. The three wines will be available from April 23rd from Balfour Winery both online and in the visitor shop.
Balfour Winery, Five Oak Lane, Staplehurst,
Tonbridge, Kent TN12 0HT