Dr.Christine Medical Aesthetics
Shhh….Tunbridge Wells' Best Kept Secret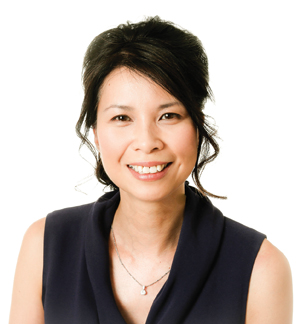 Dr.Christine Or recently won the Gold Award for ​"Aesthetic Practitioner of the Year 2016" at the Kent Health and Beauty Awards. She provides bespoke aesthetic treatments of the highest standard and exceptional client care, in a central but discreet location in Tunbridge Wells….No wonder Dr.Christine Medical Aesthetics is fast becoming Tunbridge Wells' best kept secret!
How best would you describe what you do?
I am an Aesthetic Doctor based at 17 High Street Tunbridge Wells, and also provide my services to clients at two beauty salons in Westerham and Bearsted. I provide Advanced Wrinkle Relaxing Injections, Dermal Filler Treatments, The 8 Point Non-Surgical Face Lift using dermal fillers, and treatment for excessive sweating. I offer Obagi Blue Peel Radiance which is a light chemical peel and Obagi Medical Grade Skincare which can be prescribed to treat pigment disorders, acne and skin damage caused by the sun. I am also an approved stockist of Skinade which is a great collagen stimulating drink.
How did you get started?
As a former General Practitioner, I always had a special interest in Dermatology and completed the Conquest of Skin Disease Course at the St. John's Institute of Dermatology at St.Thomas' Hospital London. When I entered my fourth decade, and after having 4 children, I began to notice early signs of aging in my own face and began exploring treatment options available. I was so excited by what could be achieved with medical skincare, wrinkle relaxing injections and dermal fillers that I decided to train in Aesthetic Medicine. I have been trained in Harley Street and by world famous Brazilian Plastic Surgeon Maurizio De Maio and the Allergan Medical Institute. Having an eye for detail, I found that I had a talent for assessing faces and creating a fresher look for clients. The joy and improved self-esteem and self-confidence that an aesthetic treatment can give a client is hugely satisfying and rewarding.
What are your most popular treatments?
Wrinkle relaxing injections to treat frown lines, worry lines and crow's feet around the eyes has been the most requested treatment by my clients over the years, however dermal filler treatments are becoming increasingly popular. Lip enhancement is popular at present and The 8 Point Lift using dermal fillers at specific points in the face is great if you are looking for a non-surgical face-lift procedure to create a subtle lifted and rejuvenated appearance without the downtime of traditional surgery. This is a bespoke treatment which I specialise in and is tailored to the individual as each face is different. I only use non-permanent hyaluronic acid dermal fillers such as Juvederm which are natural and safe and can give results lasting up to 18 months.
How is Dr.Christine Medical Aesthetics different from other skin clinics?
Client confidentiality and discretion is what makes Dr.Christine Medical Aesthetics Tunbridge Wells' Best Kept Secret! I am based above SW1 Hair and Beauty in Tunbridge Wells High Street so clients are never seen to be entering a skin clinic, only a hairdressers. All clients are by appointment only and are allocated a full hour for their appointment so there is plenty of time for discussion, assessment of the whole face,and treatment with no time pressure on clients. This also means that each client leaves well before the next client arrives, providing additional discretion and confidentiality for all my clients.
I would say 90% of my clients do not tell their partners and friends that they have had any aesthetic treatments…and their secret is safe with me!
I provide a uniquely personal service to all my clients which is not available at skin clinics. All clients are given my mobile phone number and email address and can contact me at any time. I always contact clients personally at least 24 hours before their appointment to provide pre-treatment advice and also 2 weeks after treatment to ensure that the treatment has settled well and to offer a personal follow up appointment if required.
I take pride in providing aesthetic treatments of the highest standard and am proud to have won the Gold Award for ​"Aesthetic Practitioner of the Year 2016" at the Kent Health and Beauty Awards recently!I am also the only Aesthetic Doctor recommended in Tunbridge Wells by MumsTrusted.
Do you have any dermatology/skincare tips for our readers?
There are many simple steps that everyone can take to help reduce the signs of aging in the skin. Firstly drink 6 to 8 glasses of water a day to ensure your skin is well hydrated. Try to get around 8 hours sleep every night to allow your skin to repair itself at night. Always protect your skin from the sun's damaging UV rays by wearing a sunscreen with at least SPF 30 every day, even in the winter months. Eat a variety of fresh fruit and vegetables such as broccoli and berries which are high in vitamin C. Finally consider a collagen stimulating drink such as Skinade to help bring back a healthy glow to your skin!
Where do you see your industry in 5 – 10 years time?
Aesthetic Medicine is a fast-moving industry with new products, treatments and injection techniques being introduced all the time and I am always building upon my skills and keeping up-to-date by attending conferences, masterclasses, training, reading journals and networking with colleagues. At present the Aesthetics industry is almost entirely unregulated and I am sure that with the expansion of the Aesthetic industry, we will see many more skin clinics popping up in the next 5 – 10 years and it will be even more important to choose your aesthetic practitioner carefully. Booking into a clinic and not knowing anything about the practitioner you are booked to see is not recommended…I would advise you to do your research when choosing your aesthetic practitioner. You should check that they are a member of a professional body such as the British College of Aesthetic Medicine for doctors or the British Association of Cosmetic Nurses for nurses, and have been accredited by a government approved organisation such as Save Face.
www​.drchris​tine​.co​.uk
christine@​drchristine.​co.​uk