Exclusive

VIP

Screening of

BBC

Facelifts

&

Fillers
Featuring our very own Amir Nakhdjevani
We are pleased to announce that you can now watch our Head Surgeon Amir Nakhdjevani in action, thanks to BBC1 Scotland.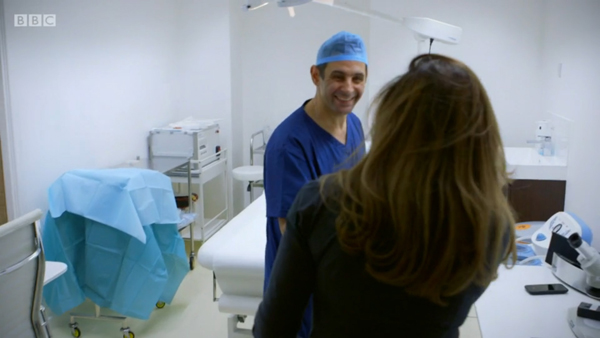 Last year the BBC spent 9 months filming behind the scenes at a cosmetic surgery clinic in Glasgow. BBC Scotland recently aired this as a one hour documentary titled ​'Facelifts and Fillers'. The program aims to show the world how aesthetic medicine is now a part of mainstream life for ordinary people, dispelling some of the myths that are often portrayed by the media. Patients were shown coming to the clinic to have everything from face and eye lift surgery to hair transplants and filler injections.
Amir has regularly practised from Darren McKeown's clinic performing many of the most popular cosmetic procedures such as Facelifts, Neck lifts and eyelid surgery. As a pioneering consultant cosmetic surgeon specialising in facial rejuvenation, Amir was invited by the BBC and Dr Darren McKeown to perform the Concept™ Facelift procedure which Mr Amir Nakhdjevani pioneered.
The programme gives a fantastic insight into many non-surgical and surgical procedures that are also offered at here at Bella Vou, Amir's own clinic in Royal Tunbridge Wells, including; Botox®, Fillers, Hair Transplants, Obagi Peels and the Concept™ Facelift.
The whole show is well worth watching, but if you're pressed for time you can watch Amir performing a Concept™ Facelift – a pioneering treatment done under local anaesthetic only, from 36:30 minutes onwards. The patient is wide awake and chatting throughout the entire procedure. Click the link below to see the live surgery, and of course the incredible results!
If you would like more information about the Concept™ Facelift, or any of the other procedures featured on the show, please contact one of the team at Bella Vou today on 01892 257 061 or visit www​.bellavou​.co​.uk