Eye opening cosmetic procedures
This month three clients of the Bella Vou cosmetic surgery clinic in Tunbridge Wells share the fantastic results of their surgical procedures in their own words.
Angie, 74, Concept Facelift
I have always been fortunate to look younger than my age – people often guess that I am around a decade younger than I am! However, a little after I turned 60, I suddenly started to show my age, the skin around my neck sagged down and looked really awful. On top of that I always had quite hooded eyes and the combination was making me look old and, even worse, constantly tired.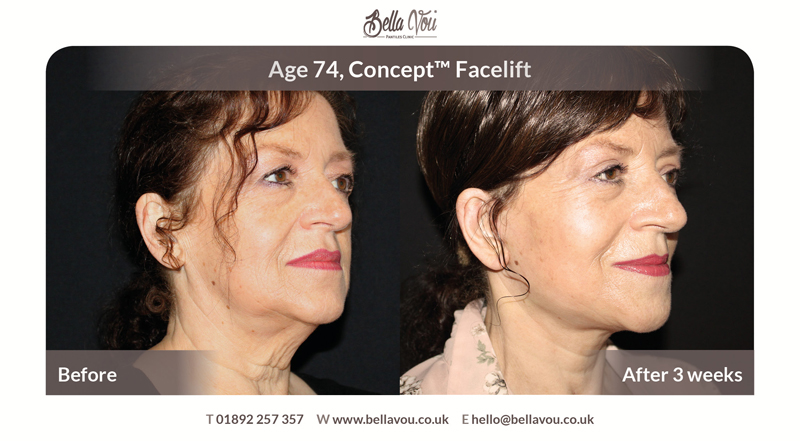 I had previously tried anti-wrinkle injections, but as the ageing process advanced I found that they didn't help much, so I accepted the need for more drastic action. I knew that I would never feel happy in myself until I did something to address the effects of ageing.
I came across a piece on Bella Vou's Amir Nakhdjevani; the article covered his groundbreaking Concept Facelift, which is carried out under local anaesthetic. This was of great interest to me as one of the things I was wary of was general anaesthetic. The other thing I really liked about the procedure was that the results seemed natural. I had seen a lot of facelifts online that has left people looking like they'd had an accident in a wind tunnel!
I can honestly say it was 100% worth it. The results look so natural! I have to show my before photo to people to convince them of the changes, when they see the results they are amazed at the difference.
Joanne, 46, Eyelid Surgery
My eyes were starting to feel very heavy and tired because of overhanging skin which sat on my eyelashes. To compensate I would raise my eyebrows to try and pull the skin up, which made it easier to see but left me with a constantly surprised expression!
My daughter suggested visiting Amir as his eyelid surgery is performed local anaesthetic as a walk in and walk out procedure. Seven days after my procedure the bruising had gone completely, my stitches were taken out and I was absolutely thrilled by the results.
I look fresher and more awake as a result of the surgery; my friends and family cannot pinpoint exactly what I have changed but they keep commenting on how sparkling my eyes look.
Isaac, 19, Ear Pinning
I've always felt very self conscious about my protruding ear, to the extent that I'd never leave the house without a hat on. It gave me really low self-confidence and I've always felt really awkward meeting new people as a result.
I'd tried several ear pinning procedures in the past on the NHS which have never given me the results I wanted. When I thought all hope was lost, Amir assured me that he could help. At first I was quite reluctant as a lot of time, money and effort had been previously wasted, but Amir and his team were very reassuring and made me feel in the most capable hands.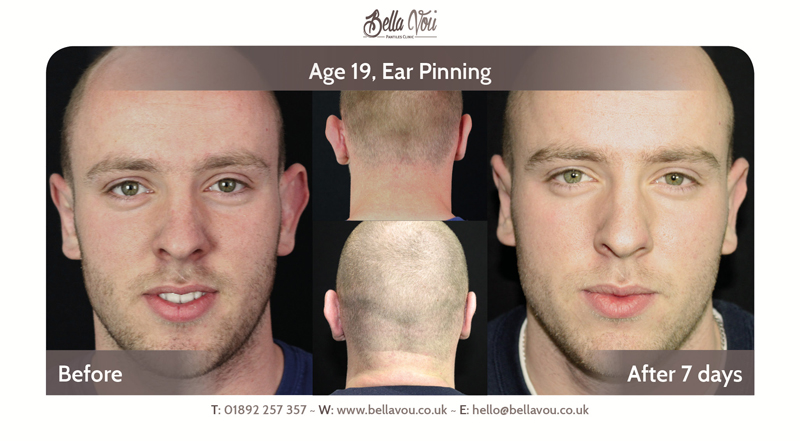 I would highly recommend Amir and his team to anyone. I am absolutely delighted with the results and the outcome of my procedure is outstanding. I have never felt better, it has had a major effect on how I feel about myself. I am absolutely delighted with the results and the outcome of my procedure is outstanding. I have never felt better!
To read more patient stories from real clients at the Bella Vou clinic visit www​.bellavou​.co​.uk/​p​a​t​i​e​n​t​-​s​t​ories or contact the clinic to enquire about cosmetic surgery procedures.