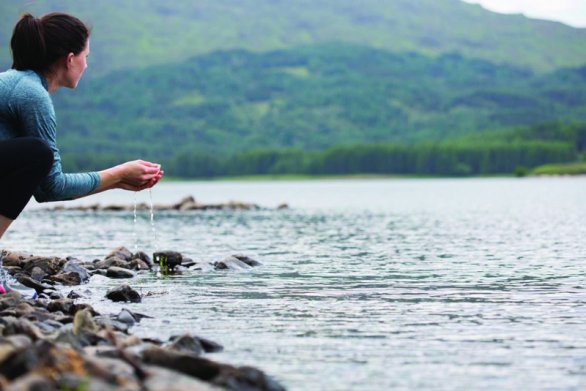 An innovative, wellbeing and detox retreat has opened its doors in the stunning Scottish Highlands just in time for the New Year health kick. The Body Toolkit runs all-inclusive detox programmes using a variety of simple techniques that enable people to make serious improvements to their health and quality of life.
This unique approach not only addresses the physical aspect of health – with juicing, enjoyable exercise in the outdoors and relaxation – but it also focuses on the role of the mind in health offering tools to combat stress, cravings and any negative beliefs that may stand in the way of achieving results. The retreat programme has been hailed as ​"empowering, energising and life-changing" by its first guests.
The Body Toolkit has been created by Katrina Mather who said: ​"The retreat is designed to support anyone who wants to be the best version of themselves." Her philosophy is simple, ​"Even small changes to the way we treat the body and the way we think, can make dramatic differences to how we feel. The Body Toolkit approach is about sharing tools to empower us all to claim a better level of health. And the peace and natural beauty of the highlands makes the experience all the more rewarding and unforgettable."

In the space of just six days, bodies become lighter and leaner, minds become calmer and spirits rise as an improved sense of wellbeing emerges. The most common results of the juice cleanse programme include increased and sustained energy, weight loss, lifting of depression, relief from aches and pains, improved complexion and improved quality of sleep.
The popularity of spa breaks and bootcamps demonstrates a strong appetite for body-image change but rarely do these options make lasting changes to how we feel. The Body Toolkit method addresses that issue and ensures that people return home – having experienced significant results – empowered with the knowledge and tools to maintain the momentum of their health goals and weight loss.
Hosted at Garmoran Square in the ​'Outdoor Capital of the UK' on the west coast of Scotland, The Body Toolkit is the first juice detox retreat in the Scottish Highlands. The purpose built, 4‑star accommodation forms a courtyard, with the character and charm of an old highland steading from the outside, surrounded by nature, fresh air, wildlife, history and dramatic scenery. Floor to ceiling windows and tasteful design inside capture the impressive views – and the solid oak floors, under floor heating and log fires make it comfortably luxurious and inviting.
The Body Toolkit fulfils Katrina's ambition to combine her passion for holistic health with her love of the Scottish Highlands, to create something of real value. ​"I'm delighted that the retreat has made such a profound impact on our guests so far, their compelling testimonials prove that we have the recipe for something that can genuinely make a difference and help people."