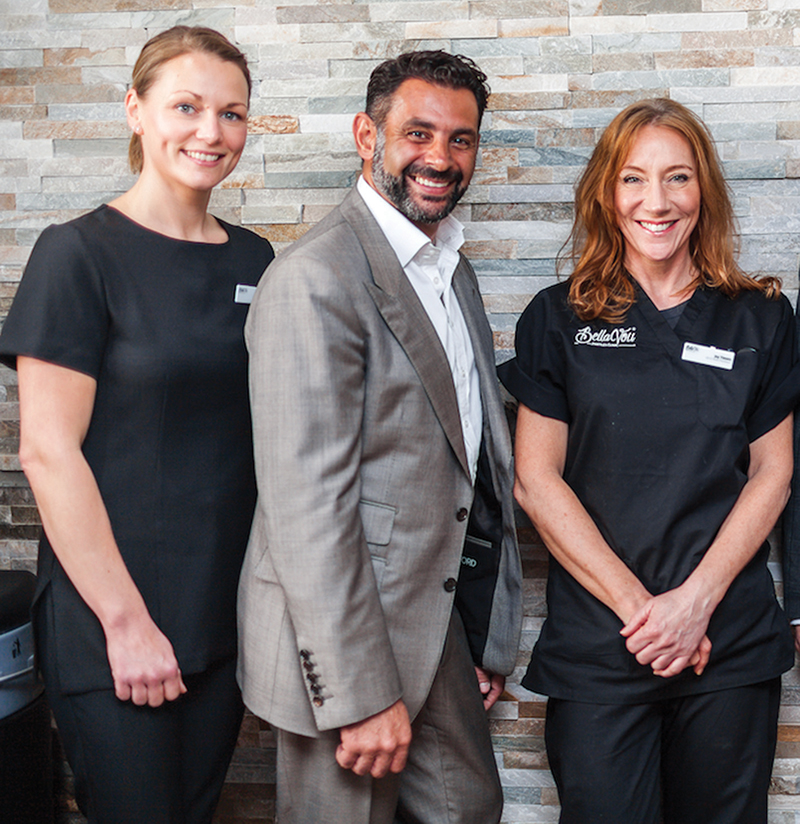 From Left: Lesley, clinical nurse specialist, Amir Nakhdjevani, Mbbs, Mrcs, Frcs (Plast.) Consultant Plastic Surgeon and Joy, ODP.
Karen came along to an open evening when Bella Vou first opened and felt absolutely bowled over by the clinic; ​'I was so impressed, I knew then that if I were to ever have anything done it would be at Bella Vou, especially after having met Amir and the team.'
"The concept facelift really sold itself to me – no general anaesthetic and such a quick recovery time – I knew there and then, yes, that's for me. I just knew that when the time was right, that's what I would have done."
She didn't feel ready for the procedure at that point, but a few years later Karen noticed (particularly when looking back on recent photos) that her face had aged, so she decided to come back to the clinic. ​'I was starting to get jowls and was just looking older. That's when I thought: now is the time to do something about it.'
Karen could now really notice her ageing skin which motivated her to make the changes necessary for a younger and more attractive looking face. She decided the time was right to obtain a fresher look; ​'I felt like I was looking tired and worn out. My skin was sagging, especially around my neck and jawline and I felt that I was really starting to look my age!'
So, as a 60th Birthday present to herself, Karen plucked up the courage to come in for a consultation which she felt went really well. ​'The atmosphere at Bella Vou was friendly and personal. The staff were all supportive and caring. They made you feel as if you were their only patient, rather than just another client on their list – nothing was too much trouble.'
Karen loved the fact that she was designated her own patient coordinator who ensured she was clear about the procedure. ​'After my initial consultation with my surgeon, Amir (who answered all of my questions) my patient coordinator went through everything with me again.' Surgery can feel like a big deal, so being sure the procedure is right for you is really important. ​'My patient coordinator covered everything. Price – dates – what to expect – aftercare – everything. She actually wanted me to go away and think about it, but I was so excited I booked my surgery there and then!'
Karen was thrilled that the surgery could be carried out under local anaesthetic so that she would have a fast recovery. ​'Because of the way Amir and the concept facelift had come across at the open evening I was very confident about the procedure.'
Surgery can be quite nerve-wracking for some, but Karen said ​'I wasn't in the least bit nervous – I watched the whole operation on the Bella Vou website too.' She was totally prepared and aware of every detail.
The day came for Karen's procedure; ​'I needn't have worried. Stevie, my patient co-ordinator, took me down to theatre and Amir and the theatre nurse made me feel at ease straight away. I was awake the entire time and it appeared to be very casual; we were chatting and the radio was on – it was better than being at the dentist! The most uncomfortable part were the initial injections. After that I couldn't feel a thing throughout the entire procedure. Although it took a long time, I was totally relaxed as Amir was always talking, checking how I felt and explaining what he was doing.'
"Amir was a wonderful surgeon. He was warm, considerate, caring and supportive – he was just amazing"
Karen was surprised at how fab she looked straight after surgery; ​'A friend of mine had a facelift elsewhere and she looked like she'd been run over by a steam roller! I didn't have any bruising or swelling, I just looked a bit puffy. To be honest, apart from the fact I wasn't wearing any make up, I could have gone shopping straight away afterwards and no one would have given me a second look – it was that amazing. I didn't, of course. My husband collected me and I went straight home to rest for a couple of days following the advice I was given.'
Karen describes her follow-up care as reassuring; ​'I could ring Stevie, or the clinic if I was worried about anything, but I just came back a week later for my first check up and everything was fine.' It's so important to know you'll be cared for after surgery too.
"My husband, family and friends were all very supportive when I decided to go for it and they were totally blown away with the outcome. Everyone was so impressed. My work colleague decided that she's definitely going to have it done herself."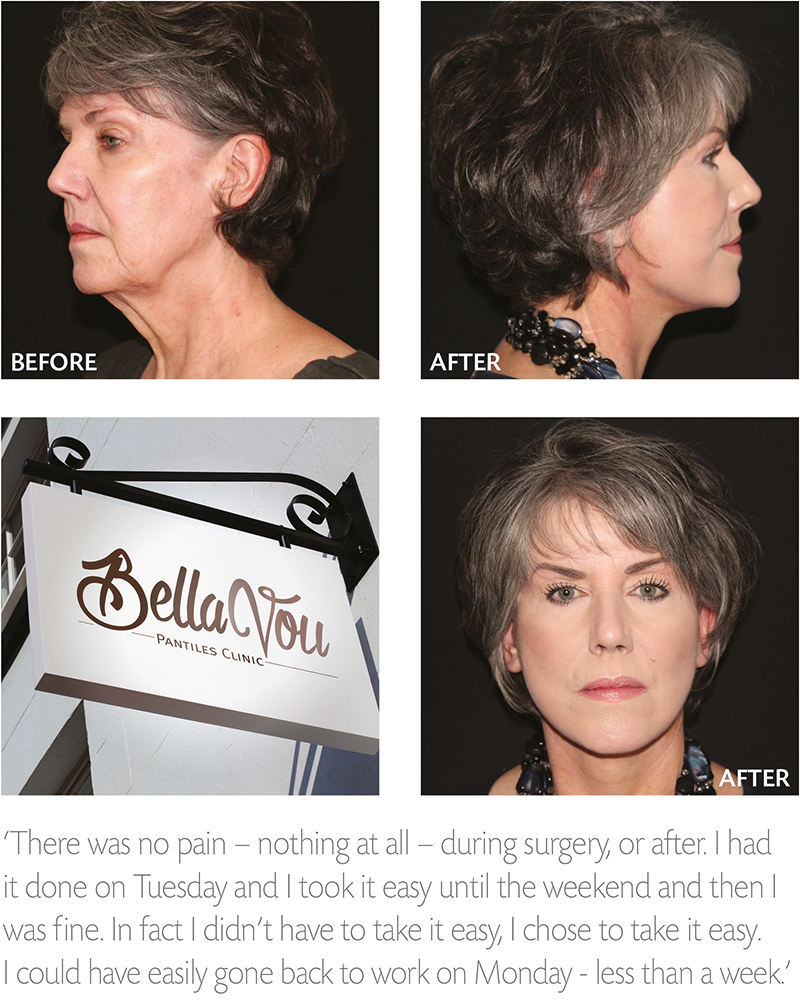 'It was definitely worth it and I would recommend anyone to go for it! I feel so much more like me again! My life hasn't changed, but I have. I definitely feel better about the way I look. Bearing in mind I teach 13 – 18 year olds, how I look is important to the students I teach. My friends and family keep asking if I have changed my hair, lost weight or used a different make up – they know something has changed but they can't put their finger on it!'
After having the concept facelift and necklift, Karen has noticed improvements in her day to day life. ​'It has been such a positive experience. I feel so much more confident about my appearance! I don't look tired anymore, I look really good for my age! Maybe even looking younger!' If you have a procedure in mind, why wait? Karen's advice is to ​'Just go for it – you won't be disappointed!'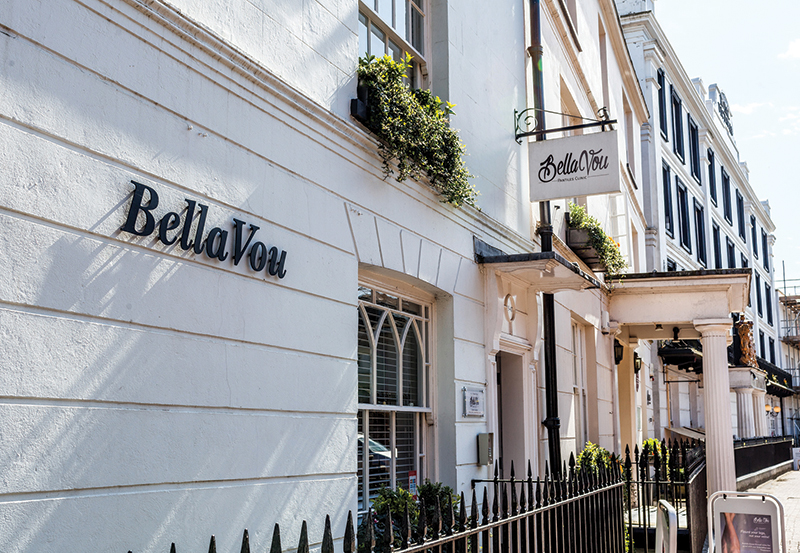 To book your complimentary consultation call 01892 257357 or email: hello@​bellavou.​co.​uk
Bella Vou Pantiles Clinic, 45 – 47 The Pantiles, Royal Tunbridge Wells, Kent TN2 5TE