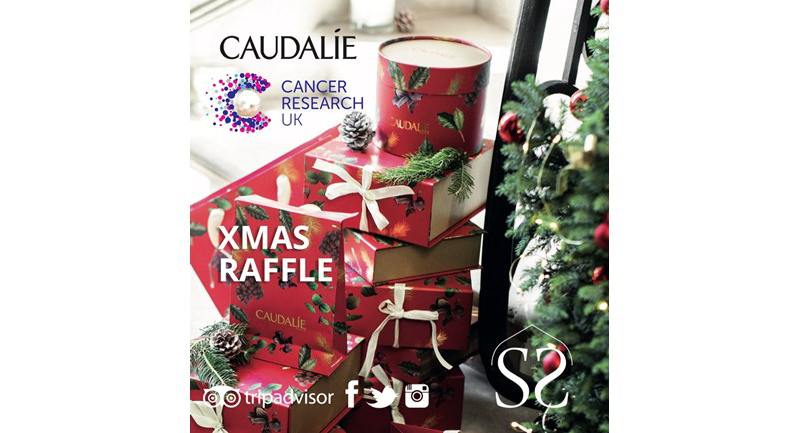 Our Christmas Charity Raffle ticket sales will be commencing on Friday 1st November 2019.
All proceeds of which will be donated to Cancer Research UK this year.
The funds raised seek to honour the friends, clients and family members the spa has lost over the years, whilst provide hope for all those who are undergoing treatment right now.
Each and every one of us has been affected by Cancer one way or another.
It's time that a cure for all Cancers were found!
The Christmas Charity Raffle Prize Winners will be drawn in house during our Caudalíe Christmas Shopping Event (to be held on Monday 2nd December 2019 from midday until 7pm).
Ticket sales for this event will also go on sale on Friday 1st November, with the full amount of the revenue raised from these sales also being donated.
There is still time to get involved, (other than by purchasing tickets) are you a local business willing to pledge a prize to the raffle? or an individual willing to donate a prize?
If so, please get in touch
E‑mail: enquires@​sheldonspa.​co.​uk: enquires@​sheldonspa.​co.​uk
Tel: 01795 532418
Or…
Post/stop by with your prizes to;
Sheldon Spa, Lee's Court Road, Sheldwich, Nr Faversham, Kent, ME13 0LU.
And, of course donate here!
Thank you in advance for your kindness, thoughtfulness and generosity.
Let's win the battle against Cancer together.
Big thanks also goes to all the following businesses for their kindness & generosity;
Jelly Beanz Hair Design, Whitstable – A £40.00 gift card.
The George Restaurant & Bar, Molash – A meal for two.
I J Plumbing & Heating, Faversham – £100.00 of gift cards for a variety of shops including John Lewis.
The Three Mariners, Oare – A £100.00 voucher to spend on dining.
Sheldon Spa – £100.00 of Spa/Treatment vouchers.
Country Lane Flowers, Selling – A beautiful Christmas Wreath.
The Alma, Painters Forstal – £40.00 food and drink voucher.
Flower Art UK – A stunning, bespoke Christmas Wreath.
Denne Manor Farm – A blooming gorgeous Olivia Rose Austin, an English Rose shrub.
The Fitness Fox – A 1 – 2 personal training session.
Zen AF Healing – A triple healing bracelet stack.
Teapigs – A selection of festive teas.
Dark Horse Ornament, Faversham – donation on its way!
Steven James Hairdressing, Faversham – A cut & finish!
Mii Cosmetics – A beautiful six piece basics mineral make up starter kit containing four mineral products and two brushes. Made with genuine gemstone infused minerals!
Hair by Nikkie, Gillingham – donation on its way!
And, much, much, more from bottles of gin, wine, champagne, make up & skin care!
Get involved..?