20

%

OFF


Wrinkle Relax: Eye Lines/Forehead
Frown Lines – From £

200


Dermal Fillers – From £

200


Skin Peels – From £

135

per treatment
Microneedling – From £

250

per treatment

This is a price guide only and costs will be based on individual needs and requirements. (Prices may be subject to change). Accommodation room rate From £170 per night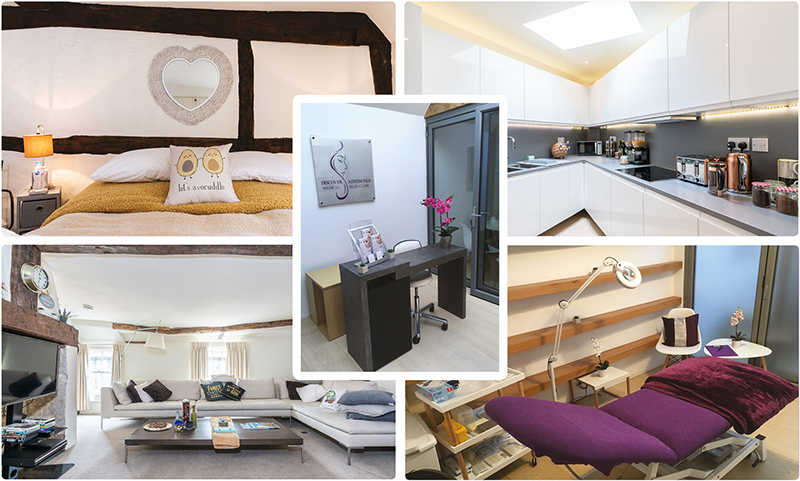 Aspect County readers are exclusively invited to join Dr Valentina Casula in her New Facial Aesthetics Clinic and Client Apartment. Located at the heart of the quintessential Sussex village of Alfriston, indulge in her passion for medical aesthetics, relax in style and comfort at the onsite accommodation, and retreat into the 15th century charm of the village.
We invite you to book this exclusive package and receive a free medical skin consultation, and 20% discount on both medical treatment rates and accommodation. Treatments include wrinkle relaxing injections, skin peels, cosmeceuticals, and skin analysis. The contemporary apartment sleeps four, and is fully equipped for short stays. Breakfast included.
Dr Casula is a consultant grade Anaesthetist who has been practicing for over ten years. She brings her extensive professional and personal special interest in medical aesthetics together, forming a unique approach to the management of her patients. Discover ​'non liner aging', and her passion for natural aesthetic intervention, making natural beauty the only beauty. Bringing you on a journey to a better self.
"Dr Valentina was amazing and so informative the treatment was perfect for my needs, the clinic is beautiful. Highly recommend" – Nick from Sussex
To book this package, or discuss it further simply call Dr Casula on 07403 191707. To enquire over an individual appointment and consultation, or specific treatment needs, please contact us by phone or email at discoveraesthetics360@​gmail.​com