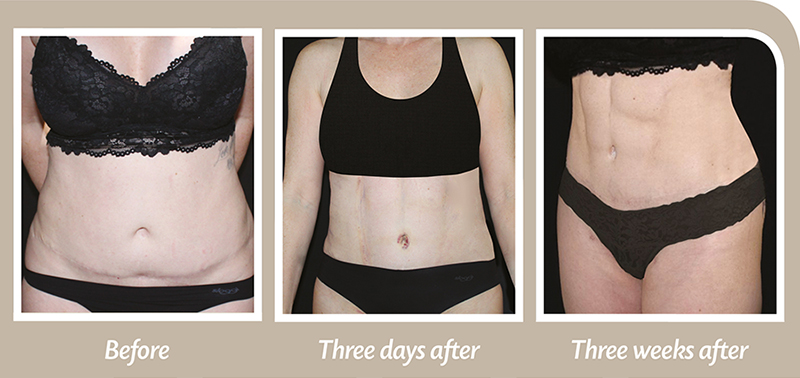 "Why don't you try vaser lipo," my friend Sarah suggested to me. It was a term I'd heard of, but I wasn't familiar with what could be achieved. Intrigued, I did my research and was recommended to Consultant Plastic Surgeon Amir Nakhdjevani who operates from the Bella Vou Clinic in Tunbridge Wells.
Within two minutes of meeting Amir, he put me completely at ease and I knew I could safely put my body in his hands. Amir recommended high definition vaser liposuction to my stomach and flanks in order to completely remould my midsection, smooth out my scar and give me the definition I had back in my 20's.
I do a lot of yoga and have to wear tight fitting clothing for this, but my hip to hip scar really showed where I'd gained weight on and off over the years. My dream was to regain the confidence I had ten years ago.
"After the procedure you will be able to wear whatever you like without having to worry about lumps and bumps," Amir confirmed to me at the consultation. ​"This is a modern procedure where I will remove the unwanted fat cells from the body and drain them out during the process. This encourages collagen to build within the body and underneath the skin, so it basically shrink wraps the skin back and gets rid of that looseness and wobbly feeling. You'll regain what you had back in your 20's, or before you had kids."
It was music to my ears. Because I'd previously had a tummy tuck, it had also been explained to me this had resulted in the appearance redundant skin and low abdominal fat. Amir explained that a tummy tuck procedure can create a smooth, flat appearance of the abdomen but unfortunately, does not give you any definition. Having tone to my midsection which could be created through vaser lipo was the part I most looked forward to.
On the day of the procedure the nurses settled me in and refreshed me on what to expect."Bruising and tenderness can be expected," they informed me. ​"This tends to subside quite quickly. You'll have drains for 24 hours post-surgery to remove any excess fluid. This can be a little uncomfortable, but you'll feel fine once the drains are removed."
The day after surgery, the drains were removed and I had a lymphatic massage. I felt so much better. Despite the slight discomfort immediately after the op, I soon realised this was just from the drains, not the procedure itself. The results were astonishing and immediate and you could see a continued improvement after each massage. I also wore a high definition vaser vest and a compression garment given to me by the clinic. The vest keeps you feeling nice and safe and secure and keeps you in the right space. It compresses everything to reduce swelling. I had to wear this for 4 weeks, but it's quite comfortable and after a few days I couldn't have imagined not wearing it.
Fast forward to the present time and I can't believe the change. It takes six months for your body to completely heal, so I've not even seen the final result yet and to say I'm over the moon is an understatement!
As a mum of 4 teenage boys, I am active, fun and outgoing, but ever since having tummy tuck surgery some years back, I really struggled to hide the unsightly scar the procedure had left me with.
Bella Vou, Pantiles Clinic, Market House, 45 – 47 The Pantiles,
Royal Tunbridge Wells, East Sussex TN2 5TE
Telephone: 01892 257357
To book a complimentary consultation or for more information call
01892 257357 or email hello@​bellavou.​co.​uk
www​.bellavou​.co​.uk