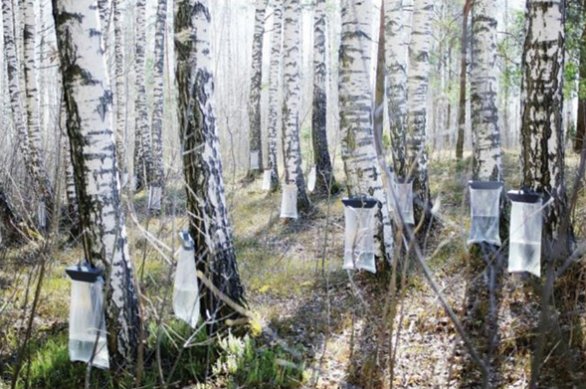 In 2014, coconut water took the health and beauty world by storm. This year, Birch sap (Birch juice) is set to supersede the humble coconut. How does this Northern European super ingredient have an edge over previous contenders?
For those who want to tap into the latest trend, here are a number of good reasons why birch sap is set to be your health and beauty essential for the years ahead.
Background
Birch Sap originates from countries where temperatures reach minus 20 – 30 degrees Celsius and is traditionally enjoyed in the Baltic countries – Latvia, Estonia, Lithuania and Russia. Collected by taping the tree trunk during early spring when the birch tree awakes from a deep dormant winter period. The sap is super concentrated, vitamin and mineral rich, and contains all the ingredients for the birch tree to burst back into life for the short northern summer. Birch sap has a slightly sweet and refreshing taste, it is rich in bio-available nutrients including enzymes, potassium, calcium, phosphorus, magnesium, manganese, zinc, sodium, iron, Vit C, fruit acids and amino acids.
Health Benefits
• Birch sap is known to help cleanse and remove toxins from the body
• It helps nourish the body's cells with organic acids
• For centuries, it has been enjoyed for its purifying, diuretic and strengthening properties
Medical research has shown that drinking one glass of birch sap every day for 2 – 3 weeks helps to fight fatigue, distraction and depression…one of its traditional uses for those living in the Northern regions in spring, after a long winter
Beauty Benefits
Birch sap provides the skin with vitamins and other biologically active substances, such as free amino acids, and valuable sugars to rejuvenate, protect and reduce the signs of ageing. Recognised as a pure, potent anti-ageing ingredient, it is one of Nordic women's beauty secrets. In fact, one of the main ingredients in Latvian certified organic skincare brand MADARA Cosmetics is birch sap. The birch sap replaces water (aqua) in the formulations and MADARA​'s unique water-free formulation uses birch sap instead of water to give your skin a boost like only nature can. The full Time Miracle range comprising of a Serum, Day Cream, Night Cream and Eye Cream has undergone in vivo and in vitro tests, confirming the effectiveness of birch sap in beauty products.
Every spring, birch sap is gathered from two organic farms – one of them called ​'Sula' in MADARA​'s home country Latvia and the other one called ​'Nordic Koivu' based in Finland.
Read more on the recent studies of birch juice in beauty products as an anti- ageing agent
www​.madara​cos​met​ics​.com/​e​n​/​s​c​i​e​n​t​i​f​i​c​-​a​p​p​roach