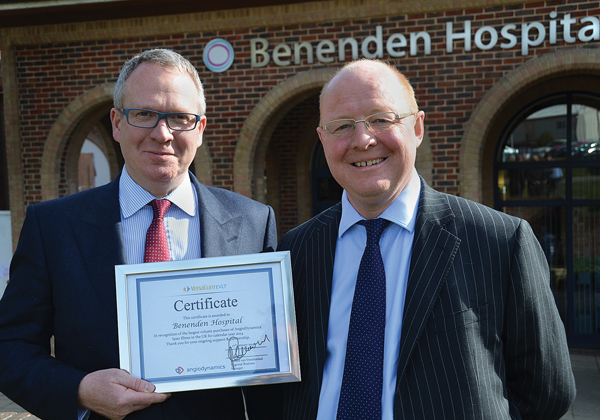 Mr Aaron Sweeney and Mr Eddie Chaloner, consultant vascular surgeons at Benenden Hospital
When Summer holidays mean one long round of trousers and dresses!
For most people the Summer holidays are a time of relaxation, spending leisurely time doing leisurely things, in leisurely clothes. But for people who suffer from unsightly varicose veins, the thought of exposing their legs to the elements, and the eyes of other people doesn't bear thinking about. And that's how it was for Ali B, until recently.
A hard working mum of 2, with an active job requiring time spent on her feet, Ali's holidays are a rare opportunity to relax and enjoy some leisure time. But her ​'unsightly' varicose veins meant she invariably wore trousers or longer dresses when on holiday.
A sun lover, Ali was determined to do something about it, so that she could fully enjoy her holidays. Her problems had started when she was quite young, suggesting a hereditary connection and Ali had already had the traditional ​'high tie and strip' treatment before having children. Unfortunately the veins recurred soon after surgery, as happens in about one third of patients treated by open operation under a full general anaesthetic.
Now, with increasingly severe aching in her legs, Ali resolved to get her troublesome veins removed, once and for all and began investigating ways to achieve this. Unfortunately, due to restrictions on NHS treatment, although her veins were uncomfortable and painful, they did not meet the severity criteria for surgery on the Health Service.
Some basic internet research on surgery for varicose veins revealed that techniques had improved significantly in this area in recent years, with best practice as recommended by the National Institute for Clinical Excellence, recommending, where possible, that veins are now treated with minimally invasive methods such as Endovenous Laser Treatment (EVLT).
The varicose vein clinic at Benenden Hospital provides a Centre of Excellence for EVLT treatment. Run by consultant vascular surgeons Aaron Sweeney and Eddie Chaloner, Benenden performs thousands of EVLT procedures each year and is the biggest, single-site, user of lasers for EVLT in the UK.
Ali arranged a GP referral, confirmed her insurance would cover the procedure and arranged a consultation with Eddie Chaloner. Initial consultation and scanning with ultrasound confirmed that she had a recurrence of veins in the left leg following previous open surgery, and further varicose veins in the short saphenous veins behind both knees. Treatment with minimally invasive Endovenous laser was advised, which was done in two stages.
Ali is pleased that the constant aching and discomfort in her leg has gone, and she is now looking forward to a Summer in which she can enjoy the sunshine fully with her family. ​"I seem to have had this problem forever and no matter what I've tried it hasn't worked, until now. I already feel a lot better and am looking forward to shopping for new Summer clothes with my daughter to show off my legs."
"With a local anaesthetic, walk in – walk out procedure, patients can return home the same day," says Mr Chaloner, ​"it's as simple as going to the dentist. What's more, the recovery time is much shorter than after open surgery, with patients being able to go about their normal business within a week, and even returning to some sports by the end of the second week."
"The new minimally-invasive techniques," says Mr Sweeney, ​"offer a quicker and safer route to patients returning to a normal life than the old high tie and strip operation, and the recurrence rate is less than one sixth as frequent, so patients can have greater confidence in the durability of treatment."
For more information about varicose veins call 01580 242 521 or visit www​.benen​den​hos​pi​tal​.org​.uk