Your sight is one of your most precious assets
With a recent report from The Royal College of Ophthalmologists suggesting that the NHS is struggling to cope with the demand for treating eye disease in an increasingly ageing population, it's now more important than ever to take steps to look after your eyesight.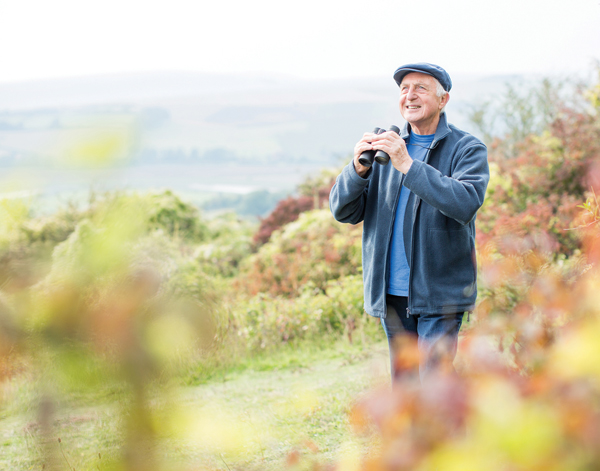 How you can help safeguard your sight
Most experts recommend having regular eye examinations – at least every two years – which allows your optometrist to spot any early signs of disease, as well as keeping a check on your general eyesight. Between examinations you should try to be aware of the sight in each eye separately as many conditions appear in one eye first. Symptoms to be aware of include seeing blurry or blank spots in your vision, or if features with straight lines suddenly become wavy or distorted.
Lifestyle and diet also play a part. If you are a smoker then giving up will be beneficial to your sight as smokers are more likely to develop age-related macular degeneration and cataracts. A healthy balanced diet rich in leafy greens, fresh fruit and other vegetables will not only benefit your overall health but may also help keep your retinas healthy.
When out in direct sunlight, you should try to wear UV absorbing sunglasses or wide brimmed hats as some studies have suggested that sunlight exposure is a risk for developing cataracts.
But what happens when your eyesight causes you concern?
Pressure on the NHS
It is extremely positive that common, but often devastating, eye conditions which were previously untreatable can now be treated successfully. However, this increased demand on NHS services is placing pressure on waiting times for monitoring and follow up appointments. Eye care is responsible for around 10% of all NHS outpatient appointments each year, with attendance at eye clinics having risen by around 30% in the past five years.
Existing patients with chronic eye diseases such as glaucoma, invariably require long-term repeat appointments for close monitoring and care. With the current funding and resource levels, these ​'follow-up' appointments are the most vulnerable to being postponed or ​'lost', which can be critical to a patient's eye care.
Glaucoma is a condition caused by increased pressure in the eye fluid and is treated either by eye drops, or an operation. In a healthy eye the fluid pressure is controlled through a ​'safety valve' behind the lens, which is very thin. To complicate matters, where patients with glaucoma also develop cataracts, this can exacerbate the condition as a cataract-affected lens is thicker and reduces effectiveness of the ​'safety valve'. So it is very important for glaucoma sufferers that they are monitored for cataract development, and these are corrected at an early stage.
Your local Centre of Excellence for eye care at Benenden Hospital
Benenden Hospital specialises in cataract surgery, carrying out just under 2,000 operations in 2015. The specially trained and highly competent ophthalmology nursing team also offers glaucoma monitoring for private patients and members of Benenden (check we offer it to members as part of their membership) using up-to-date specialist equipment to detect increased eye pressure.
Mr Harris received treatment in the Eye Unit in 2015 and commented – ​"From my very first contact with Benenden Hospital through to the post operative support I received, I have been immensely impressed with the quality of care and the efficiency of the process". Mr Harris continued by saying ​"as a result of such a positive experience I have unhesitatingly recommended Benenden Hospital to my friends and colleagues, and those who are already familiar with it without exception speak very highly of its reputation."
If you would like more information about the ophthalmic services provided by Benenden Hospital, please call on 01580 242 521 (Quoting AC05) or visit online at www​.bene​den​hos​pi​tal​.org​.uk