A‑lister favourite reveals limited edition luxury collection…
Nothing beats walking into a wonderfully scented room aglow with flickering candles and this winter A‑lister favourite Kenneth Turner London has added a nostalgic touch with the launch of a limited edition Christmas Collection that perfectly captures the spirit of the season and the brilliance of the celebrity florist who first created the range almost 30 years ago.
Three fabulously festive and exquisitely scented candles draw on the heritage of Kenneth Turner's illustrious career, each capturing a memorable moment in his life or an event created by the man himself and his team. Presented in beautiful packaging, each candle tells the story of how the scent came to be and lifting the lid on the box reveals an uplifting message to set the festive mood and scene.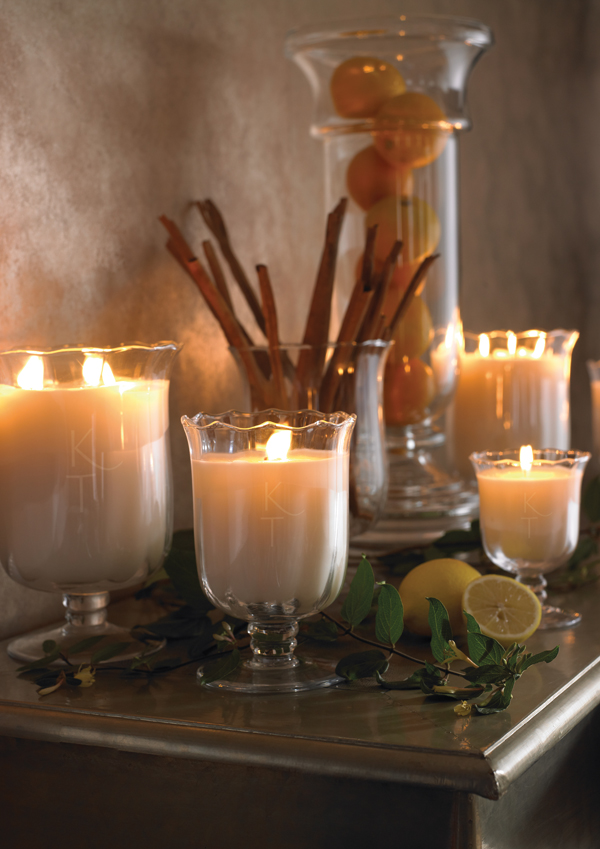 After 18 months spent redesigning the entire Kenneth Turner range, the Christmas Collection, which also includes Room Cologne and Tealights, is the first in a series of seasonal limited editions to be revealed by the iconic British candle, home fragrance and accessory company. Mirroring the intuition, expectation and principles that have earned the company a notable following of celebrities, dignitaries and VIPs, each scent is available as a Scented Candle in Posy Vase (£42), Scented Candle in Stem Vase (£90) and Room Cologne (£22). Winter Berries is also available as a box of 12 Tealights (£25).
Kenneth Turner candles are renowned for their exceptional scents that throw off intense, long-lasting fragrance. In hand-blown glass vases and colours that reflect the ingredients inside, candles will burn brightly and release their fabulous fragrance for up to 95 hours to warm and fill homes with their welcoming festive scent. Superior mineral wax and British perfume blends ensure the candles burn evenly and cleanly, and once the wax has burned down the glass vases can be re-used to hold pillar candles, tealights or flowers.
Masquerade
Inspired by a glitz-fuelled masked winter's ball in Staad, Switzerland, complete with diamonds, fur, champagne, caviar over crushed ice and an abundance of gorgeous petrol blue and black roses, the flowers of the moment, the original glamour. The band plays, dancing until dawn, a hint of mystery and seduction in the night air. Fragrance notes: A heady blend of black rose, black pepper and dark cassis nourished with ginger, myrrh, patchouli and amber.
Winter berries
Remembering a seasonal celebration in a private house in Houston, Texas with no expense spared on the traditional floral decoration. A beautiful home decorated for the season, a blazing log fire, a table laden with fabulous food and the intoxicating scent of mulled wine, berries and goodwill. Fragrance notes: A rare vintage of sweet red berries, satsuma and cinnamon in harmony with iris and vanilla.
Midwinter
Memories of a special Christmas in France, walking the dogs before lunchtime. It's Boxing Day, footprints in the frost and breath cutting threw the air, trees laden with lime-green Mistletoe, cold air on faces and the warmth of family and friends. Fragrance notes: A crisp winter fantasy of mint, mistletoe and pine with ozonic floral notes, rosemary and thyme propelled by sparkling musk.
The Kenneth Turner Christmas Collection is available from Fortnum & Mason, selected independent retailers and department stores and from www​.ken​neth​turn​er​.com