The Andrew Martin Interiors Touch
Alyson Jackson-Petts talks about her love affair with this special brand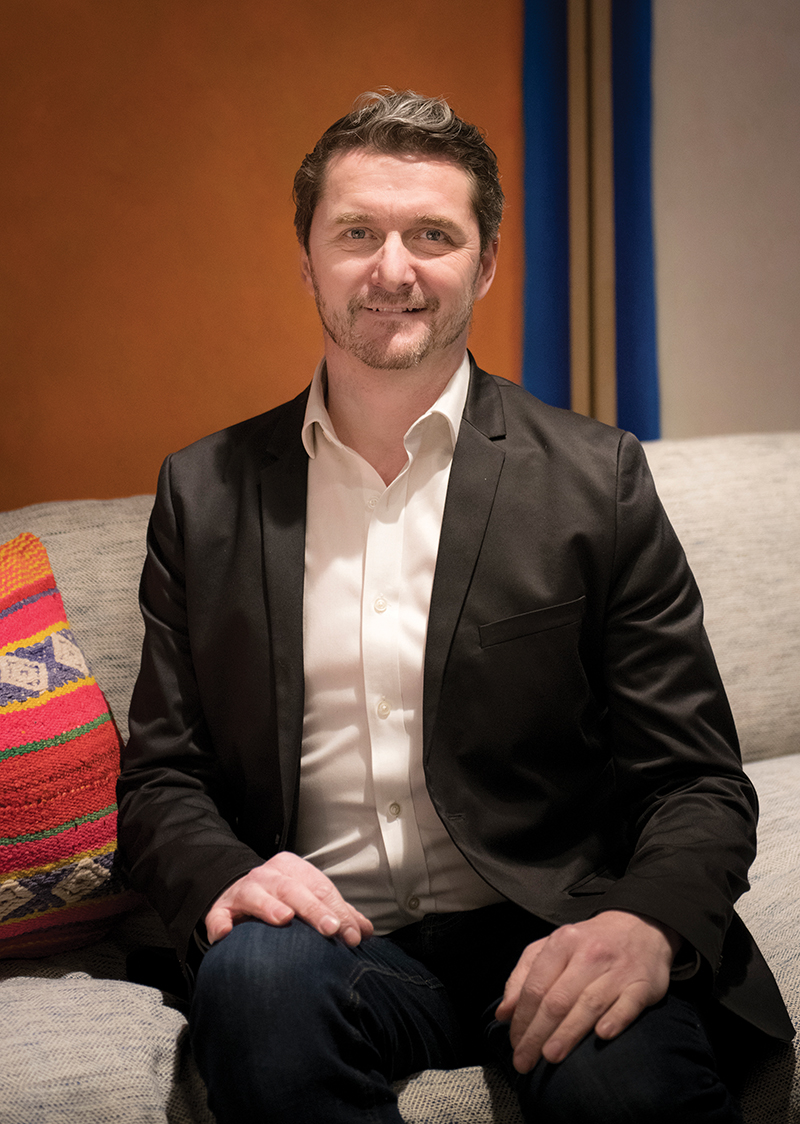 As well as growing up abroad I have also lived and worked overseas during my adult life and so the styles and cultures of other countries have always been a delight and a fascination to me. I think that these experiences have developed in me a certain way of thinking and looking at other creative worlds. As you may imagine, I have collected many beautiful pieces from far flung places over the years, so my home has always represented a fusion of ideas, eras and styles from continents worldwide. I also think my love of colour has its roots here too.When I came across the Andrew Martin International showroom in London nearly two decades ago I thought that I had died and gone to heaven. I could not take my eyes off this Aladdin's cave of incredible designs, unique pieces of furniture, stunning fabrics and exquisite artefacts. I also now know how ahead of its time it actually was!Since then I have had a love affair with the brand and all it represents to fusion design and have purchased, used and designed with the Andrew Martin interiors ranges whenever possible, as they help me to create my eclectic style of designing.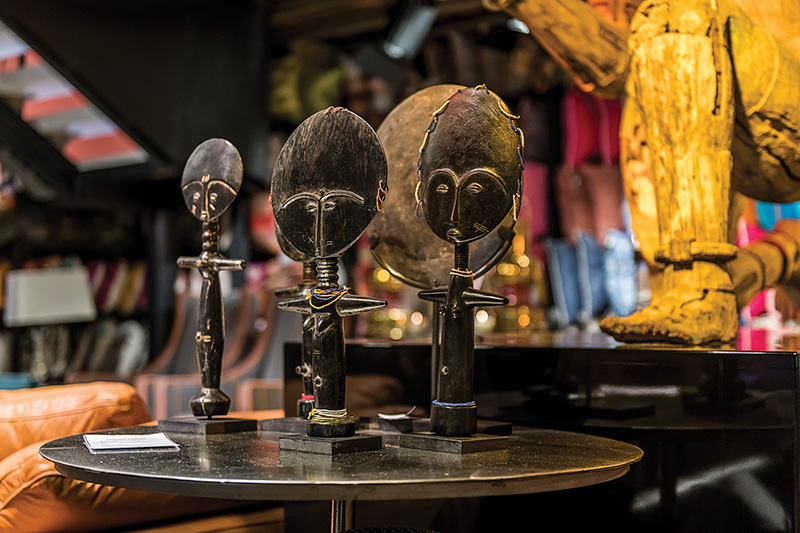 The London showroom
The showroom, although slightly smaller now, having had to give way to the new Chanel store in Walton Street still has so much to see and be intrigued by. The colour is the first thing to catch you these days, as this season has lent itself to a very vibrant palette while the trending styles have been driven by a more earthy, ethnic look. How perfect for Martin Waller (founder and owner of Andrew Martin) who started the company in 1978 in Richmond, Surrey and whose style has always been represented by these mixes.
I recently took another trip to the flagship store in Walton Street, Chelsea to meet one of the most important members of the team, the showroom manager Wayne Portass.
Wayne started working at this great store ten years ago, having come from another prestigious brand, Ralph Lauren. He has seen many changes over the last decade, when the main focus was a deliberate mix of Chinese and African styles and where the clients were predominantly interior designers, property developers and hoteliers.
Although there is most definitely a shift towards the retail customer these days, Wayne is keen to tell me how the original ethos of the showroom is still very apparent, although, we are more likely to find a more contemporary, European look now, with smaller collections of beautiful artefacts from all over the world styled in to the mix rather than dominating the displays. Clients now prefer to use these stunning pieces as a statement in a fabulous room design, giving them pride of place as the works of art they are, knowing that every object found and sourced by Martin is unique and original.
I was quite taken with some statues on a table near to where we were sitting and was reliably informed, that these are called Akua'ba, wooden ritual fertility dolls from Ghana. The best known Akua'ba are from the Ashanti people, whose akua'ba have large, disc-like heads. Traditionally, these dolls are carried on the back of women either hoping to conceive a child, or to ensure the attractiveness of their offspring.
I have been secretly intrigued by the notion of voodoo when looking at a tribal mask or figure, as I have very little understanding about the local customs and beliefs and wondered if bringing such things back to the UK for sale could be frowned upon. I was amazed to hear that the uglier the doll, or artefact, the less meaning it actually had in anything evil, sinister or ritualistic. What a relief! In fact, with African art and sculpture the main focus of any mask, statue or image is generally about either good fortune, fertility or a spiritual belief, but definitely nothing evil.
As you can imagine, genuine artefacts are very limited and many of them in the showroom are very much treasured by Martin who hand selects every piece. These are exclusive, individual and offer the Andrew Martin client a very prized piece.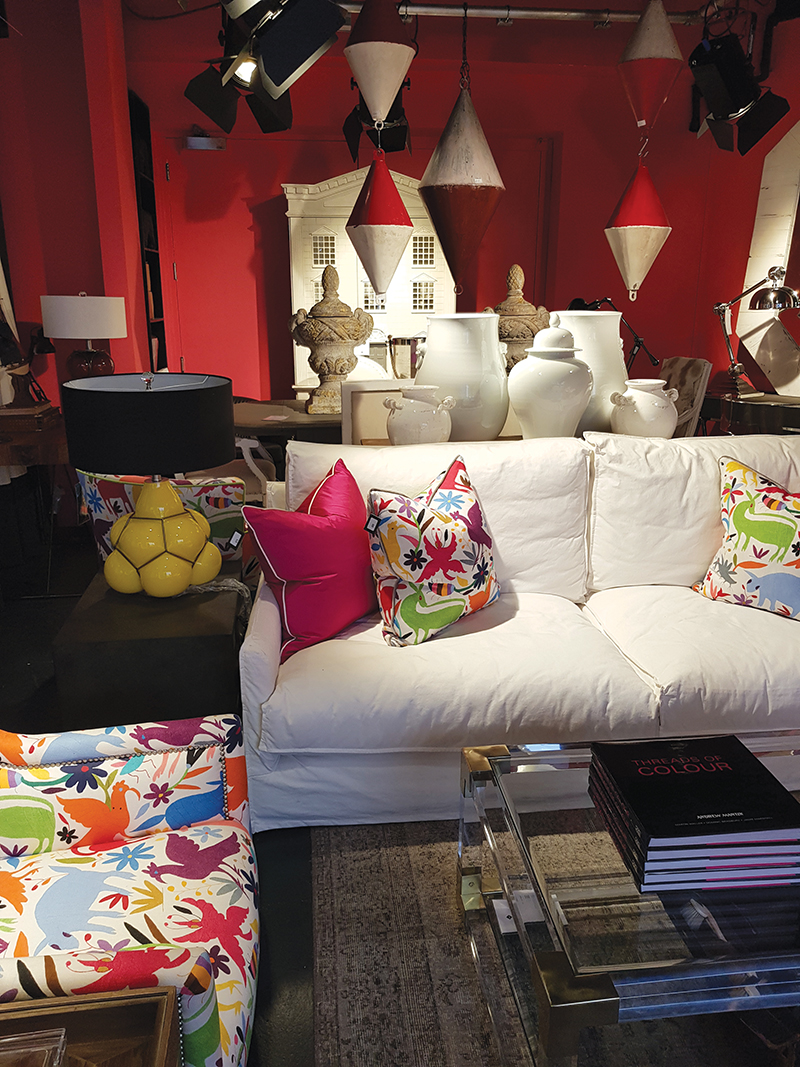 The Andrew Martin ​
'

look'

As with everything in life, things come around again and go full circle. This is very evident with design. Today we are seeing this colour blast in interiors with much of it previously originating in fabrics such as Kilims. But Martin has recently discovered some beautiful examples of hand woven, vibrant striped fabrics from Guatemala that have the ethnic influence we have seen over the years, although now with a softer, finer texture which is perfect for soft furnishings.
Some of these beautiful fabrics are made in small villages and in tiny quantities, so are incredibly limited. Because of this we will only find them displayed on a cushion or part of a chair where velvet might supplement the rest of the upholstery and compliment the woven fabric colour and texture. I was recently invited to a talk at the showroom, hosted by Martin Waller, where he spoke very passionately about a recent trip to Mexico and his discovery of a village of around 24 families of weavers working as a collective. Their talent in weaves and embroideries produce fabrics that are for sale, thereby bringing valuable income into their communities. In fact, some of these wonderful weaves we are seeing at the showroom today are bright, textured and give such amazing colour when added to a plain sofa or chair or offer great colour to a floor with a flamboyant rug.
Wayne also pointed out how marble is very fashionable again as he showed me a selection of impressive marble side tables, all with different colours, tones and effects. Each one is a homage to the brilliance of nature.
As Wayne and I were walking around the array of displays we bumped in to Martin who was more than happy to chat further about his vision.
We started by discussing the styles influencing the interiors world over the years and how, when Martin started his company in the 70's there was an abundance of orange and browns, with plenty of velvet and space age design style. This was something he loved and has remained enamoured with the more space-age look, so much so he has taken this to an extreme, as in one of his more recent interior design projects for a client, (yes, Martin has gone back to designing for clients too) he built a full size replica of Apollo 13!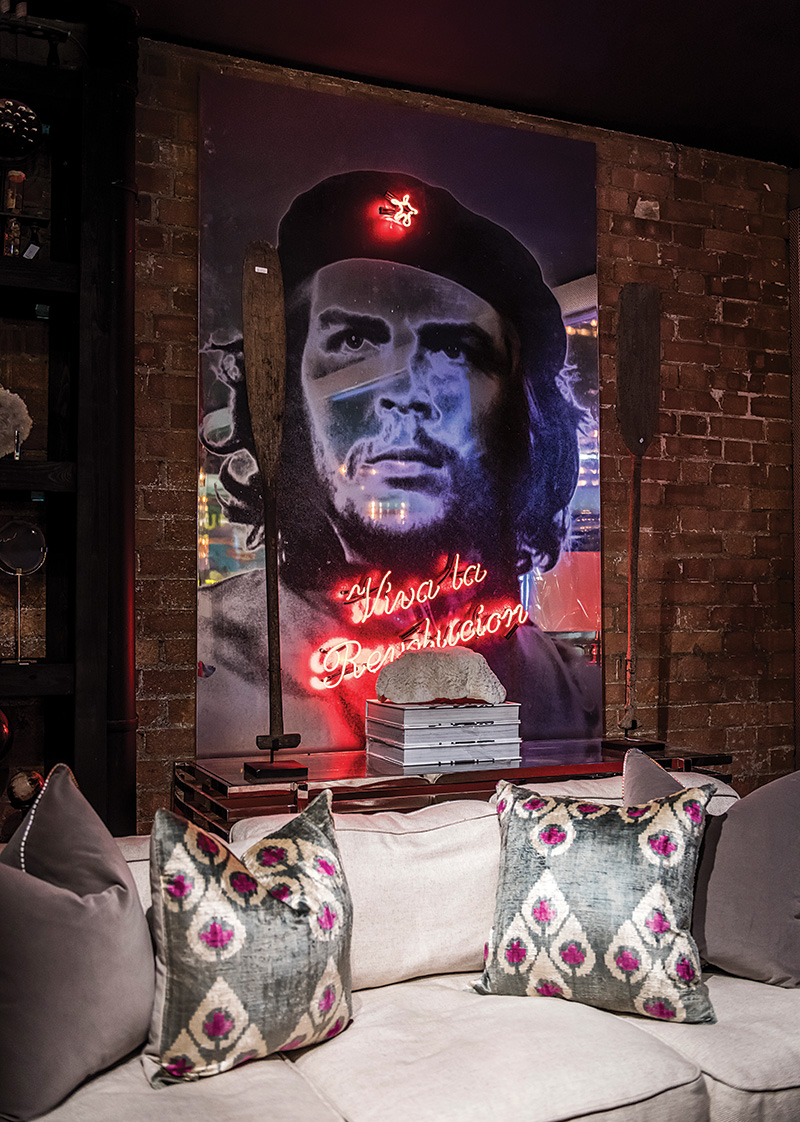 Journey of interiors
The historical journey of interiors continued. By the 80's it was all country cottage, chintz and floral. The 90's was more Chinese with east meets west with plenty of black lacquer, trunks, and Chinese wedding cabinets, all used by designers such as Anoushka Hempel, Kelly Hoppen and Mimi O'Connell. Then, with the 2000's came African tribal art, followed in the next decade by the more industrial look with loft living but with a dot of vintage too.
Now we see a bit more colour, pattern, with more gloss, sheen and tech. Martin commented ​"we have always been about taking inspiration from all over the world'. So even in the era of Chinese styling it was for Martin more about incorporating the heritage of the country with the careful use of the antiques and traditional furniture within the design.
With huge influences still coming from China, Martin is influenced by their very techy, modern approach which he finds astonishing and incredible. But he still loves the Americana from the 1950's, English antiques, South American and Peruvian textiles and finds great warmth from hand weaving on old looms.
Clearly one of Martin's favourites in the showroom is the collection of 3000 year old ancient Egyptian masks, because they tell the story of life and death.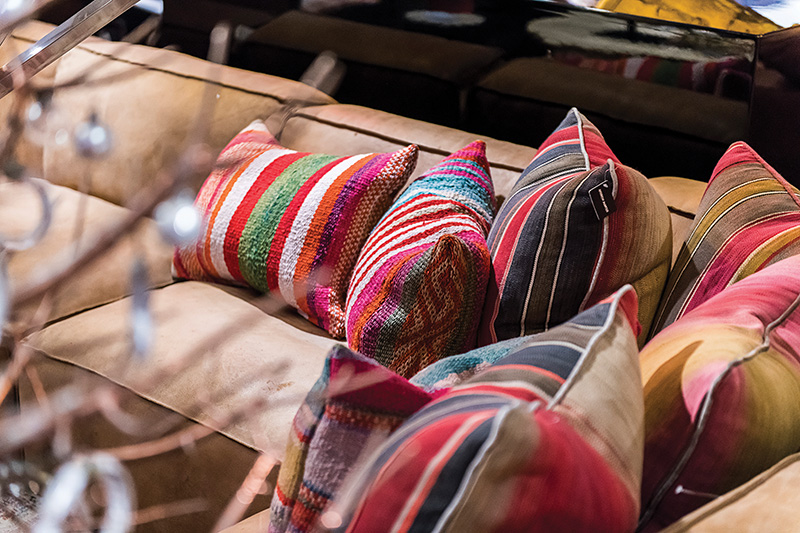 Mammoth travels around the globe
I was interested in his travels and if he finds difficulties in visas or visiting more remote places and also whether getting permissions to export items was hard to do. Martin recited a story about his arrest at Moscow airport for trying to export a mammoth head! He was supposed to have obtained a licence to take it from the site, then a licence to take it out of Irkutsk, then another licence to take it out of Russia and again another to bring it in to the UK. It's a lot of red tape which is sometimes prohibitive, he warned.
He is almost always on his own for these trips and finds it an adventure, never fearing the worries that most of us would have in countries such as Mali, Ethiopia and Nigeria. His focus in these destinations is on collecting amazing pieces of tribal art which he has thoroughly enjoyed over the years.
Martin even mentioned that he was in Oaxaca, Mexico a few days earlier, where the US government had issued a warning to all visitors. But Martin was never too worried, and in fact he enjoyed the trip and the people immensely. He felt that sometimes warnings by our foreign office hindered trade in other non EU countries and although most people would take heed from these warnings, he will venture out, knowing all too well that the people and governments quite often valued the visits and the trade and in fact are most welcoming and in need of the hard currency.
One of his favourite designations is Ethiopia, but his view is that it's never really recovered from Bob Geldoff! Tourists still associate it with famine and poverty, but actually it's a wonderful place with incredible things to see, fabulous people and very safe and is a country he has been influenced by.
Brand competitors
As we came to the end of our very enlightening chat, I wondered who in the décor market would be the Andrew Martin brand's biggest competitor. This stumped him a little, so I offered up, Ralph Lauren; his comment was that of feeling flattered to think of them as a competitor as Ralph Lauren has been such a huge influence in design for everyone of his generation.
Finally, I had to find out if Martin actually decorated his own home with his own Andrew Martin brand of furnishings. Well, the response, I guess was inevitable….' Yes, of course!' although, with a big grin on his face and a whisper to me…'but I don't always have any say at home!'. So, I asked him to summarise his taste at home:'I like to mix it all. I love vintage leather, neutral linens, a bit of pattern and tribal textiles'.
And that sums up exactly the Martin Waller that I know of and who I have seen deliver one of the most eclectic interiors brands in the world.