As part of its Private Collection Rupert McBain Furniture has created an exquisite bespoke Hall Table made from three natural elements: Oak, Gold and Stone. The ecclesiastical nature of the design and use of natural materials have created an antique of the future, whilst also mirroring its current location, within a former Abbey and underneath an early, gilded religious icon.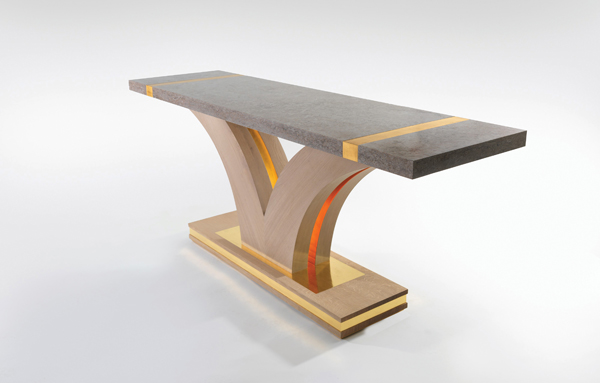 The Hall Table measures 2m (l) x 0.55m (w) x 0.81m (h) and has a Swaledale stone top, exclusively supplied by Britannicus Stone, which sits atop two parallel ​'V' shaped oak legs, themselves anchored onto an oak plinth.
Each of the three composite elements of the table – the top, the legs and the plinth – are adorned with gilding.
The opposing interior faces of the legs, 4.2 cms apart, are decorated with burnished water gilding (gold leaf applied with water based animal glue) which delivers an ambient glow reminiscent of a continuous soft light.
The gold leaf descends the entire length of the legs to meet the plinth where it dissolves into a pool of additional gilding, the area slightly recessed into the oak. Two further bands of gold then wrap the sides of the plinth; one 4 cms high of burnished water gilding, and another thin band at the foot of the plinth whose reflective qualities appear to emit light from the base.
The Swaledale Fossil stone top is from North Yorkshire and is 5 cm thick. Two gold bands, each 7 cm wide, are laid within a shallow rebate and wrap around the entire stone. The stone is a crinoidal limestone and over 350 million years old. Its story is dramatically reflected by the stunning and large fossils that emerge as a result of the polishing process.
This is the first time Britannicus Stone and Rupert McBain have collaborated on a piece of furniture but the two are developing ways of extending their bespoke furniture and objet d'art offerings.
Rupert McBain says: ​"British stone is rare and beautiful, the perfect characteristics for bespoke furniture and objects of distinct design. As sole provider of specific British stones and marbles Britiannicus Stone is the perfect partner."
Orlando Boyne of Britannicus Stone says: ​"Rupert McBain has an incredibly creative mind which translates into pieces of furniture of exquisite design and integrity."
Price on application