It's been quite a while since I've written about and I also thought we'd take a break away from colour too. After all, there will be some of you that prefer a more streamlined utilitarian look to your bathroom spaces. Oh, and black is definitely a trend hitting everything from taps and a whole array of bathroom décor choices at the moment. It's also hard not to ignore what's new and what's hot so I thought we'd investigate together.
One of my first ever writings was my Obsessing over Black article. And there's no denying it's been rising in popularity in the bathroom. Of course, black and white bathrooms have been around forever, well at least since the Victorian's introduced them into their homes. Their ability to appear timeless and a safe bet when parting with your hard earnt cash is hard to ignore. Black and white bathrooms also have a calming effect on our wellbeing.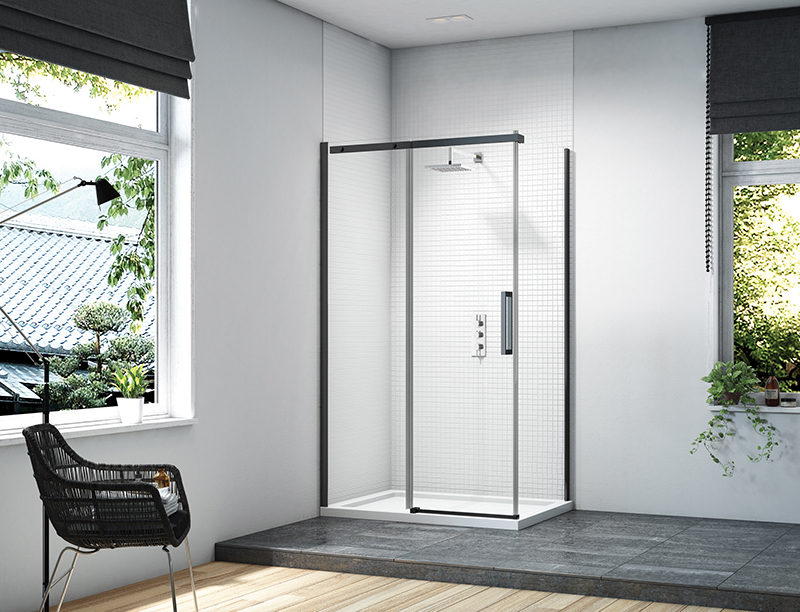 Merlyn Black Slider with Side Panel. From Merlyn Showering
Part of my writing is really about exploring all our options. Since I redesigned our bedroom, I'm now erring with going with what will bring me us joy rather than compromising on what we think we should in terms of resale etc. Anyhow, it's always a good idea to at least investigate all avenues, especially with bathroom/shower rooms as they're not exactly cheap spaces to update.
If there's one trend for black in our bathroom (and kitchen spaces come to think of it) it's got to be taps, shower heads and shower accessories. I've got to be honest here, I'm actually divided between loving their aesthetic (especially matte black) to not being able to rid myself of my practical head. We live in a hard water area and all I can think about is limescale and black. Yes, I guess it boils down to time and cleaning and maybe I just need to hire a cleaner? I'm still not sure.
Explore With Wallpaper
There's something about black and white combination that we never seem to tire of especially when it comes to bathroom spaces. Simplistic but also striking, pairing black with white allows you to experiment with your bathroom spaces. utilitarian includes wallpaper which is proving to be a popular choice to add some detail and interest.
Grout Lines
Adding black detail with grout lines is perhaps a cheaper alternative to updating those white tiles you may already have. Just be mindful if your bathroom or shower room is on the smaller side as well as the size of your tiles. The more grout lines you see the busier it will look and make the space feel on the smaller side.
TILE TIP: Choosing larger floor tiles can create a feeling of space even in smaller rooms. This is because you see fewer grout lines that break the flooring up. Thereby more floor is seen. However, don't go too big a tile as you'll end up with a lot of waste with cuts!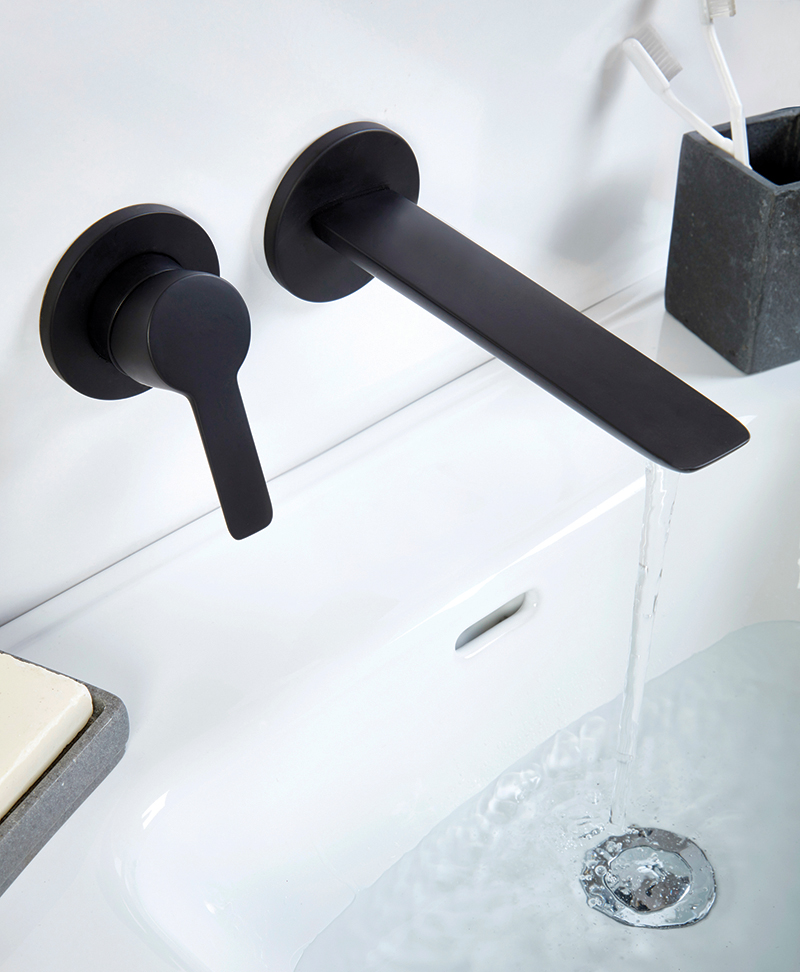 Vibe Wall Mounted Basin Mono from Frontline Bathrooms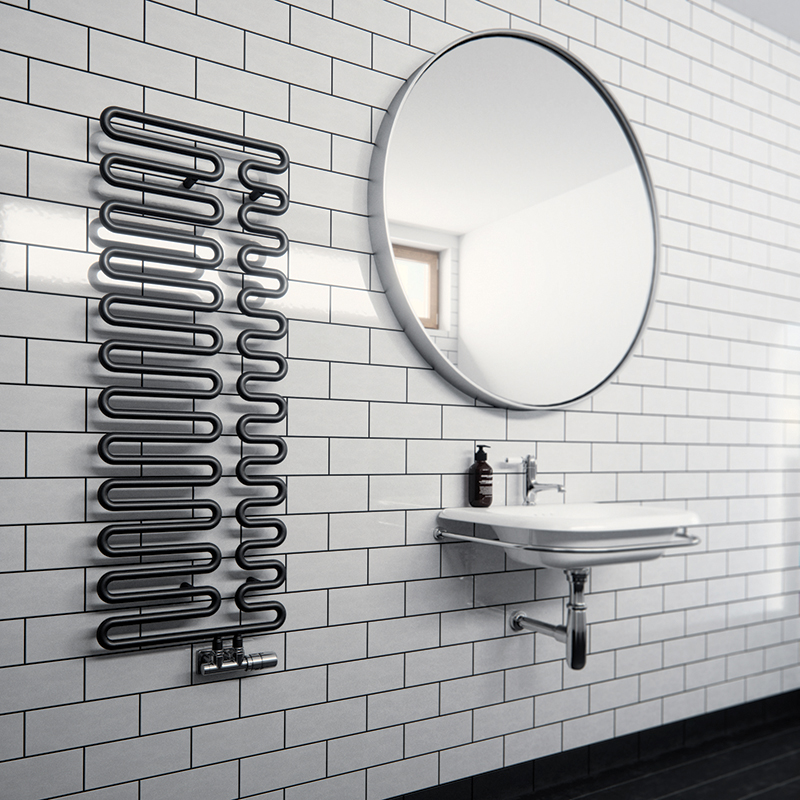 Swale Metallic Black Designer Heated Towel Rail – Frontline Bathrooms
Radiator Love
Having written about radiators last year, it's great to see that black statement radiators are becoming more readily available. They really make an impact on surface areas that are predominately white.
Tip: If buying a new radiator is out of the question, consider painting it the same colour as your wall colour so that it blends in with your décor choices.
Take a look at the vast array of tiles available and the endless possibilities when it comes to adding interest and detail. You could take the pattern up from the floor and introduce around the sink or shower cubicle. You don't have to stop at the floor.
Crittall Showers
Now whilst I'm not sure of black taps, I am completely won over with the strong clean lines of Crittall type Shower screens. Maybe it's because they're easier to clean than the hardworking tap? These shower screens are hot on the bathroom trend front and growing in popularity as we speak. They're perfect for introducing an industrial vibe to a bathroom space too.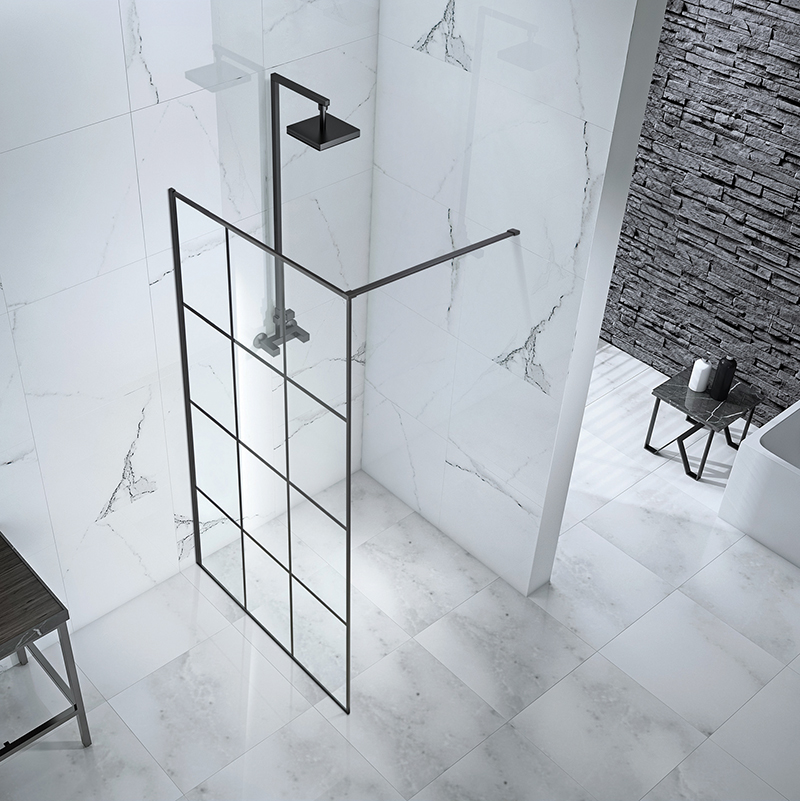 Aquaglass Velar+ 8mm from Frontline Bathrooms
Lighting Details
You don't have to go over the top with black in the bathroom. Keep it predominately white and introducing smaller black touches such as lighting to help define the space. Sometimes it's the smallest of details that can bring that magical touch and black does this really well.
Statement Baths
There's also the bath to consider like the Graphite Stone tub which also works well with those black taps. It's a hard combination to resist don't you think? No matter what your style or décor taste monochrome bathrooms work with you. From sleek minimalistic design schemes like the one above, to traditional Victorian and industrial styles. Black and white bathrooms aren't dictacted to when it comes to style choices. Allowing you the freedom to choose what suits you, your budget and your home.
Black and white bathrooms don't have to be cold looking either. Apply some warmth with wood or bare brick textures if you prefer a less clinical look. They"re perfect for breaking up this colour scheme and introducing visual interest to these colourless spaces.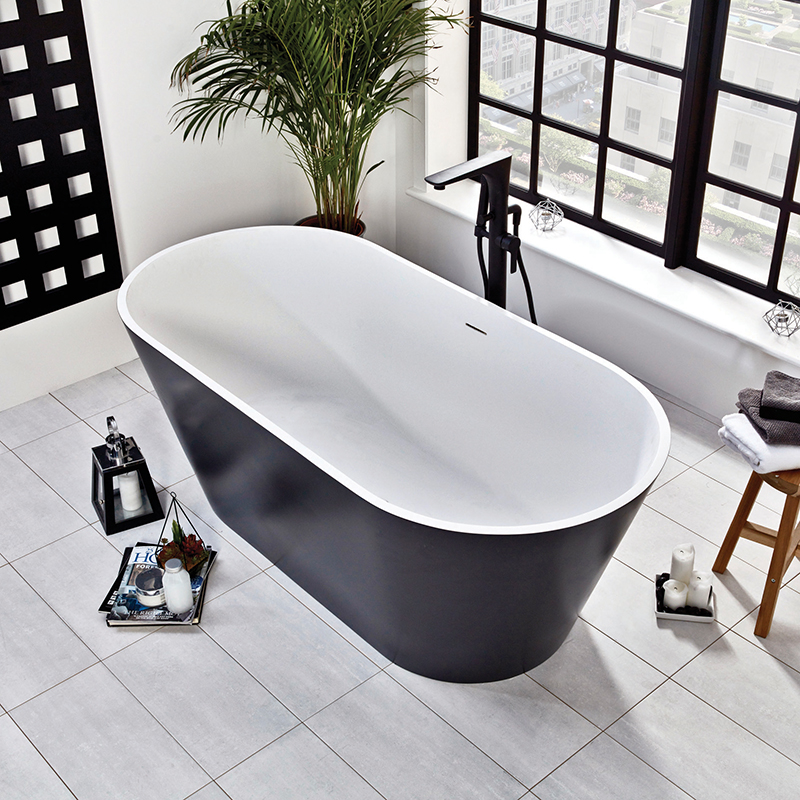 Graphite Stone Bath – Frontline Bathrooms
Storage/Display
And then there are the styling/storage opportunities to consider. This hexagon wall shelf would look rather fabulous and you'll be helping the Sue Ryder Charity to raise much-needed funding. And at under a tenner, you really can't go wrong whilst adding those industrial vibes to your bathroom spaces.

Oak Structure Drawer Vanity Unit. By Frontline Bathrooms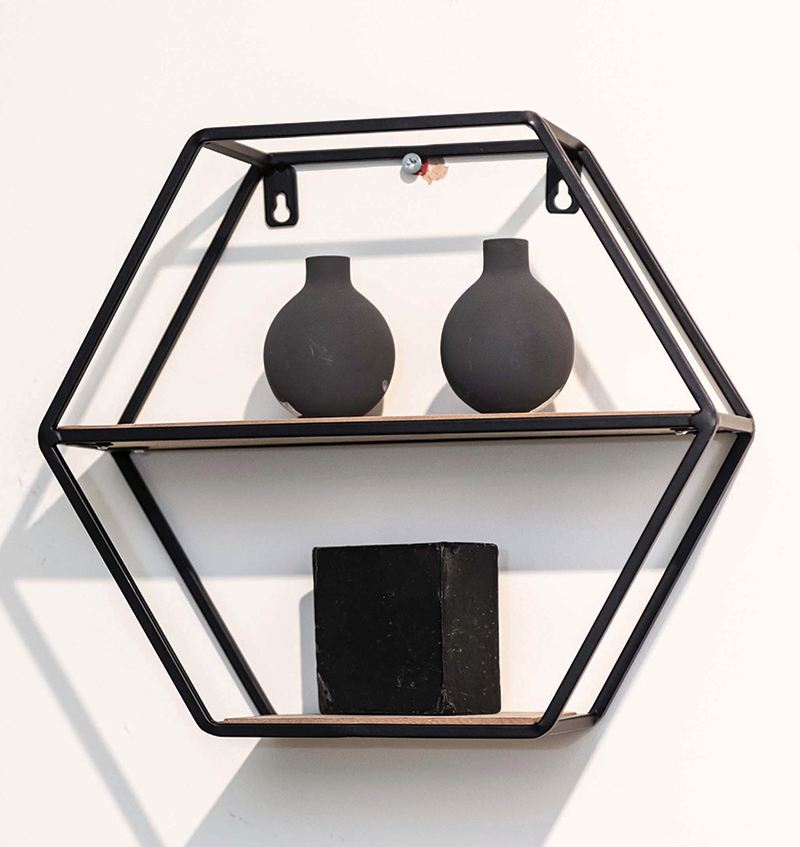 Industrial Medium Hexagon Storage Shelf by Sue Ryder
So are we all for the black and white bathroom or do we prefer a bit of colour? I'm off to put together a scheme for our shower room so watch this space.
Have a beautiful month and thanks for reading!
Written by Maria Jones, The Interior Editor.
thein​te​ri​ored​i​tor​.com/​b​a​t​h​r​o​o​m​-​e​d​i​t​/​b​l​a​c​k​-​w​h​i​t​e​-​b​a​t​h​r​o​o​m​s​-​t​h​e​-​o​n​g​o​i​n​g​-​t​rend/