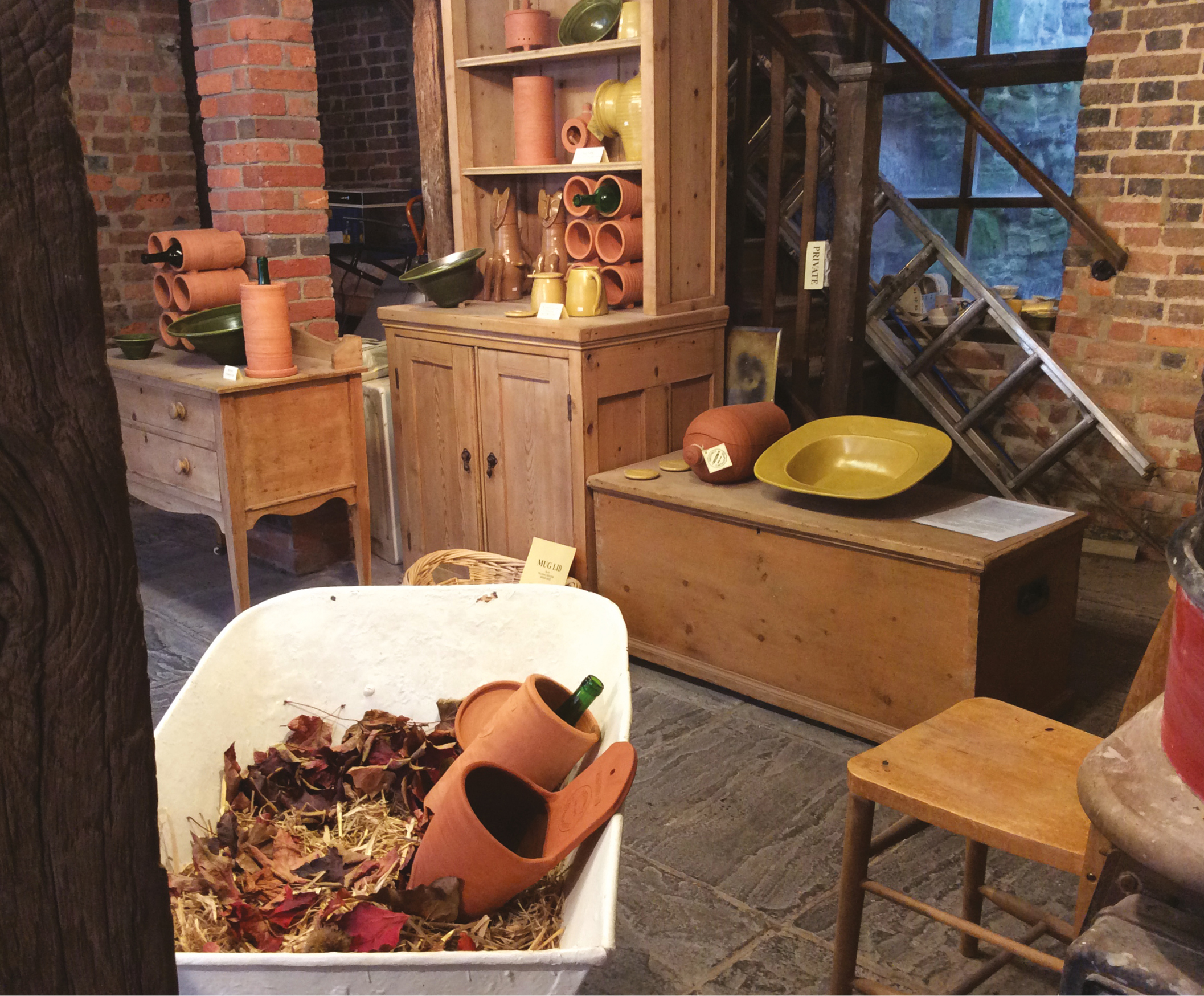 In Hastings Old Town, down a one-way lane called Courthouse Street, sits Old Hastings Pottery, a fully-functioning onsite English earthenware pottery studio and shop. It is a Tudor-aged building with heavy low beams and uneven floors and smells of hay and dry clay; it is truly home to a bygone era. Inside is George Bell, the potter, who has been handling clay in all forms and shapes for over 50 years. For him it is very important in his work to bring the past into the future, keeping a connection with potters from history.
English country earthenware developed out of the late medieval period of the 17th century and well into the 1950s, produced often alongside bricks and tiles.
One of the reasons for the slow decline in the country potteries was the cheap, white bone-china from Stoke on Trent in the 1700s. The bone-white, low-fired clay, (so called as it truly contained, and still does, animal bone-ash) was particularly attractive. It had been inspired by Chinese porcelain (high-fired with a thin transparency). The pure white translucency of Bone China was delicate and refined, it bore an elegance and sophistication that the thick rugged greens and ochres of country earthenware did not. George says that one of his ancestors had a pot-cart laden with artfully presented, mass-produced Stoke-on-Trent ware. They would make visits to the villages with their glamorous, sparkling, shiny white wares, much to the woes of the country potter whose heavy brown, green and amber glazed ware would have seemed dull and clumsy in comparison. With a shift in look, taste and design, a downturn in country pottery seemed inevitable.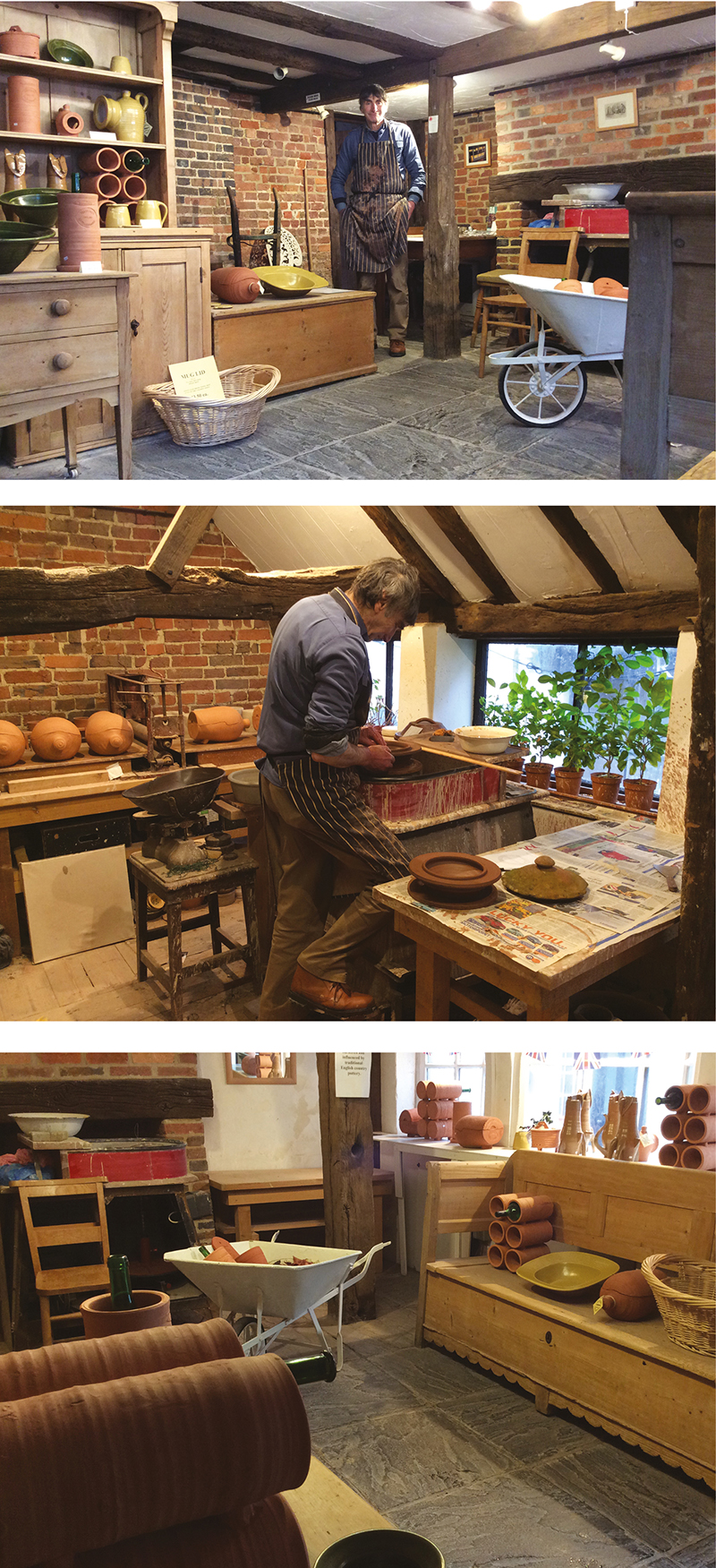 However, in the last 30 years there has been a revival in the interest of hand-made, rural crafts and many have become collector's items. George has returned to those earthy roots, in some small way compensating for his relative. Sadly, the irony of today's world is that much of the dinnerware you buy today, often bearing classic British names, and sold in the UK department stores, is made in China.
People may stare at hand-made pottery and see a perfectly turned bowl or beaker and see simplicity and grace. ​'Really, there is nothing to it!' They whisper in hushed tones.
What you see has actually been researched thoughtfully and considered carefully, with the concept of continuing an old style and tradition, whilst making it fit equally well into modern or country kitchens.
George sells garlic keepers and wine coolers which the old-time potters would never have dreamt of, but to look closely at their design is to understand that their form has evolved from objects once made in the past. The garlic keeper is inspired by Big-ware (large items) – a ham pan or pickling pan for instance; there is a ham-pan in Hastings Museum. The wine-cooler is based on the chimney pot. At Silverhill Pottery (now gone) they once made Sussex chimney pots, still visible today on Hastings cottages. They also made overhanging peg-tiles sometimes with the hand-prints of Victorian children, a ghostly reminder of when it was common to see young hands labouring in the potteries.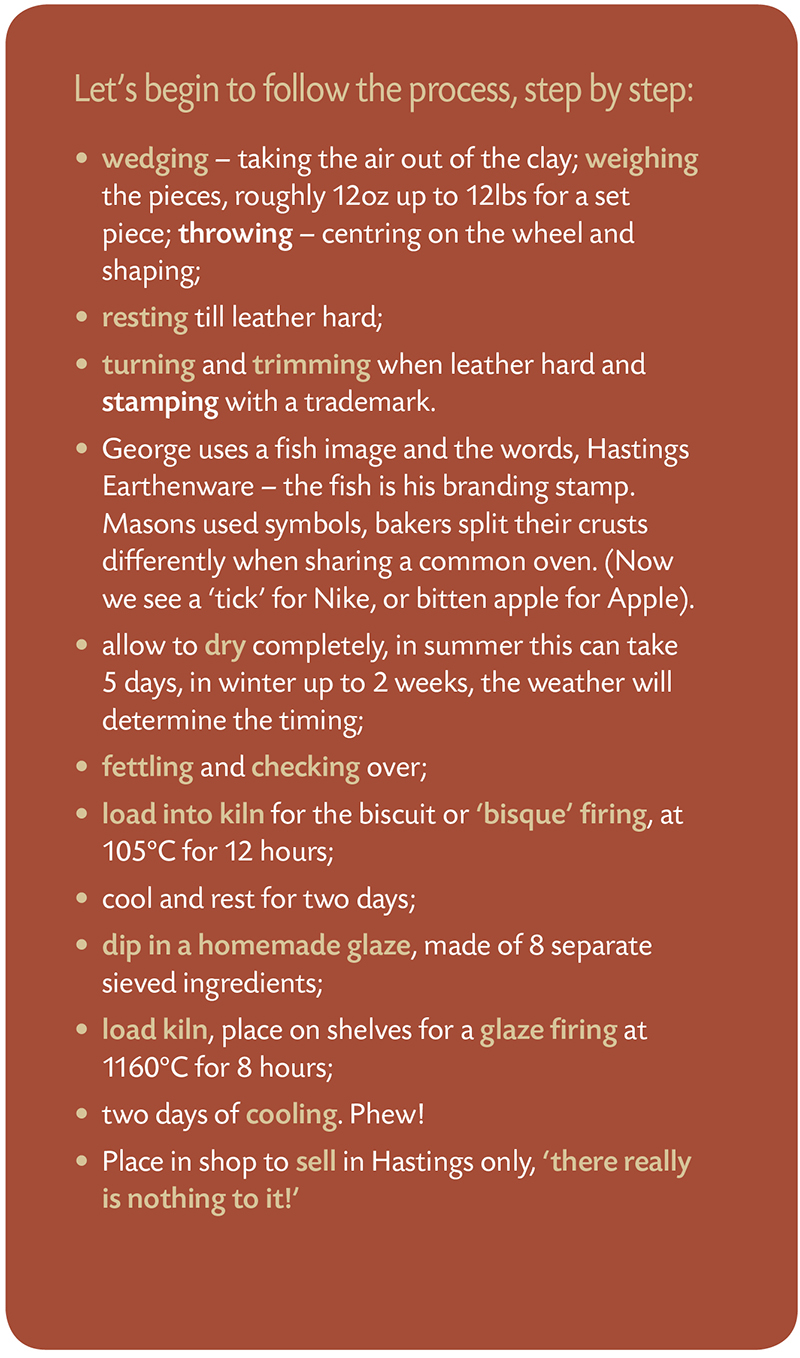 To prove to you this craft is not a simple exercise and that the value of your pottery is something quite extraordinary and unique, is to plot the course of your product from a lump of clay to its fine final piece.
George has made little inkwells for The House of Lords and his tyg (double handled mugs) have appeared in a Rolling Stones video.
George rounds off the year with a pot marked ​'Last pot of the year' and begins the New Year with ​'First pot of the year.' Pottery should be used and be beautiful. George wants his pottery to be part of your day and your life. He has channelled the ideas of the past into hands of the future, making a household item cherished and accessible to all.
Kate Barnwell
www​.kate​barn​well​.com