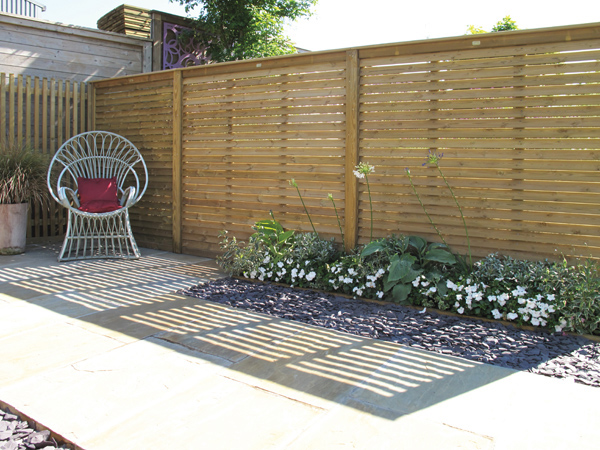 New Louvre panels look great especially when the sun shines through them
Jacksons Fencing – New to the range…
​

"

Louvre has the sleek and modern good looks suited to contemporary gardens."
Last month I used this page as an opportunity to tell you about two of our exciting new panels, Tartan trellis and Venetian Hit and Miss – this month it's my pleasure to let you know about two more new offerings, that are no less exciting than the first ones.
We've wrestled with the idea of producing a ​'Louvre' style panel for some time, knowing it would look incredibly effective – in fact our original Venetian was born out of this early experimenting – but for one reason or another, which I won't bore you with – we weren't happy with the prototype Louvre.
But, ladies and gentlemen, all that's changed. I am delighted to introduce you to Jacksons Louvre Panels. You will see from the photo at the top of the page they look every bit as good as they should, and the light effects as the sun shines through to create wonderful striped shadows.
A semi-solid panel with masses of style, Louvre has the sleek and modern good looks suited to contemporary gardens. The horizontal slats are made from planed and specially shaped Jakcured timber, which are secured at an angle, unlike the straight vertical slats of our Venetian panels. The slats are reminiscent of Louvre blinds for windows, that's why we chose the name, and they are larger, thus allowing rather more privacy than a Venetian – yet they still let in light and offer less wind resistance compared to solid panels like Chilham, or Tongue and Groove.
The other new panel is the Reculver; a distant relative of the palisade family. Palisade is an old term for a style of fence made from vertical pales that are attached to horizontal rails fixed to fence posts. It is probably the most common construction method of making fencing, when not using fence panels and posts. The new Reculver panel could and should be described as a palisade style fence, but there's nothing ​'old style' about it. The crisp elegant lines give it an altogether stylish and unusually modern look.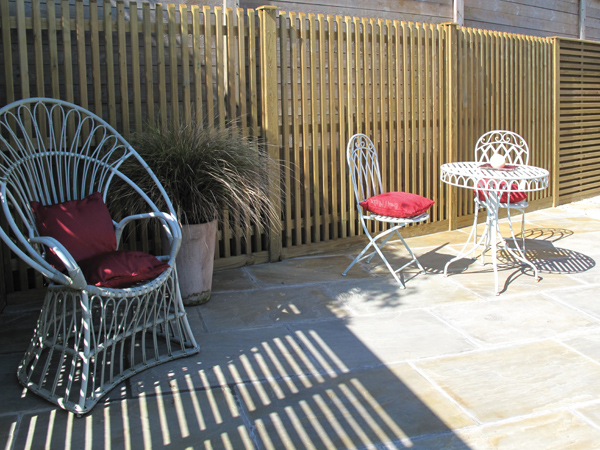 Reculver panels – an elegant stylish new look panel from Jacksons
As with all Jacksons timber products these are made from specially kiln dried and pressure treated timber, guaranteed for 25 years against rot and insect attack, and they are designed for use with our slotted posts, gravel boards and capping rails.
To find out more go to your dedicated page:
www​.jack​sons​-fenc​ing​.co​.uk/​a​s​h​f​o​r​d​local where you can find out more about these and our other products and news.
louise@​jacksons-​fencing.​co.​uk
For info on any of Jacksons products or brochures, please
call 0800 408 4754 to talk to your local Jacksons Fencing Centre.
Win £

300

of Jacksons vouchers
To enter the free prize draw and be in with a chance to win £
300

of Jacksons vouchers simply log on to your dedicated page, address below and follow the easy instructions on how to enter. The draw closes

30

.

8

.

16

.
www​.jack​sons​-fenc​ing​.co​.uk/​a​s​h​f​o​r​d​local