Here's a lovely story that conjures up the well know adage ​'good fences making good neighbours' beautifully.
We received some pictures from a very happy Jacksons customer, showing his new fence panels looking absolutely stunning as a boundary between two gardens (see photo at top of page).
After speaking with the customer- Ivan Frost, it soon came to light that the project was a joint venture with his next door neighbour Nick Jagger. They had both decided to replace the hedge between their two properties with Jacksons panels.
Following some research and discussion, they ended up choosing our Chilham panels, which happened to be a great choice, as this unusual fence is one that looks good on both sides.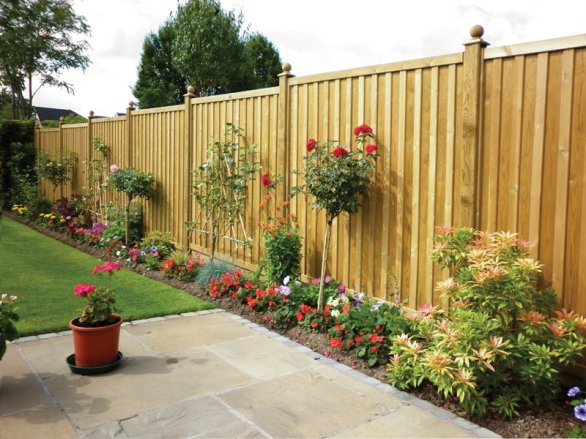 If you are unsure of what we mean by that, take a look next time you happen to be near an ordinary fence. You will see that one side of the fence usually has several rails that run horizontally between the posts, the vertical timbers, or pales are attached to these rails.
This side of the fence is quite often referred to as the ​'bad' side. Although strangely enough fencing ​'etiquette' dictates that when you install a fence on your property, it is thought of as polite to have the rails facing in towards you, giving either your neighbours or the outside world the best view of the fence – the ​'good' side that has no rails etc.
Mind you, there's no law involved here, it's totally up to the individual and I know many people who prefer to see the side that has no rails as their view.
This is why we developed Chilham panels, they have an ingenious design that allows the rails to be hidden, thus the view from both sides of the fence is exactly the same and much more pleasing to the eye.
It's great to see the photos here of both sides from each neighbours perspective and not a rail in sight!
Both customers are very happy and we can see why, their fence and gardens look great. Our thanks to both, Ivan Frost and Nick Jagger, for sharing this story and their photos with us.
Info on the Chilham panels can be found on your local web page: www​.jack​sons​-fenc​ing​.co​.uk/​a​s​h​f​o​r​d​local, there's also a link there to the customer project story with more photos of these lovely gardens.
Special Offer
If you are looking to replace your garden fencing this year, it's worth noting that Jacksons have a special offer of FREE delivery on all garden fencing panels, posts and garden gates throughout February, full details and T & Cs are on the local page too.
www​.jack​sons​-fenc​ing​.co​.uk/​a​s​h​f​o​r​d​local
or call 0800 408 4754 to talk to your local Jacksons Fencing Centre.
Win a Jacksons wheelie bin store
Enter the free prize draw and be in with a chance to win one of Jacksons wheelie bin stores. Simply log on to your local page, address below and follow the easy instructions on how to enter.
The draw closes 31.03.15. To enter go to: www​.jack​sons​-fenc​ing​.co​.uk/​a​s​h​f​o​r​d​local