Clean lines and simplicity maximise the feeling of space in this town garden makeover…
One of the things I like about writing this regular magazine page is being able to feature some of the great customer projects we publish on our website. It's great hearing from customers who send me before and after photos of their projects. I am amazed at the results achieved by people who are determined to transform their garden into a designer dream.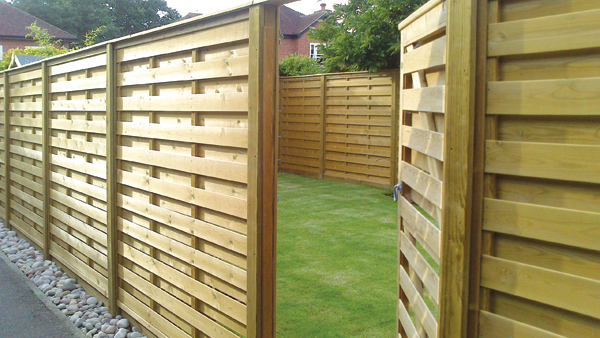 A tantalising glimpse through the new gate into a transformed garden space, with smart new fencing, tidy lawn and no mess – a far cry from the clutter in the ​'before' photo below.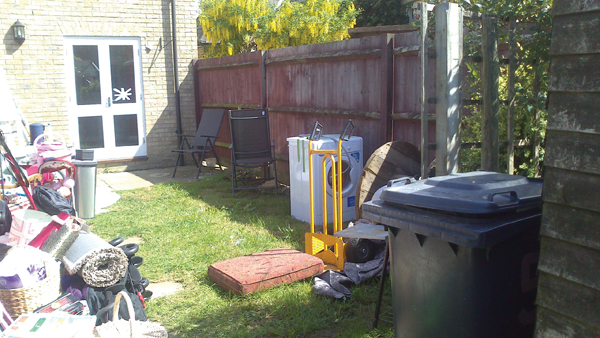 Before: Carla and John's garden was pretty grim to say the least!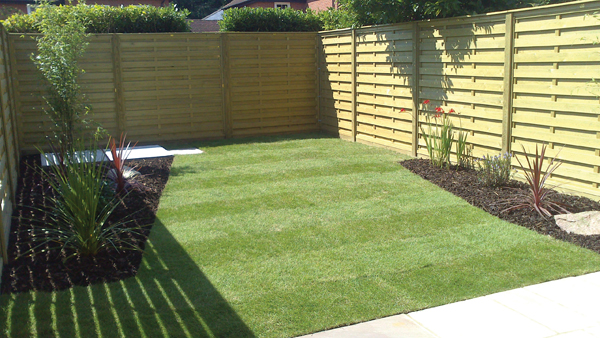 After: Beautiful clean lines, with simple borders and the fence as an attractive backdrop
One such tale is from Carla and John Twist, their reason for sending it in has something to do with the large part the new fencing had to play in the total transformation of their garden, of course. Here's what Carla said:
Having bought our first house together we wanted to turn it into our own little paradise. Not an easy mission considering how neglected it all was. The garden was worst of all, as you can see from the before photos!
Now it's finished and we can enjoy our outdoor space. I still find myself smiling at how pretty and light the garden looks. The Hit and Miss Horizontal fence panels we chose play a massive role in extending the garden, and being so attractive the fence never feels like a barrier, but more of a beautiful feature to admire instead. I know it will all mature gracefully together. The fence sparked great feedback from the landscapers and lots of interest from the neighbours as well.
What a transformation, it's all beautifully simple, with a lovely minimalist feel and good clean lines, which maximises the space – well done John and Carla!
It has actually opened my eyes to how attractive our Hit and Miss fence panels are. I love the way the sunlight shines through them, illuminating the panels and creating shadowy stripes.
Something this reminds me of is Hit and Miss are panels what we at Jacksons refer to as ​'good both sides'. If you look at the photo of the garden through the gate, you can see what we mean – because of how they are made, there are no unsightly rails running across them on either side. This means that both you and your neighbour get the pretty side of the fence. You can find out more about these and other ​'good both sides' panels, and see more of Carla's and other customer's projects by going to your dedicated page: www​.jack​sons​-fenc​ing​.co​.uk/​a​s​h​f​o​r​d​local – or for info on any of Jacksons products or brochures please call 0800 408 4754 to talk to your local Jacksons Fencing Centre.
louise@​jacksons-​fencing.​co.​uk
Win a pair of raised bed kits
To enter the free prize draw to win a pair of Jacksons raised bed kits log on to your dedicated page, address below, and follow the easy instructions. The draw closes
31

.

10

.

15

.
www​.jack​sons​-fenc​ing​.co​.uk/​a​s​h​f​o​r​d​local