Jacksons Fencing – news, topical treats and more…
Time to raise the bar on raised beds!
Last year one of the prize draws featured on this page was to win a pair of our Jacksons raised beds. There's a great feel-good factor letting people know they've won, the winners without fail always seem delighted to have won something. Sometimes they get in touch to say thanks again for the prize and to tell us about what they are going to do with the products they have won. In this case it was Mary Jones who emailed me to say how delighted she was with her pair of raised beds.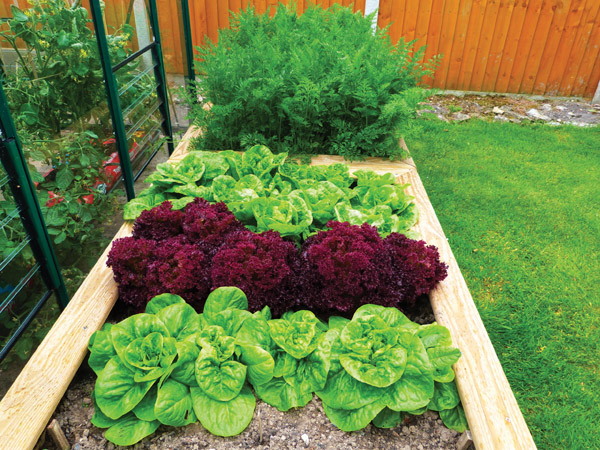 One of Mary's raised beds looking very decorative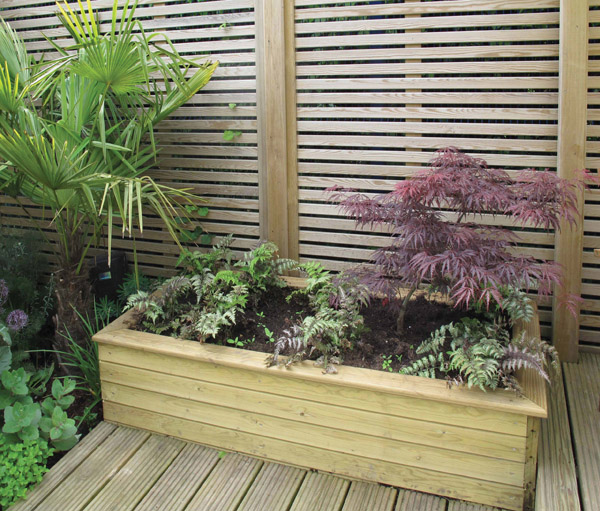 Raised beds are not just useful for growing vegetables, here it's used for ericaceous (lime hating/acid loving) plants – the ferns and a maple creating a decorative feature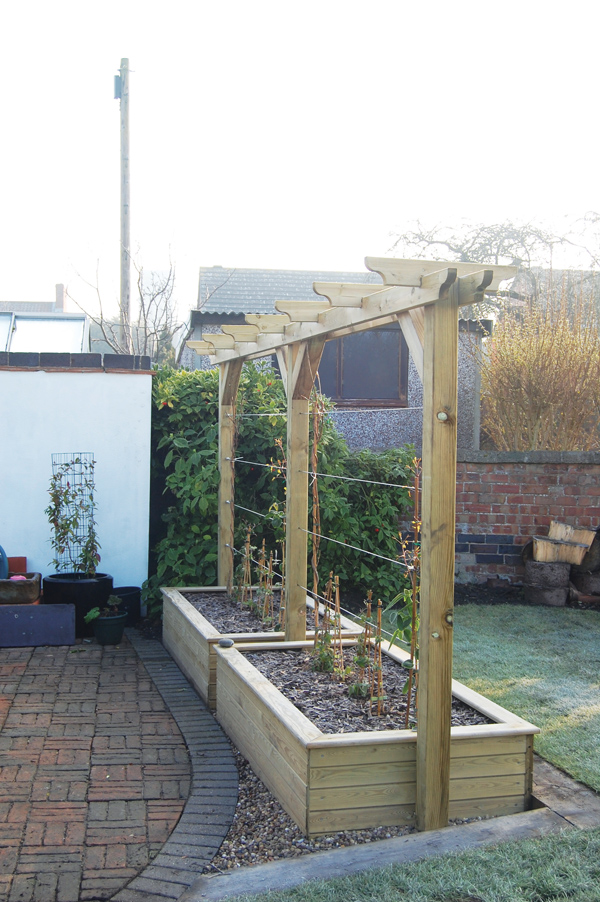 Raised beds with a pergola and tensioned wires to support plants
"Thank you so much for my Win! The raised beds where delivered yesterday and we put them together in no time at all. They look so sturdy and strong, and they fit exactly in the spot we chose for them. We plan to dig a garden pond and my husband was worried as to where we were going to put the soil, but we now have just the spot for it, in your raised beds. We retired 3 years ago and bought a bungalow with a garden which needed a lot of work, but which has good soil. I'm looking forward to planting up the beds when we have dug out the pond!"
I asked Mary if she would send me some photos of her raised beds, once they were planted up and sure enough she did, as you can see from the lovely picture here. I think the veg looks almost too good to eat and is very decorative. Thank you Mary!
Has this inspired any of you to think about having a go at growing in your own raised beds? You might be interested in some of the benefits:
Even with limited space in your garden or courtyard you can grow vegetables, herbs or flowers in a raised bed. Our kits come in various sizes to suit any space or corner.
They are perfect if the soil in your garden isn't suitable for certain plants, or the drainage is poor, you can fill the beds with the right type of soil to suit whatever you want to grow.
Some plants only do well in deeper soil; so will thrive in a raised bed.
Not having to bend down to ground level to garden is really helpful to those who find this difficult.
And finally a very big advantage of Jacksons beds over competitors is the Jakcure treatment and guarantee – we only use specific types of timber treated for ground contact, this means your raised bed is guaranteed for 25 years, so it won't rot and disappoint you by needing to be replaced after a few years.
Well if I've whetted your appetite you can find out more by going to your dedicated page: www​.jack​sons​-fenc​ing​.co​.uk/​a​s​h​f​o​r​d​local where you can find a link to our raised bed pages on the website.
For info on any of Jacksons products or brochures please call 0800 408 4754 to talk to your local Jacksons Fencing Centre.
Win a pair of raised bed kits
To enter the free prize draw to win a pair of Jacksons raised bed kits log on to your dedicated page, address below, and follow the easy instructions. The draw closes
31

.

10

.

15

.
www​.jack​sons​-fenc​ing​.co​.uk/​a​s​h​f​o​r​d​local