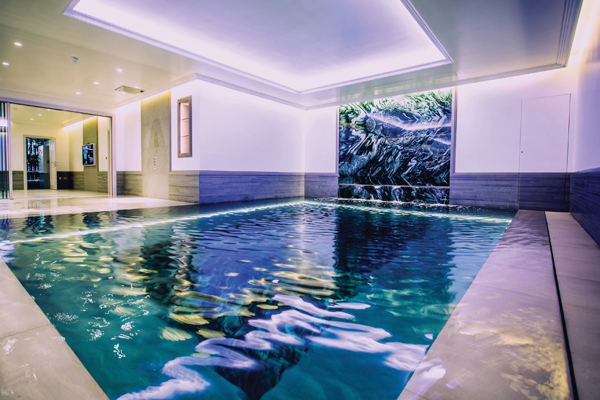 Much more than meets the eye
Stunning basement pool scoops award
A challenging ​"iceberg" development in the 3rd level of the basement of a prestigious house in London was the Winner of Residential Indoor Project of the Year 2105 for Tanby Pools. The pool is designed with a moving floor, to enable the room to be multi-functional – as the floor descends from Ballroom mode to swimming mode, the lit edge becomes the pool border.
The water feature cleverly appears via a slot hidden in the stunning marble feature wall, lighting up as it flows with the band of lighting around the outside of the floor echoing the lighting in the ceiling and reflecting off the floor.
The pool floor, environmental control and pool water feature, are all automated together via the Building Management System and smart home automation systems. This allows the control to be systematically activated by the client between swimming mode, entertaining mode, and water feature operation and is accessible wherever they are in the world and whatever mood they are in.
Celebrating 48 years of excellence, Tanby Pools is a family business specialising in designing and building award winning, luxury indoor and outdoor pools. Using contemporary, state of the art equipment, Tanby work closely with architects and clients throughout the entire process to create your bespoke dream pool. The fully trained team of construction, refurbishment and service engineers and experienced showroom staff source the highest quality products from all over the world to help you create a perfect space for fun and relaxation. A main dealer for Jacuzzi Spas, the Pool Shop stocks everything you need for your pool or spa.
Visit their website on www​.tan​by​pools​.co​.uk or call 01883 622335
or enquiries@​tanbypools.​co.​uk for more information on how Tanby can build your dream pool.