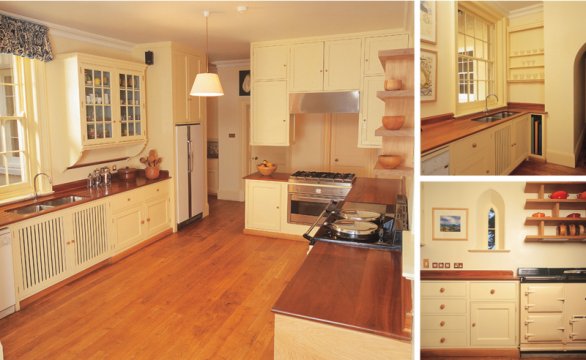 William Garvey continues to electrify the British furniture market with its ever expanding ​'bespoke' portfolio of inspirational wooden furniture for the kitchen. A truly authentic master craftsman, each William Garvey product is designed and manufactured to the highest quality, translating any design concept into a culinary haven, designed with you in mind.
For the ultimate in classic British heritage why not opt for a bespoke William Garvey kitchen as seen above, equipped with personalised furniture and storage solutions which create a beautiful, practical and desirable working environment. William Garvey's tailored kitchen includes a run of fitted kitchen cabinetry, finished in sophisticated painted Tulipwood. The inclusion of custom-made open shelving, both solid and slatted, allows this kitchen concept to move away from this so called ​'hidden' trend, proudly displaying glassware, cookware and other necessary kitchen equipment.
Note William Garvey's artisan kitchen doors are made from tulipwood in a buttermilk painted finish. Capturing the natural elements long associated with organically inspired furniture design, its neutral aesthetic adds a sense of nobility against the teak and iroko worktops and handle detail to create the look of cool Britannia.
This bespoke kitchen also features William Garvey's Belfast Kitchen Sink. Based on the traditional Belfast pattern, this sink is much deeper than the norm and its internal corners are rounded to a radius of 16mm to facilitate easy cleaning.
William Garvey's Belfast Kitchen Sink measures Height 255mm x Width 455mm x Length 595mm. Each Garvey sink can be made to individual sizes, but the prices for a Belfast Style Sink by William Garvey starts from £800 +vat.
William Garvey , Leyhill, Payhembury, Honiton, Devon EX14 3JG
Tel: 01404 841 430 or visit
www​.williamgar​vey​.co​.uk