Ted Baker SS

17

bedding collection
TED BAKER is delighted to announce the launch of his new Spring Summer 2017 bedding. Now in stores, the range will showcase a stunning selection of designs inspired by his latest clothing collections and will be available at leading retailers across the UK and Ireland.
The ​'In Bed with Ted' collection includes four new designs: ENTANGLED ENCHANTMENT, GARDEN GEM, ORIENTAL BLOSSOM and PAINTED POSIE. Each of the four quilt covers are available in double, king and super king sizes, with coordinating housewife pillowcases on 220-thread count cotton sateen. The new prints are complemented by a selection of lavish cushions and throws, replete with Ted's inimitable eye for detail.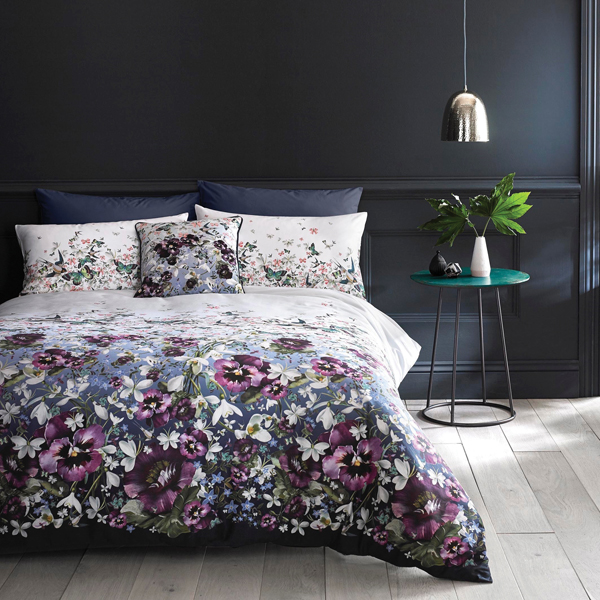 Entangled Enchantment
Immerse yourself in an enchanted world of flowering pansies, soft white snowdrops and delicate butterflies with Ted's stunning Entangled Enchantment bedlinen. Butterflies and swallows swoop between stunning florals on a deep navy backdrop that softly fades to white. This beautiful print continues onto the crisp white pillowcases. For the perfect finishing touch, add the luxuriously soft velvet cushion with navy piped edge detail.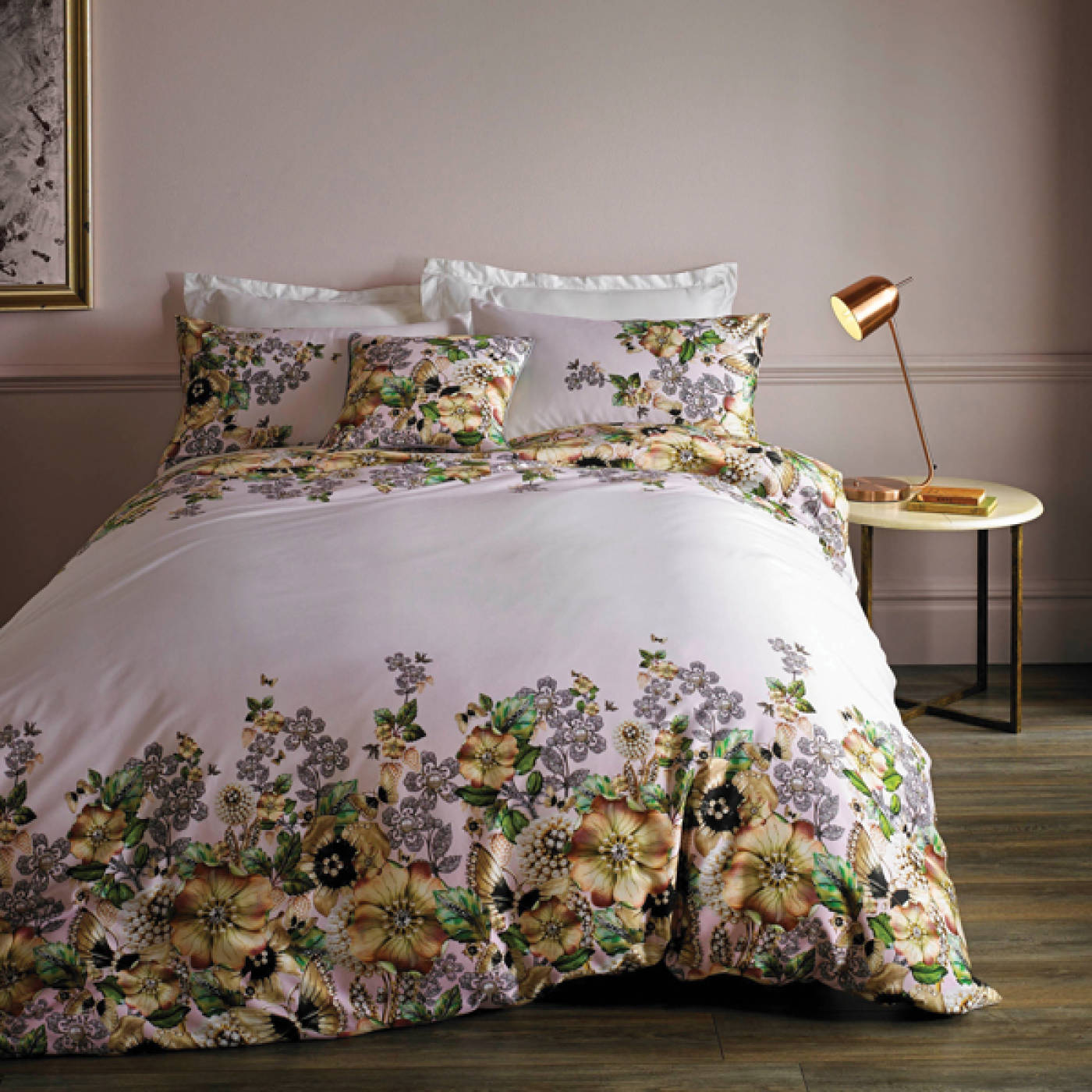 Garden Gem
Add a touch of vintage glamour to your bedroom with this luxuriant design of pearls and diamond brooches set upon a ground of plush pink cotton sateen. Jewels flow across the duvet and pillows in extravagant Ted style; embrace the luxury with the sumptuous velvet cushion with piped edge detail.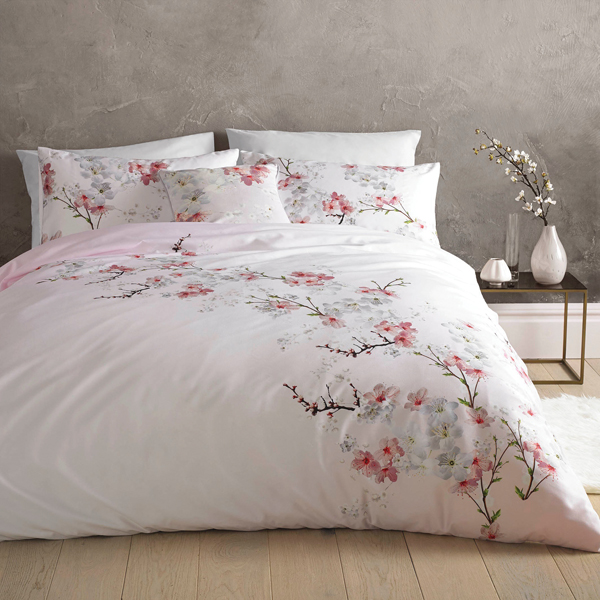 Oriental Blossom
Drift off in true Ted Baker fashion with this dreamy Oriental Blossom bedlinen. Soft, pale pink blossom mixes with delicate white florals across this tranquil bedlinen. Super-soft cotton sateen fades from soft nude to delicate pink creating a feminine, romantic feel. Add Ted's gorgeous pink Oriental Blossom cushion on delightfully soft matte velvet for that final flourish.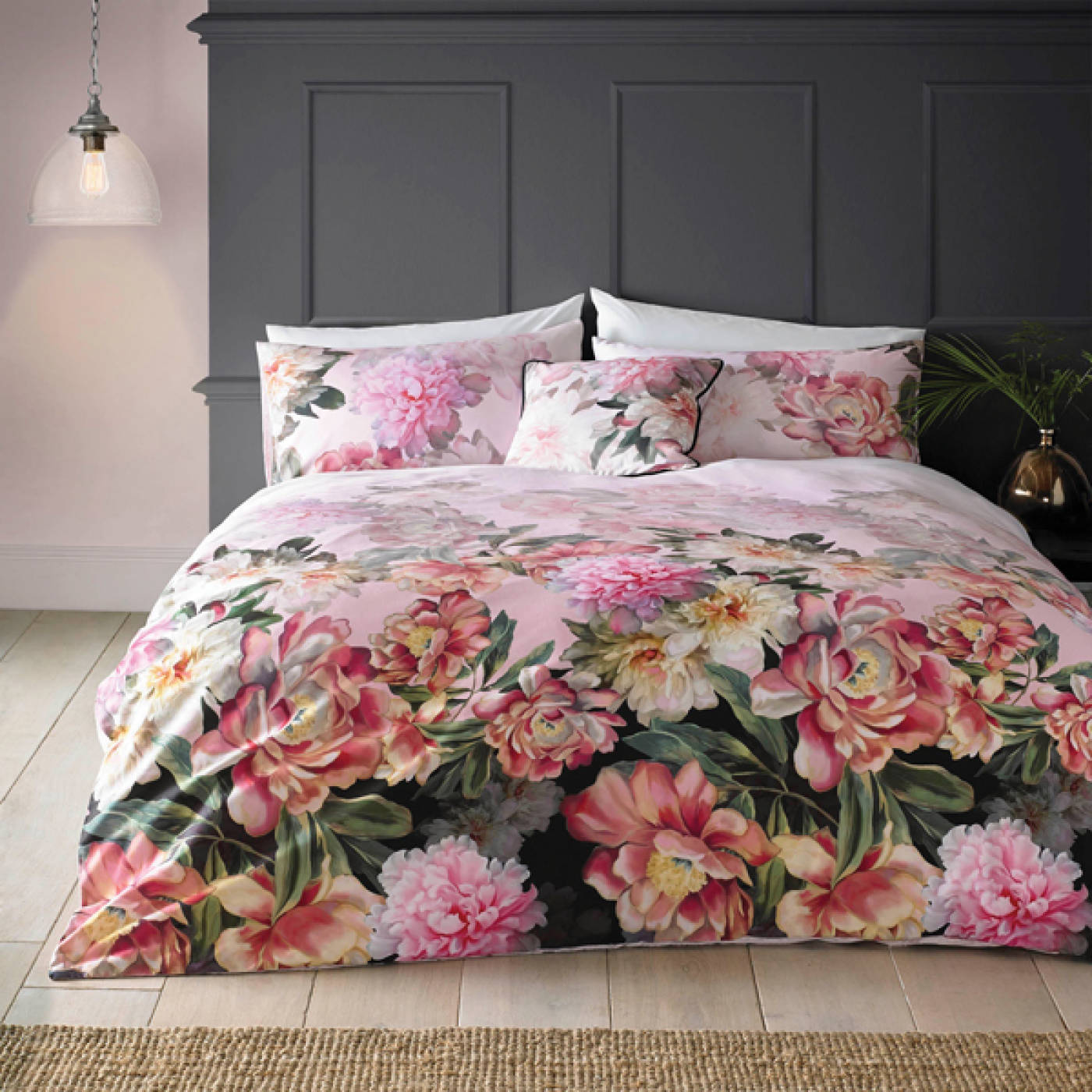 Painted Posie
Transform your bedroom into a floral sanctuary with Ted's sublime Painted Posie bedlinen in soft pink cotton sateen. A splendid bouquet of peonies flourishes at the foot of the duvet, with pretty blooms in light pinks, pale corals and rich creams on a base of deepest black. Ted's elegant velvet cushion with jet-black piping detail adds that final touch of drama..