Think your garden is too small for an outdoor room? Think again.
Last month we featured our beautiful new Curve garden shelter, to inspire you with your spring garden projects. Talking of spring, I hope I'm not tempting fate by mentioning that we should be looking ahead to some better weather as the clocks go forward.
The Curve has created quite a stir since its launch earlier this year. The garden shelter with its generous interior space: approximately 3.1m wide x 5.3m deep and 2.2m high, is big enough to set up a dining area leaving plenty of room for a chill out zone as well.

However, if space is at a premium in your garden, or maybe you have something more along the lines of a courtyard space to get creative with, don't despair. You may not have to miss out on the pleasures of the outdoor room that many people find such a desirable idea these days- that sought after area for quality lifestyle activities; entertaining, partying or simply just relaxing.
Please allow me to introduce you to what I describe as the Curve's little sister, the equally stylish Demi Curve. This has a footprint of approximately 3.1m wide x 2.7m deep and 2.2m high.
Smaller than big sister, but perfectly formed, it is just perfect for the urban garden or courtyard, although it is still large enough to house a comfortably sized sofa and chairs set with a low table. Just right for relaxing with a copy of Aspect Magazine and your favourite tipple.
Alternatively swap those for a dining table and chairs and it will make a delightful al- fresco area for summer feasting. And like the larger Curve, the Demi Curve also has the additional protection of polycarbonate sheets that cover the panels to give you a little extra shelter from showers and the wind.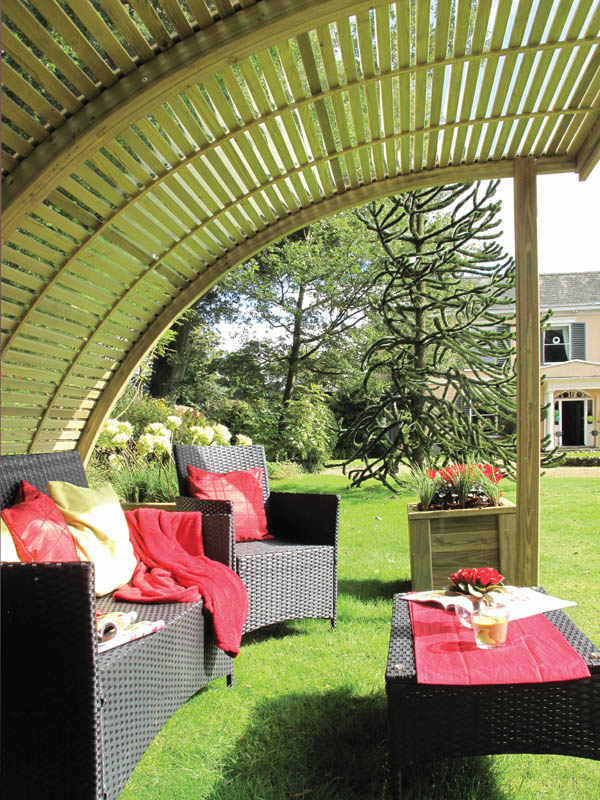 As with all Jacksons products, the garden shelters are handmade from Jakcured timber, guaranteed for 25 years, so you can enjoy them for many years to come. Find out more by going to your dedicated page www​.jack​sons​-fenc​ing​.co​.uk/​a​s​h​f​o​r​d​local where there are links to these and many other products and features.
louise@​jacksons-​fencing.​co.​uk
For info on any of Jacksons products or brochures, call 0800 408 4754 to talk to your local Jacksons Fencing Centre.
Win £300 of Jacksons vouchers
To enter the free prize draw and be in with a chance to win £300 of Jacksons vouchers simply log on to your dedicated page, address below and follow the easy instructions on how to enter. The draw closes 30.4.16. To enter go to
www​.jack​sons​-fenc​ing​.co​.uk